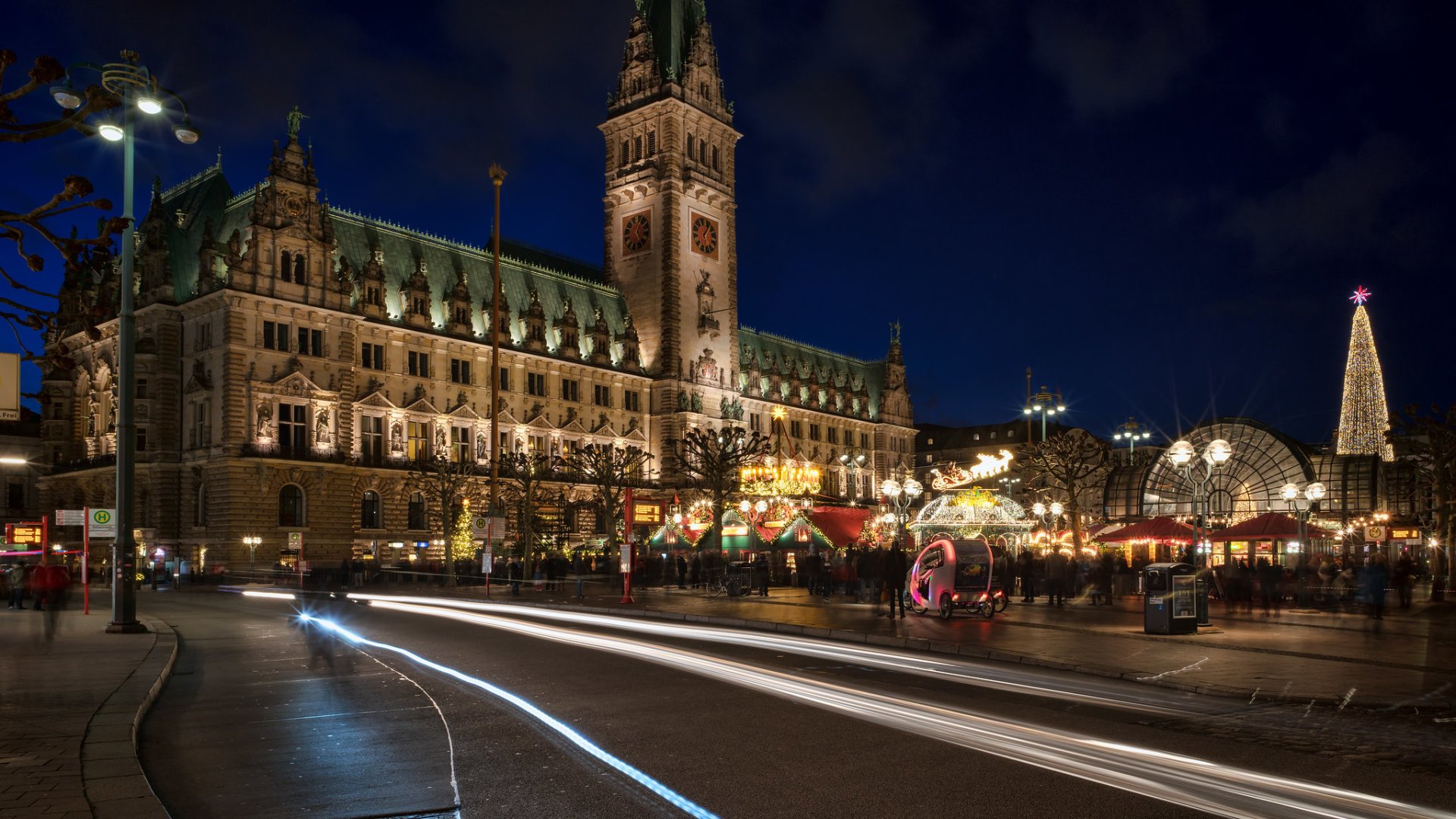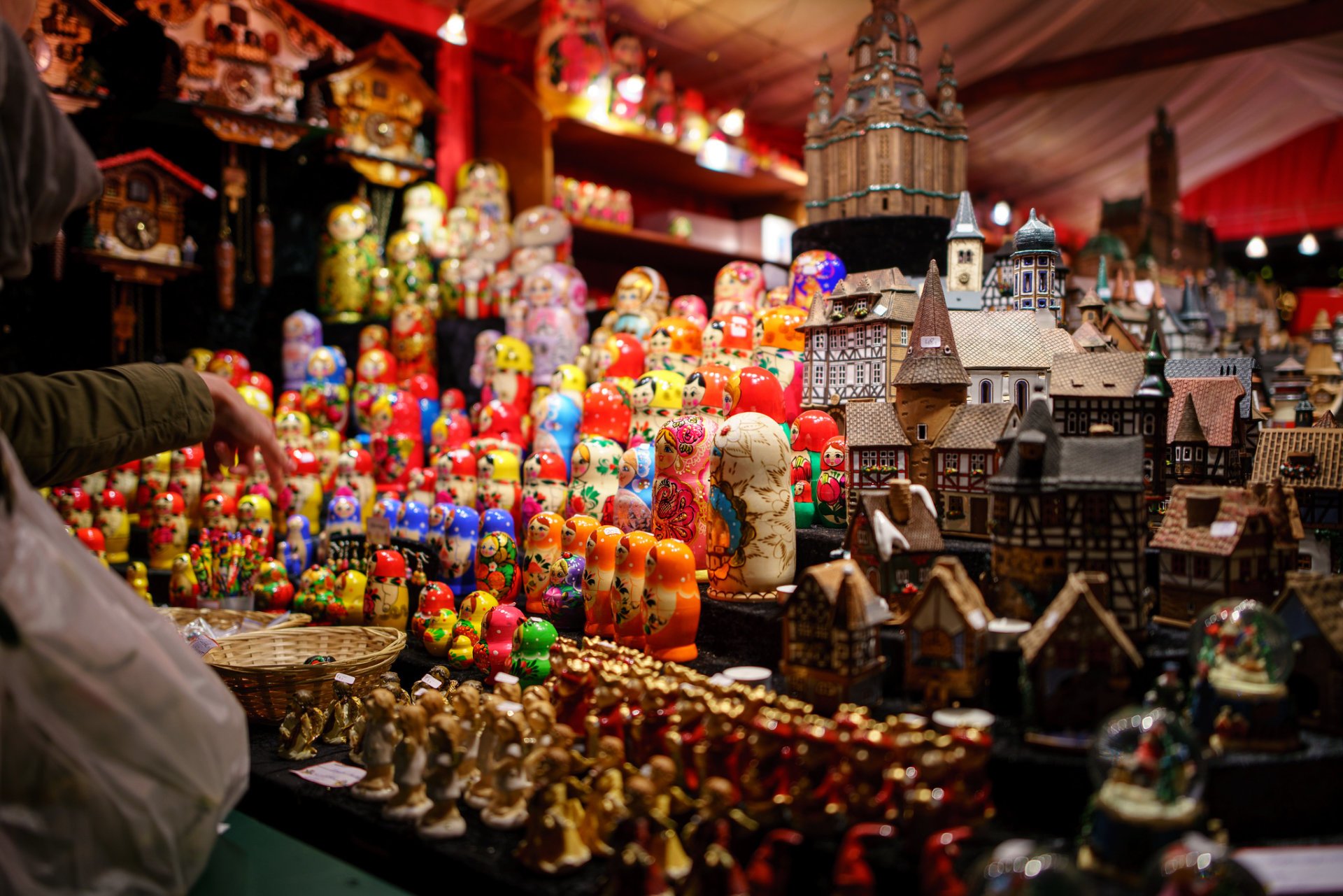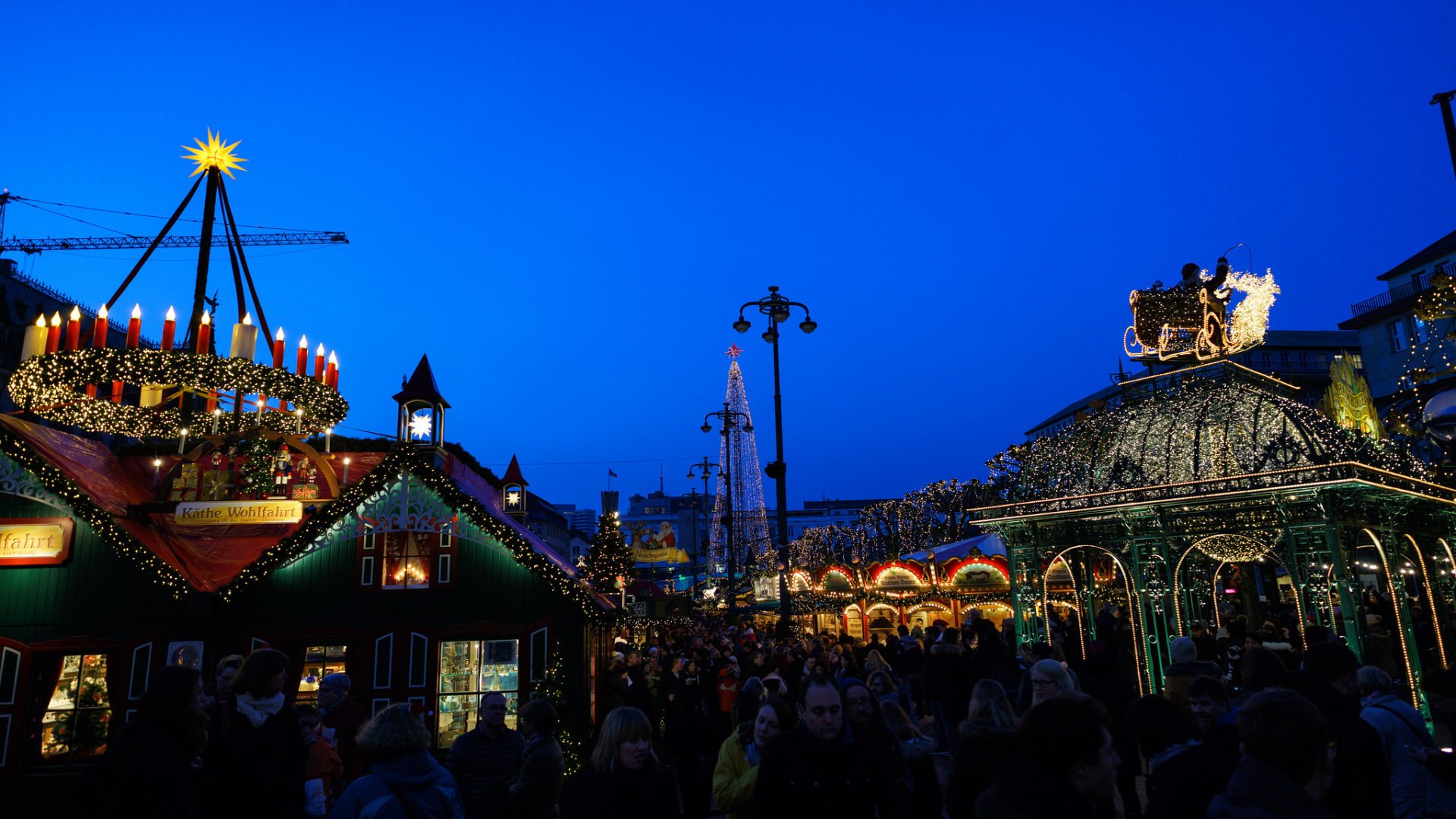 Hamburg boasts over a dozen Christmas markets during the holiday season. Being one of the best Christmas holiday destinations in Northern Germany, Hamburg has something for everyone: from the traditional Christmas market at Rathausplatz to the alternative, erotic market at St. Pauli. The season for Christmas markets usually starts in mid-November and ends in late December.
Rathausmarkt or City Hall Market (November 21– December 23, 2022)
The most famous Christmas market in Hamburg is located near the City Hall a Rathausmarkt Square. Its main highlight is a huge illuminated Christmas tree. The market hosts dozens of stalls with decor items, handmade toys, jewelry, glassware, and various international foods. Kids love this market because Santa Claus regularly appears here in his sleigh. The market is open from 11 am to 9 pm Sunday–Thursday. On Fridays and Saturdays, hours are extended until 10 pm.
Winterwald (November 17–December 30, 2022)
One of the most atmospheric Christmas markets is located in the shopping area, near Steinstraße. Looking like an enchanted winter forest, Winterwald Christmas market boasts many pine trees and traditional wooden stalls. Between the City hall and Hamburg Central train station, one can also find Christmas markets on Spitalerstraße and Gerhard-Hauptmann-Platz. These cozy markets are perfect for warming up with a cup of hot cocoa or mulled wine, as well as for shopping for crafts, design, and art items.
Maritime Christmas Market (November 21–Desember 20, 2022)
One of the best Christmas markets in Hamburg is located on Fleet island. Maritime Christmas Market or Fleet Weihnachtsmarkt boasts a special maritime atmosphere thanks to its picturesque location. Surrounded by canals of the Alster and Elbe rivers, this Christmas market offers various delicacies, mulled wine, and views of several historic ships nearby.
Santa Pauli (November 14–December 23, 2022)
Santa Pauli is an X-rated Christmas market for adults only. It takes place in the red-light St. Pauli district of Hamburg. The hottest Christmas market in Hamburg is about adult entertainment: strip shows, live music, an open-air art gallery, and various performances. It also offers traditional mulled wine and unusual Christmas presents. The market is open from 4 pm to 11 pm Sunday through Wednesday, from 4 pm to 12 pm on Thursday, and from 1 pm to 1 am on Fridays and Saturdays.
Find hotels and airbnbs near Hamburg Christmas Markets (Map)