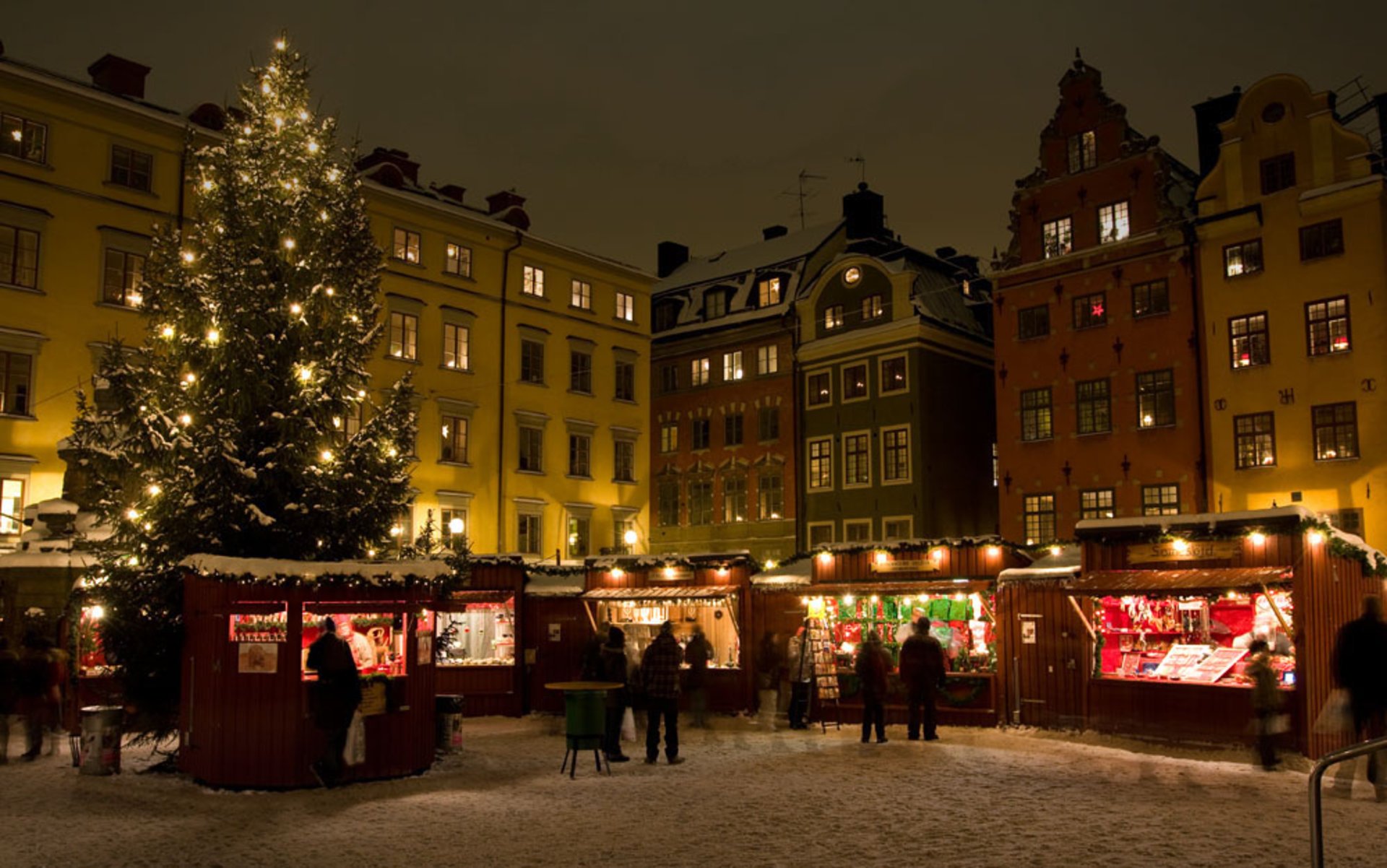 Stockholm Old Town Christmas Market
See accommodations nearby
The capital of Sweden offers an array of cozy Christmas markets, catering to all tastes. Festive fairs take place in the historic Old Town, at the Royal Court Stable, at the open-air museum Skansen, and other fancy spots across Stockholm. Some events last throughout the entire holiday season from mid-to-late November through late December, while others run for a single weekend. Yet, all of them are equally worth visiting.
Stockholm Old Town Christmas Market (November 19–December 23, 2022)
If you visit Stockholm for the first time, seeing the Old Town Christmas Market (Stortorgets Julmarknad) is a must. This first-in-class holiday spot is set in Gamla Stan in the heart of the city and has an ancient history, dating back to the medieval era. Also, this place stands out with its gorgeous market stalls, selling Swedish Christmas sausages, warm glögg, and souvenirs. Don't hesitate—seize this perfect opportunity to let your hair down and enjoy Christmas time.
Skansen Christmas Market (November 25–December 18, 2022)
Alternatively, you can take a ferry to Skansen and enjoy the holiday season on the grounds of the largest outdoor museum in Europe. Skansen Christmas Market, or Julmarknad på Skansen as locals call it, celebrates all things Christmassy, including festive treats and gifts. But it also highlights Swedish traditions, history, and craftsmanship.
Christmas Fair at the Royal Court Stable (November 25–27, 2022)
Julmässan på kungliga Hovstallet is a Swedish name for the elegant Christmas fair held at the Royal Court Stable. In addition to holiday shopping, you can watch royal carriages with the king's horses. The Christmas fair typically runs during the first Advent weekend in late November and offers various festive delicacies and personalized presents by the country's best craftsmen.
Schysst Jul Market (December 3–4, 2022)
Another exciting option is Schysst Jul, meaning Nice Christmas. This holiday fair takes place at ABF huset (ABF Building) and promotes more mindful shopping. Here, you'll buy organic goods and support fair trade, particularly the organizations working with human rights and environmental issues. Mark your calendars for early December not to miss this event.
Apart from Christmas markets in Stockholm, you may want to check out some other holiday fairs outside of the city. Consider more opportunities available throughout the country.
For more details and the latest updates, please consult the official websites, listed in the External Resources below. Also, check out the map suggesting accommodations nearby, suitable for different budgets.
Find hotels and airbnbs near Stockholm Christmas Markets (Map)