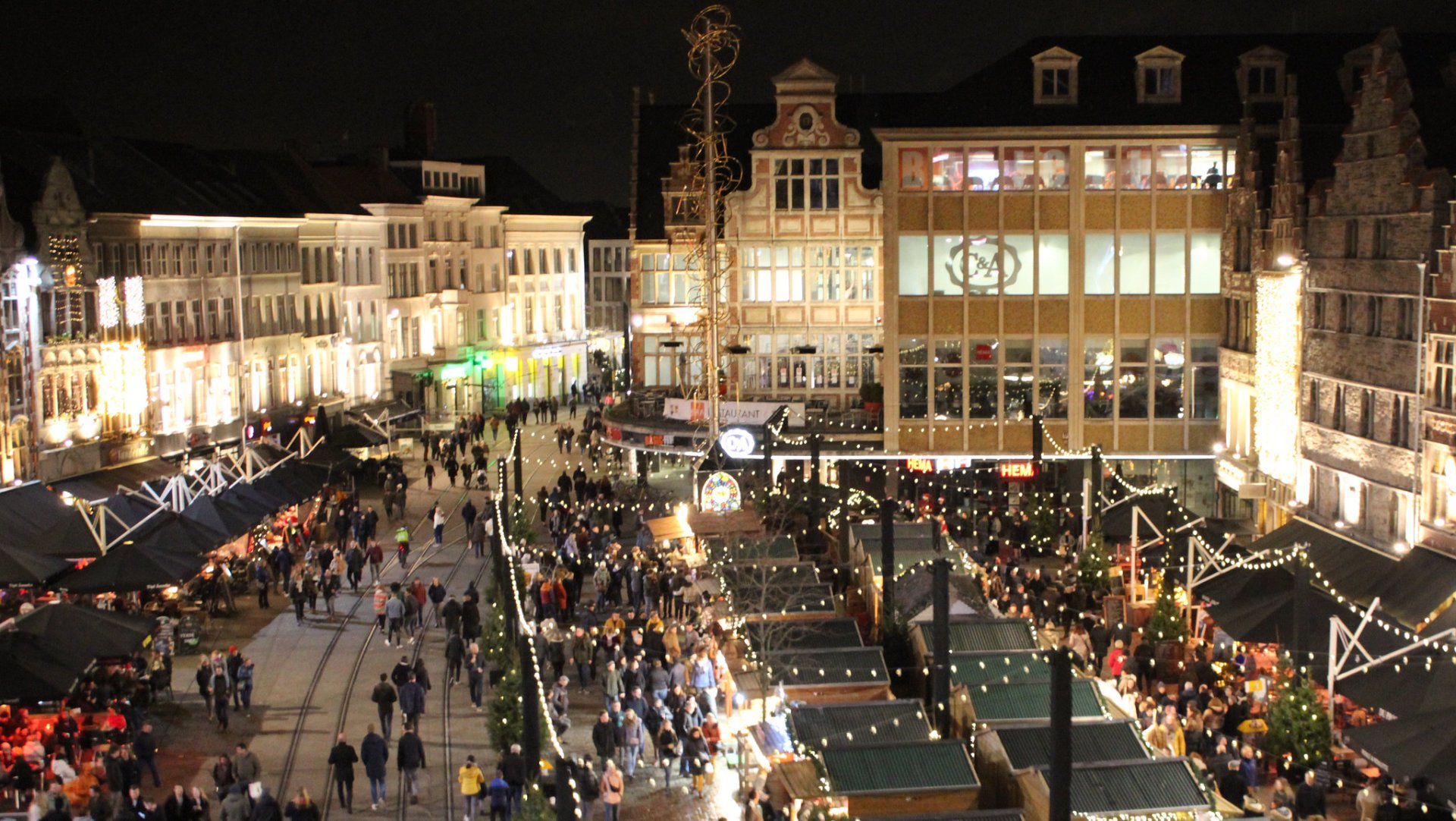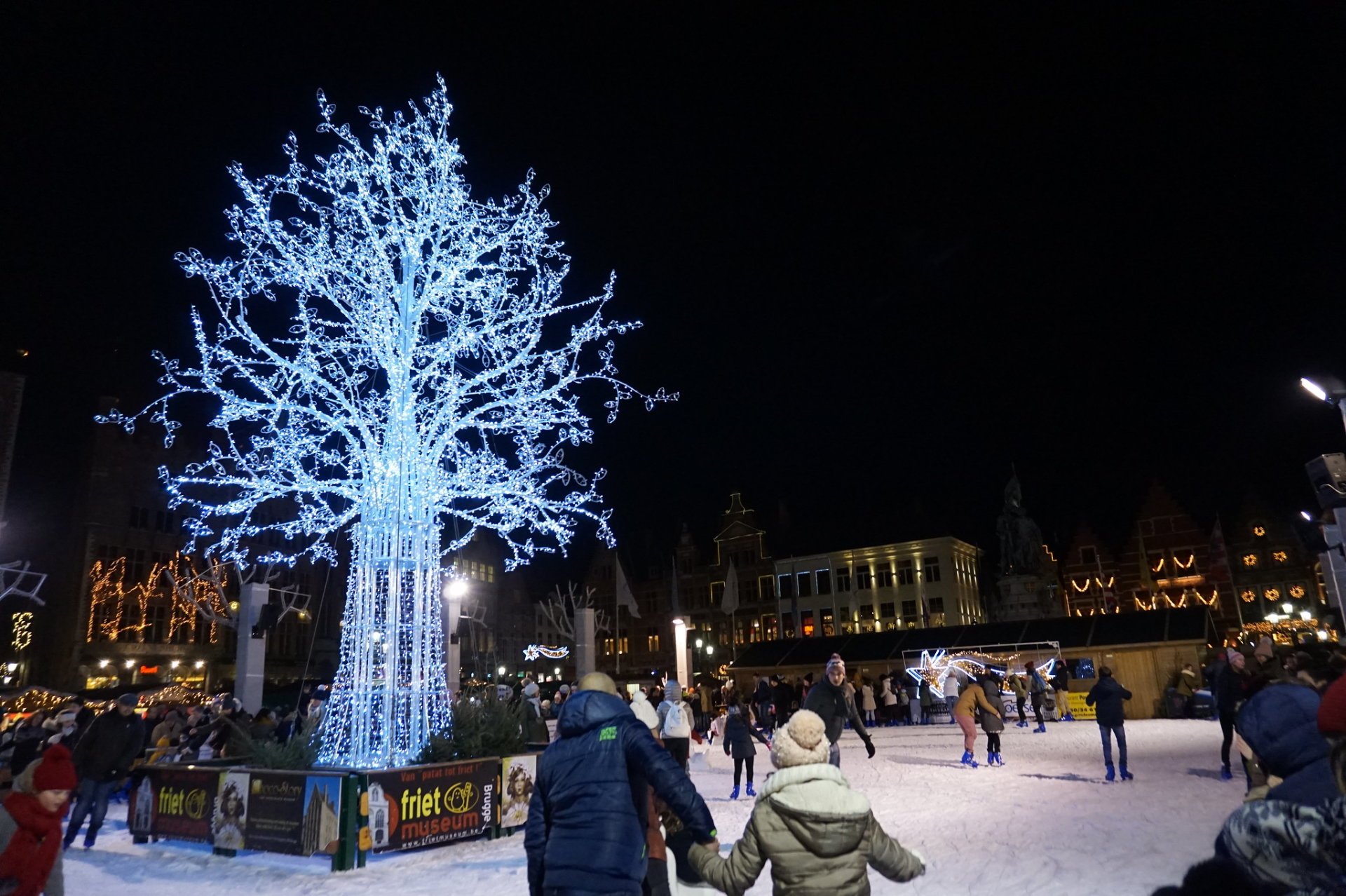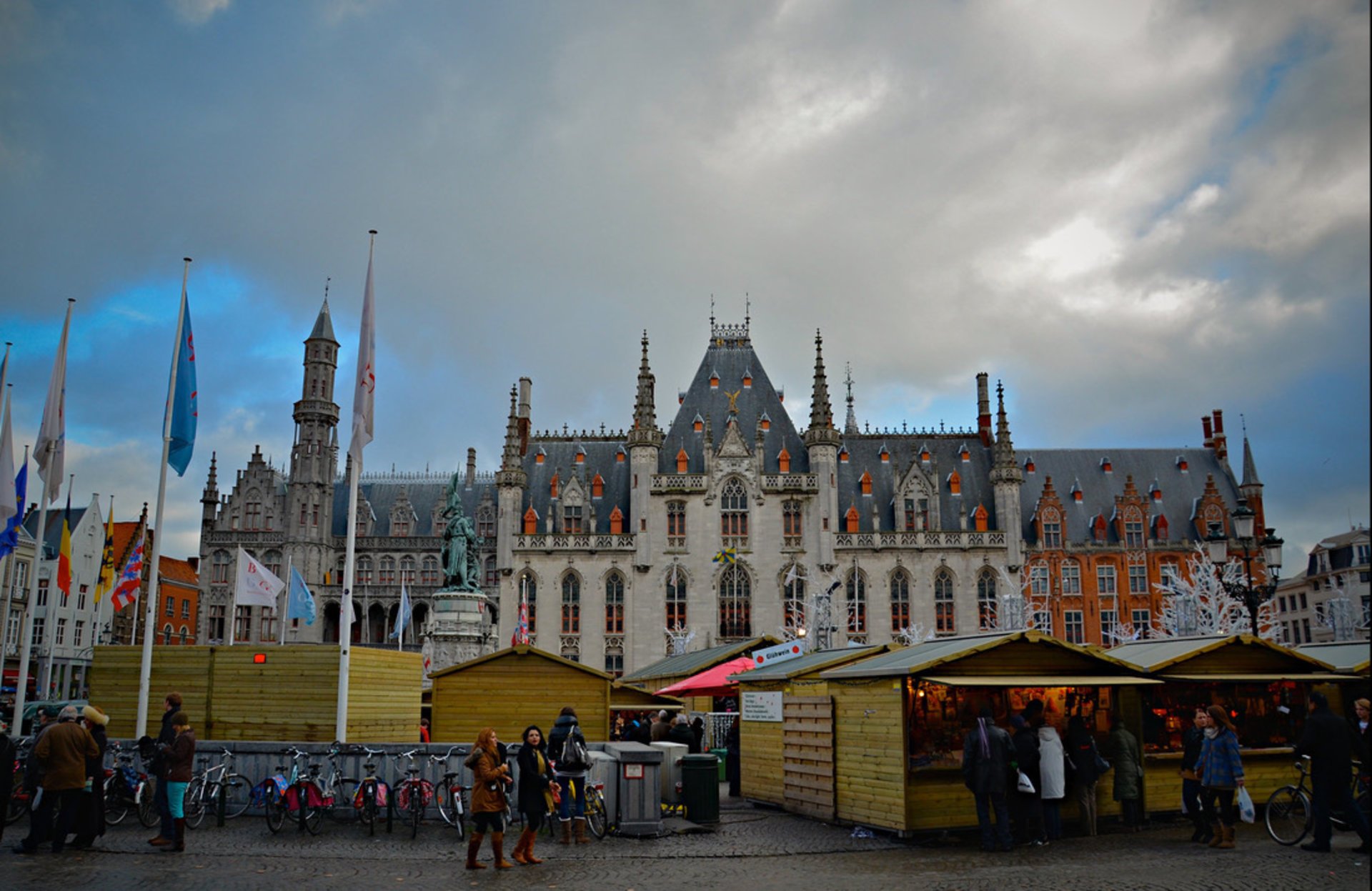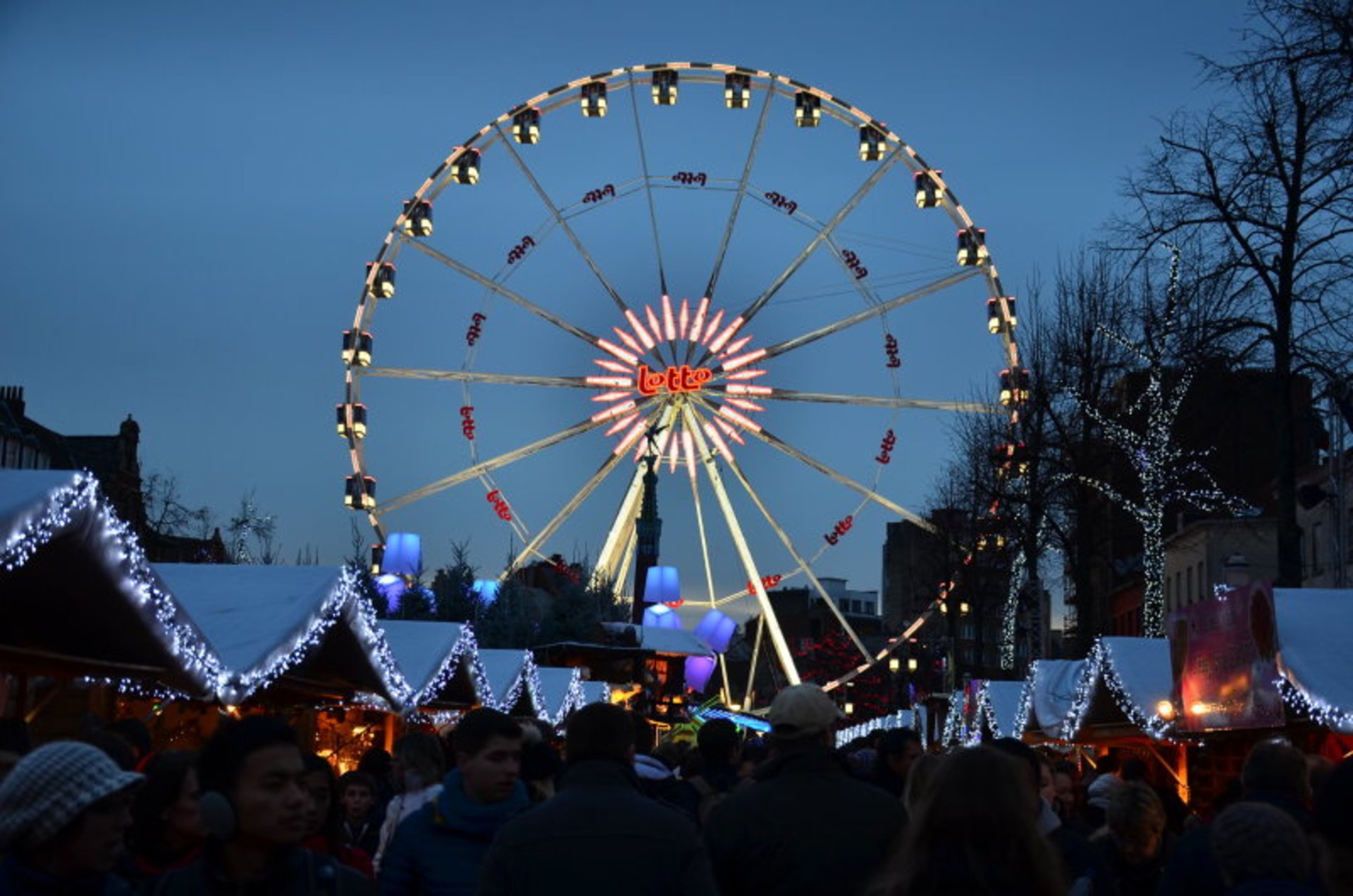 Christmas-time Belgium is a real winter wonderland with the smell of cinnamon and glühwein! Its iconic Christmas markets are among the best in Europe to indulge in delicious foods, like waffles, pancakes, and smoutebollen. Christmas beer is another good reason to make a trip to Belgium in the winter!
Bruges Christmas Market (November 25, 2022–January 8, 2023)
Bruges is one of the most beautiful Belgian cities. From late November, the historic center looks simply stunning thanks to holiday illumination on medieval facades, an ice rink, and a festive Bruges Christmas market. The market is located on the central Markt Square and Simon Stevin Square. Bruges is famous for its delicious food: make sure to try chocolate and Christmas beer. The market also offers some authentic crafts, like Belgian lace and Christmas decor.
Ghent Winter Festival (December 8–31, 2022)
Ghent Christmas Market stretches from Sint-Baafsplein to Botermarkt, Klein Turkije and through the end of Korenmarkt. The whole area is brightly illuminated with Christmas lights and beautifully decorated. The market consists of about 150 wooden stalls, offering snacks and drinks, spreading delicious smells across the medieval city center. Visitors can shop for unique Christmas gifts, decor items, and crafts, while children enjoy some festive activities when visiting Santa in his ice grotto.
Brussels Christmas Market (November 25, 2022–January 1, 2023)
Winter Wonders Christmas Market transforms the center of Brussels into a fairytale town, visited by over 2 million people annually. One of the most beautiful winter markets in the world is held on the majestic Grand-Place or Grote Markt in Brussels. This UNESCO heritage site dates back to the 17th century, with baroque and neo-gothic facades accentuated by the amazing holiday illumination. Brussels Christmas Market features over 200 stalls, an impressive Christmas tree with a huge nativity scene, a Ferris wheel, and an ice rink. Kids would certainly appreciate old-fashioned carousels and various entertainment.
Antwerp Christmas Market (December 9, 2022–January 8, 2023)
The beautiful Christmas market in Antwerp stretches from the Groenplaats to the historic Grote Markt. The market consists of about 100 stalls, offering delicious food, warm beverages, decor items, apparel, and various arts and crafts. Groenplaats hosts most Christmas celebrations in the city: an ice skating rink, mini-golf, a Ferris wheel, and a live music stage. During the first weekend after opening, there's always plenty of entertainment, like music and fireworks. Groenplaats is a perfect place to have a glass of Glühwein by the open fire watching the bustling life around you. The Ferris wheel provides one of the best views of Antwerp city center and river Scheldt. Some amusement rides and kids' activities are also available.
Liege Christmas Village (November 25–December 30, 2022)
Village de Noël becomes the center of Liege for five weeks. It has streets and alleys, its own town hall, a church and post office, and even a mayor and council. Vendors in 200 wooden chalets represent the village inhabitants. Every year, around 2 million people stop by Place Saint-Lambert and Place du Marché to visit the village and feel the Christmas spirit. A giant Christmas tree, the sounds of Christmas carols, and the smell of holiday delicacies create a magical atmosphere. Visitors may buy presents and souvenirs, Christmas decorations, and toys. Dozens of chalets showcase local products and offer tastings. Mulled wine and Christmas beer, chocolate, marzipan, gingerbread, and many other treats are an inevitable part of the market. Also, in one of the chalets, there is a spot to make donations for those in need. You may bring clothes, toys, or food.
Thanks to its beautiful medieval and Flemish Renaissance architecture, Belgian cities are among the most romantic winter destinations in Europe. When cozy Christmas markets light up with twinkling lights after dusk, they spread their unique holiday atmosphere and old-world charm throughout Belgian cities.
Find hotels and airbnbs near Belgium's Christmas Markets (Map)