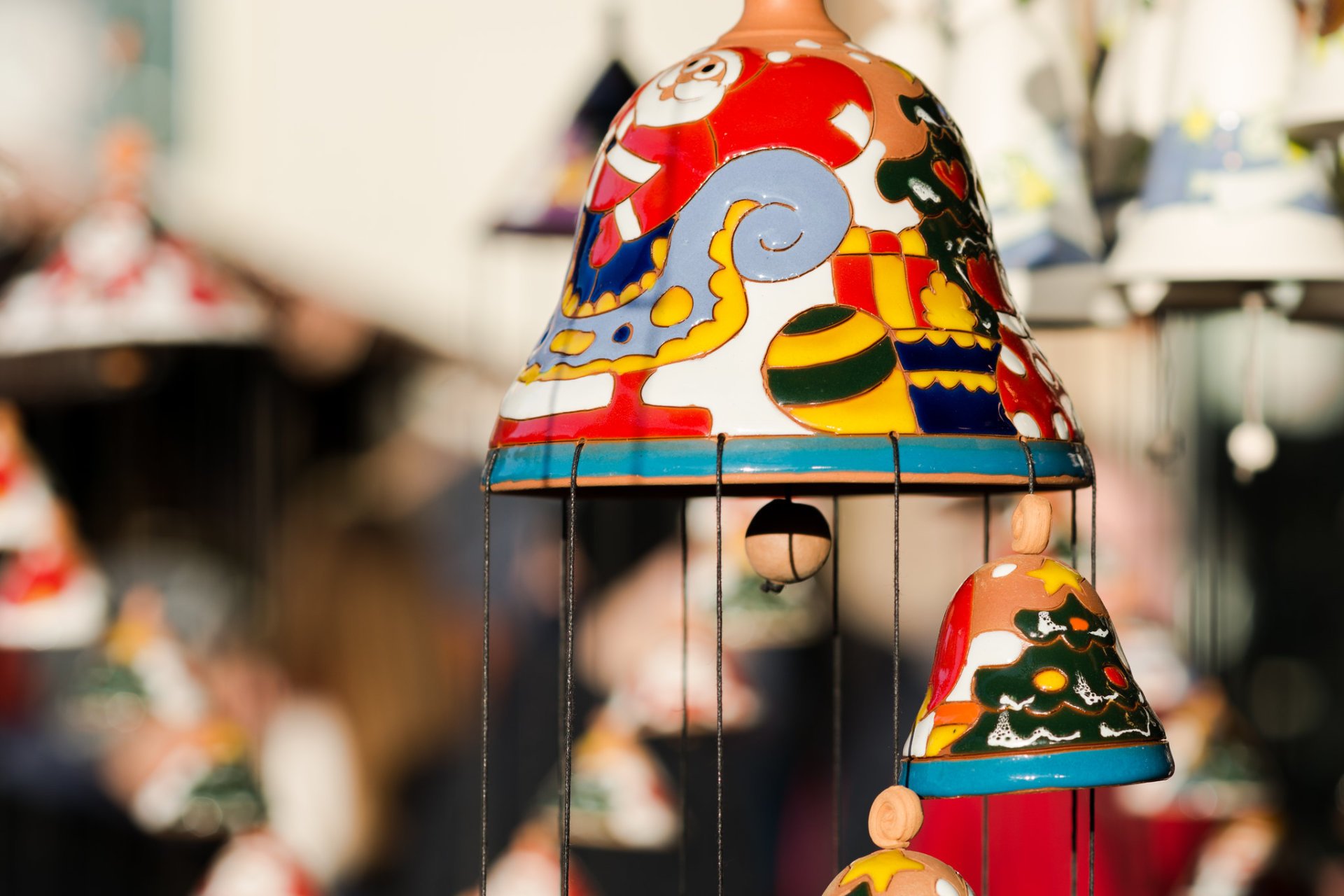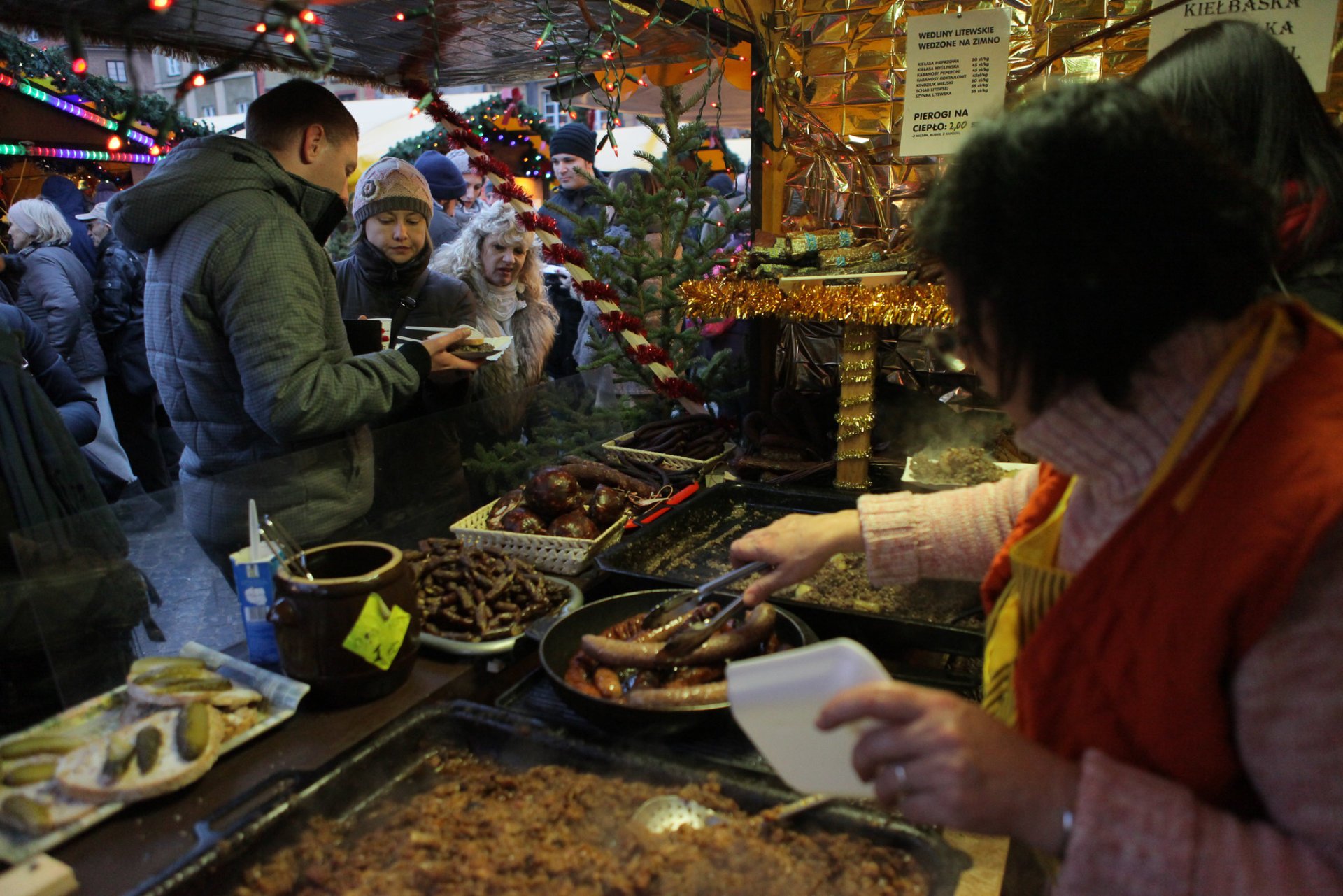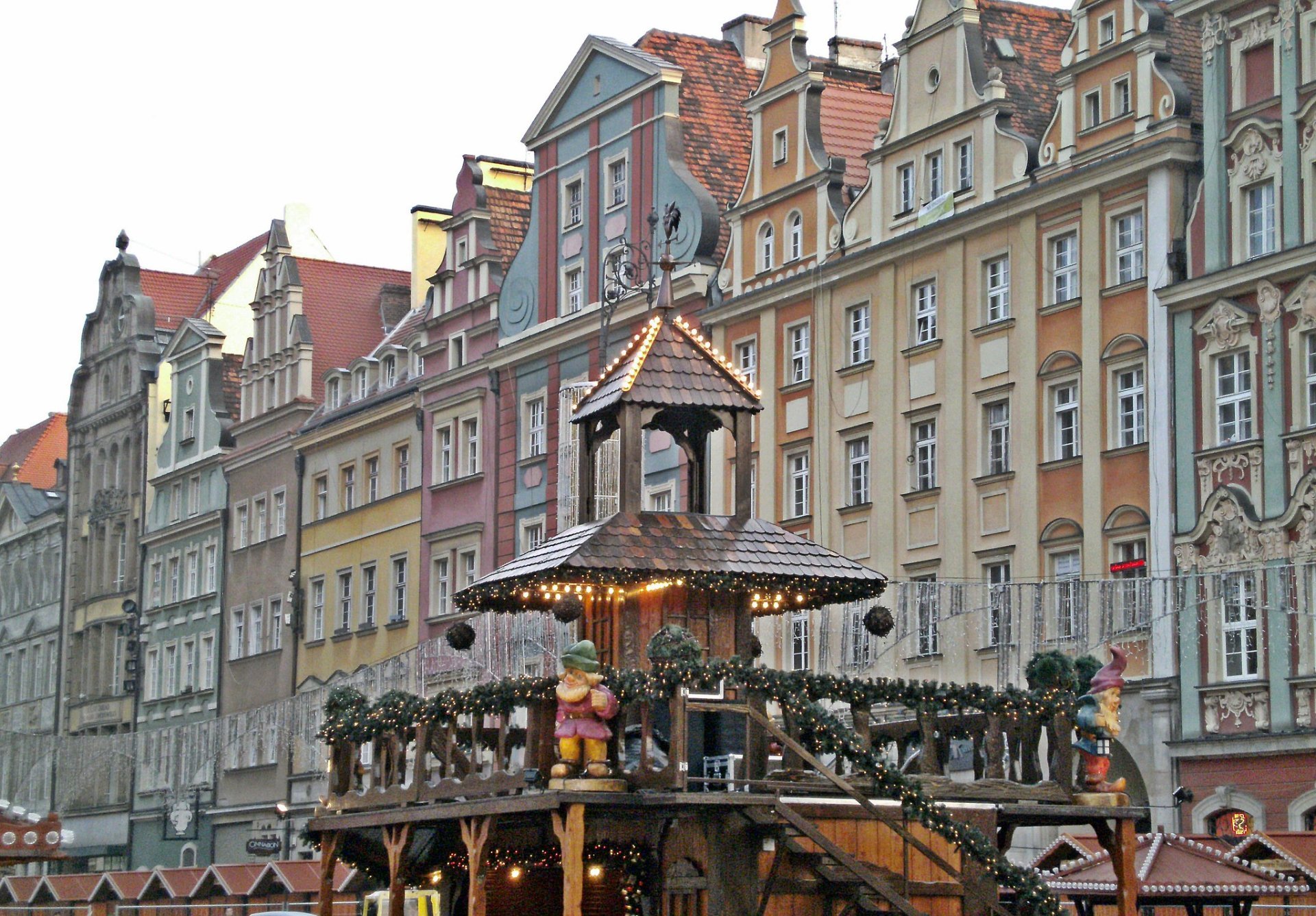 Christmas Market in Wroclaw
With its beautiful architecture and rich culture, Poland is a perfect destination in the winter. If you are lucky to witness some snow in December, you will surely experience a real winter wonderland, warming up with hot chocolate and mulled wine while immersing yourself in holiday festivities. Polish Christmas Markets can surely compete with those in Germany or Austria but are significantly cheaper and less crowded.
Krakow Christmas Market (November 24, 2023–December 26, 2023, unconfirmed)
Poland's largest Christmas Market is located in the Main Market Square (Rynek Główny) of the Old Town in Krakow. The market serves as the meeting hub and the center of all holiday activities in the city. There's always some entertainment here during the holidays, like carol singing and folk ensembles. In addition to Christmas treats, like candy and gingerbread cookies, wooden stalls offer handmade gifts and holiday decor. This Christmas market is an excellent place to find a unique Christmas gift, like hand-painted glass Christmas tree baubles, authentic pottery, embroidered home textiles, and metalwork. Artisans often hold some demonstrations, showing off their skills in wood carving or glass painting.
Wroclaw Christmas Market (November 24–December 31, 2023)
Wroclaw Christmas Market is probably one of the most underrated holiday fairs in Europe. It takes place in four areas: The Market Square (Rynek), The Salt Square (Plac Solny), on Świdnicka Street, and Oławska Street. 16th century Market Square is full of entertainment, like a carousel, amusement rides, and live music. Meanwhile, on Plac Solny, visitors can try delicious foods from all over the world as well as traditional Polish treats, of course. One of the must-tries is Oscypek, a smoked cheese, unique to the Polish mountains.
Warsaw Christmas Market (November 25, 2023–January 6, 2024, unconfirmed)
On the edge of the Old Town in Warsaw, visitors can find the beautiful Christmas Market in Barbakan (Jarmark Bożonarodzeniowy na Barbakanie). It is held in the picturesque square in front of the Royal Castle, which used to defend the Old Town in the sixteenth century. The Christmas Market consists of about 60 wooden chalets, offering candy, gingerbread cookies, and authentic Christmas presents, like hand-painted glass baubles, hand-knit sweaters, carved wood, and embroidered tablecloths. Not to mention plenty of food and hot drinks to keep everyone warm. Traditional food, mulled wine, and hot chocolate would make anyone forget about wintery chill!
Gdansk Christmas Market (December 2-23, 2023, unconfirmed)
One of the most beautiful Christmas markets in Poland, Gdański Jarmark Bożonarodzeniowy takes place on the Targ Węglowy (Coal Market Square). It has everything one would want from a Christmas fair: a Venetian carousel, the Advent Gate, an ice skating rink, a talking moose, and a lavishly decorated Christmas tree. Stroll through the Chocolate or Cinnamon street of the market and try delicious Christmas foods from all over Europe: from grilled sausages and roasted chestnuts to smoked cheese and famous pierogi. Gdansk is also famous for its elves parades and Christmas lights displays, making the city one of the best decorated holiday destinations in the country.
Poznan Christmas Market (November 18–December 22, 2023)
One of the best Christmas fairs in Poland, Betlejem Poznańskie or Poznan Christmas market is held on the Old Market Square and Plac Wolności (Freedom Square). It consists of dozens of wooden stalls with international delicacies and Christmas gifts. A Ferris wheel, ice sculptures, and nativity scenes are among the highlights of this Bethlehem-themed winter fair. Visits with Santa, holiday illumination and traditional music make the market the center of holiday festivities in the city.
Find hotels and airbnbs near Christmas Markets in Poland (Map)