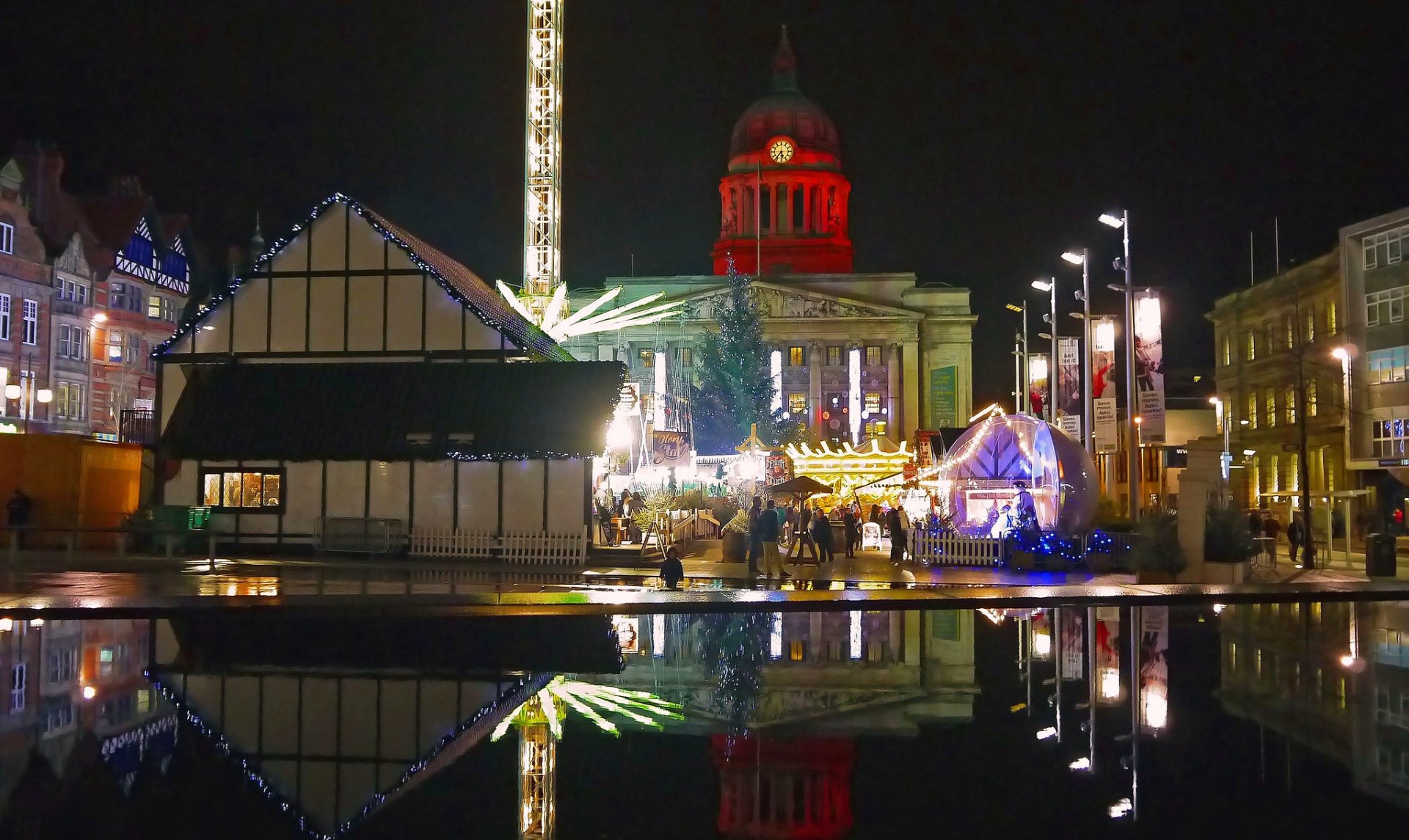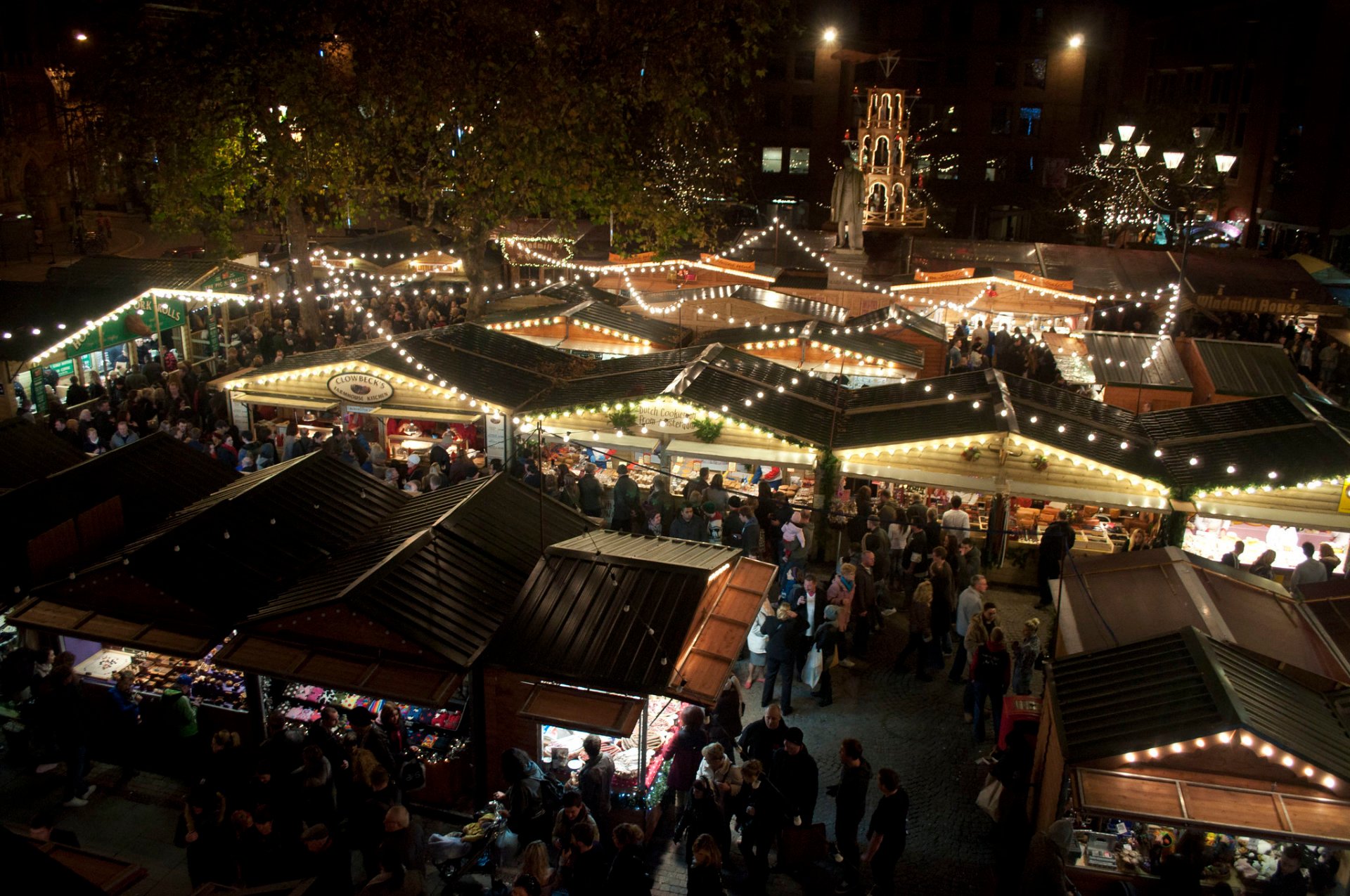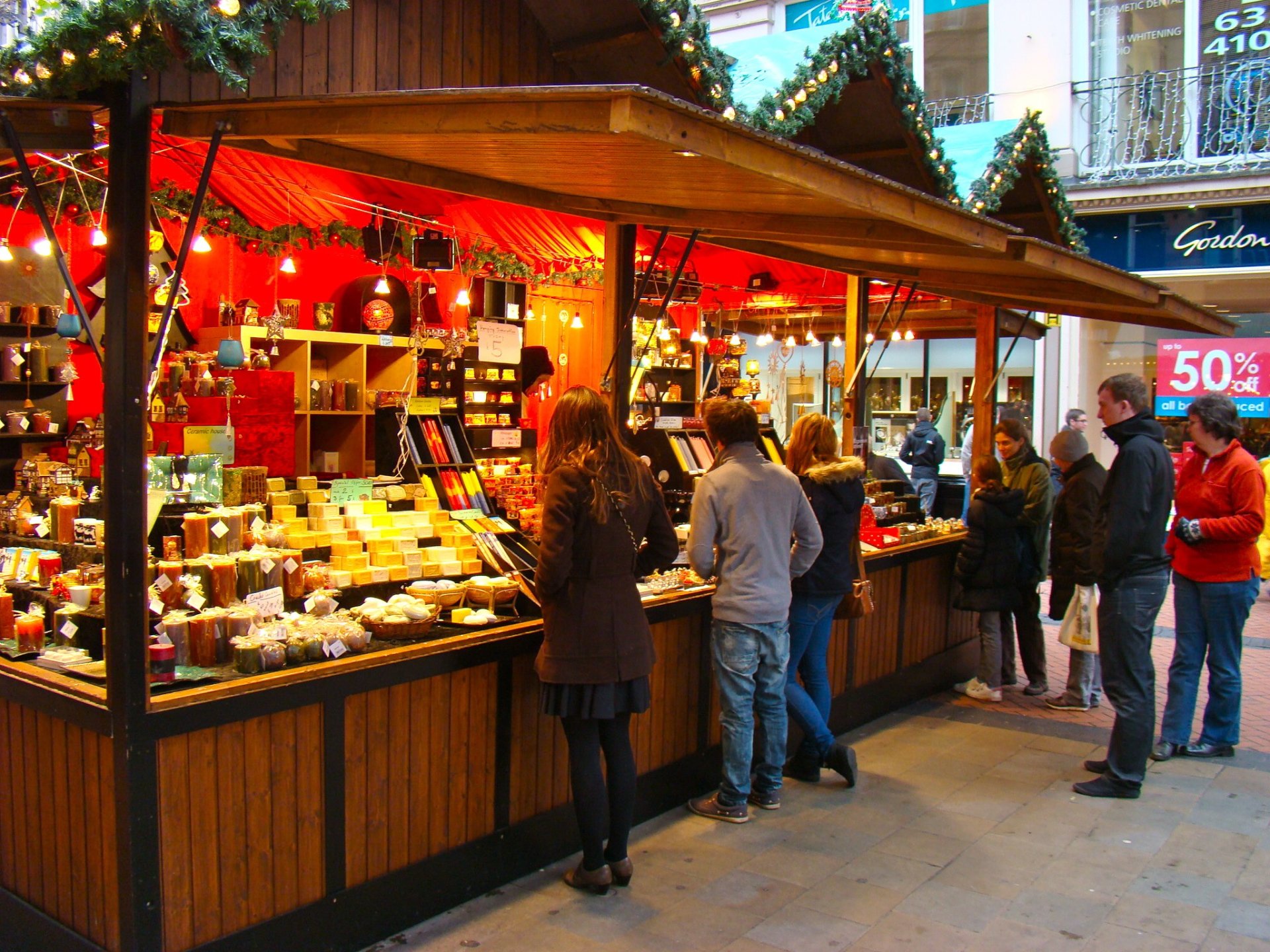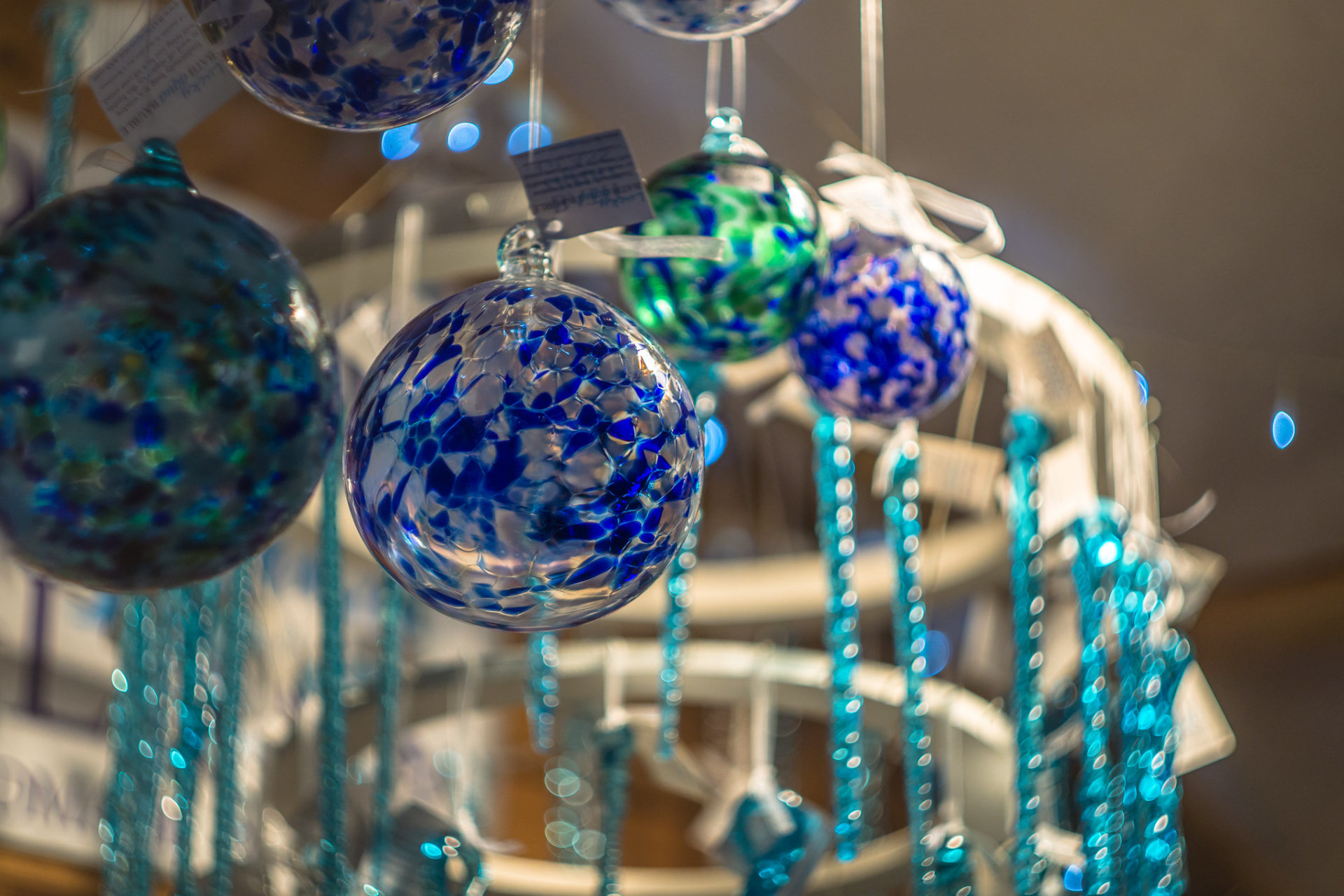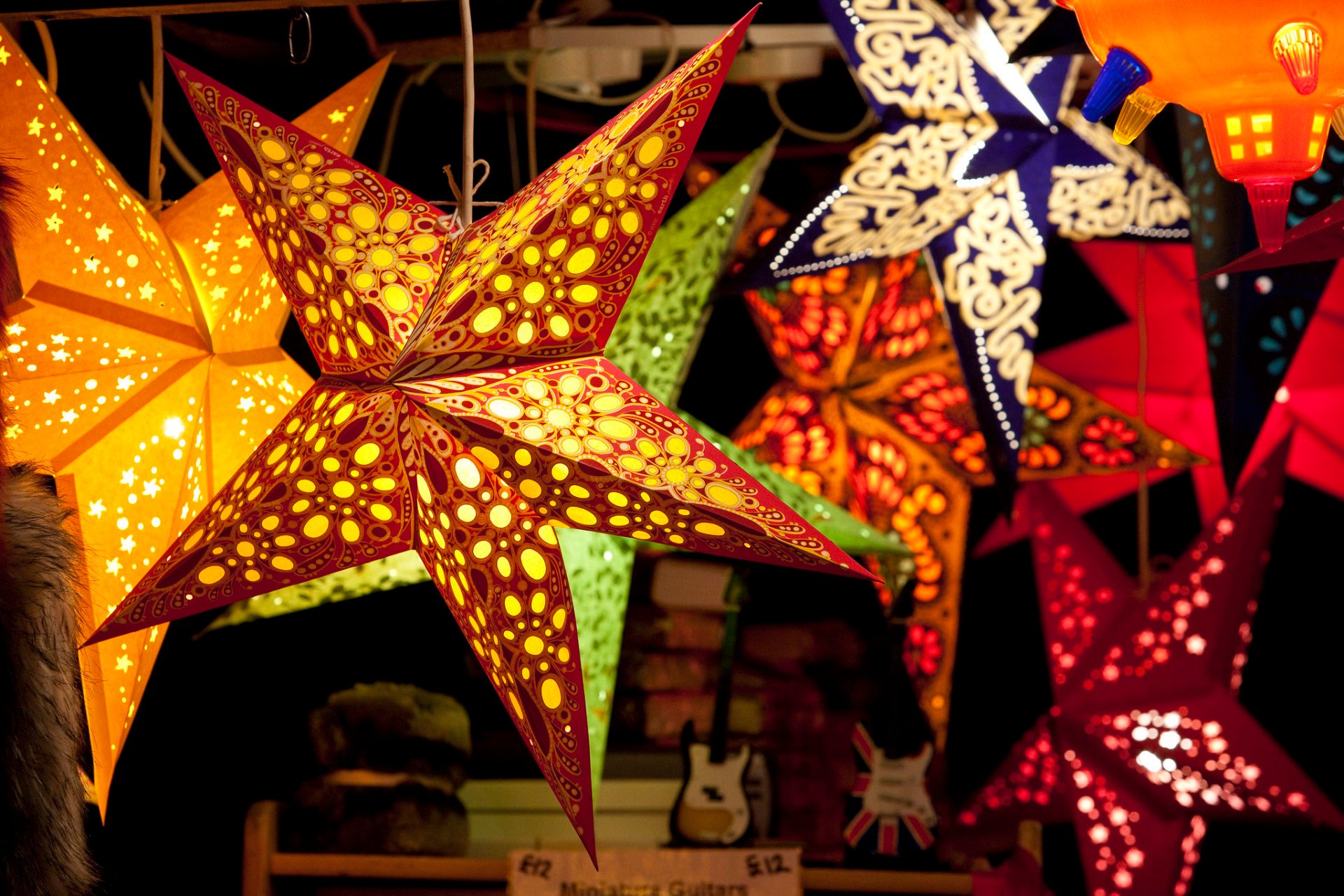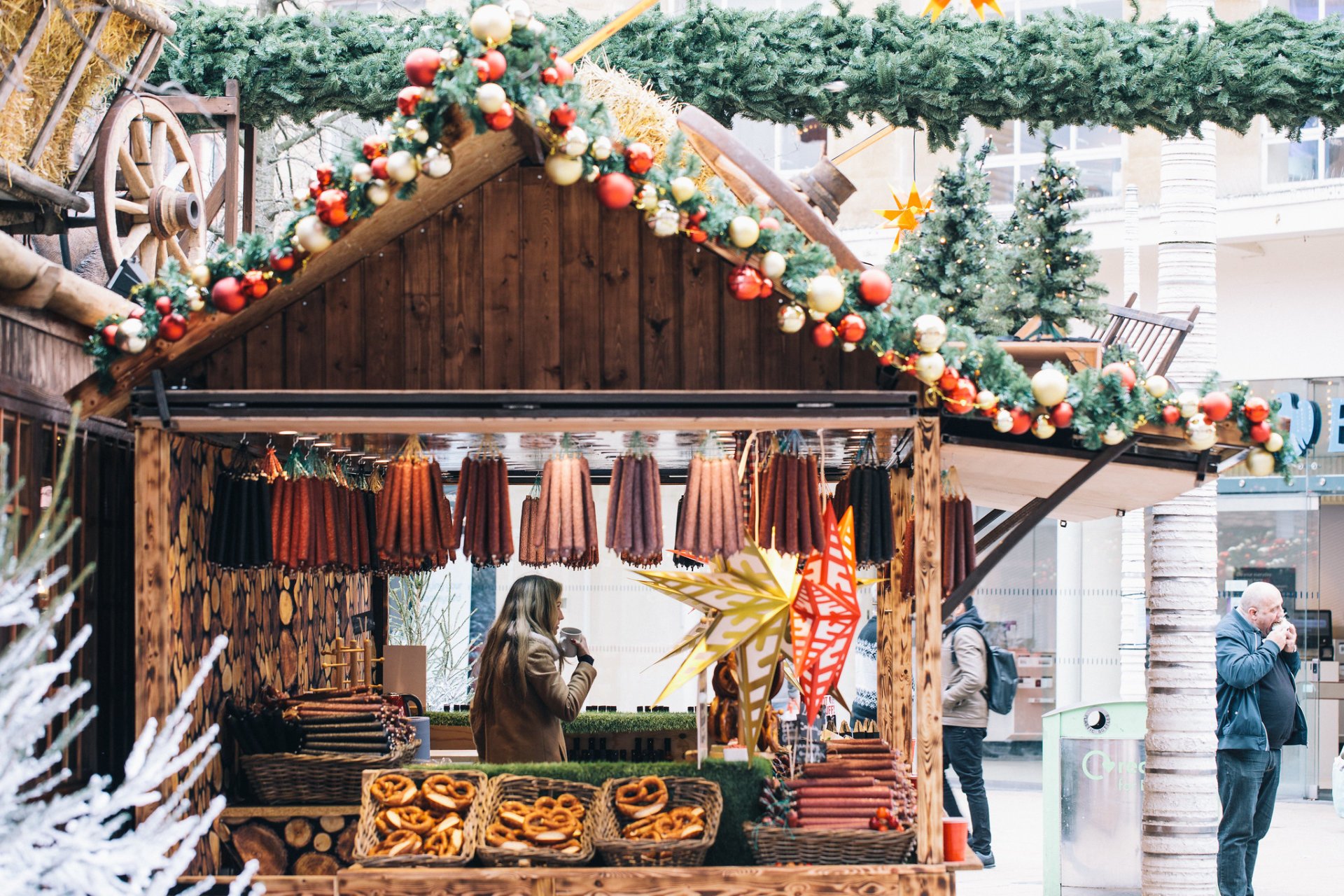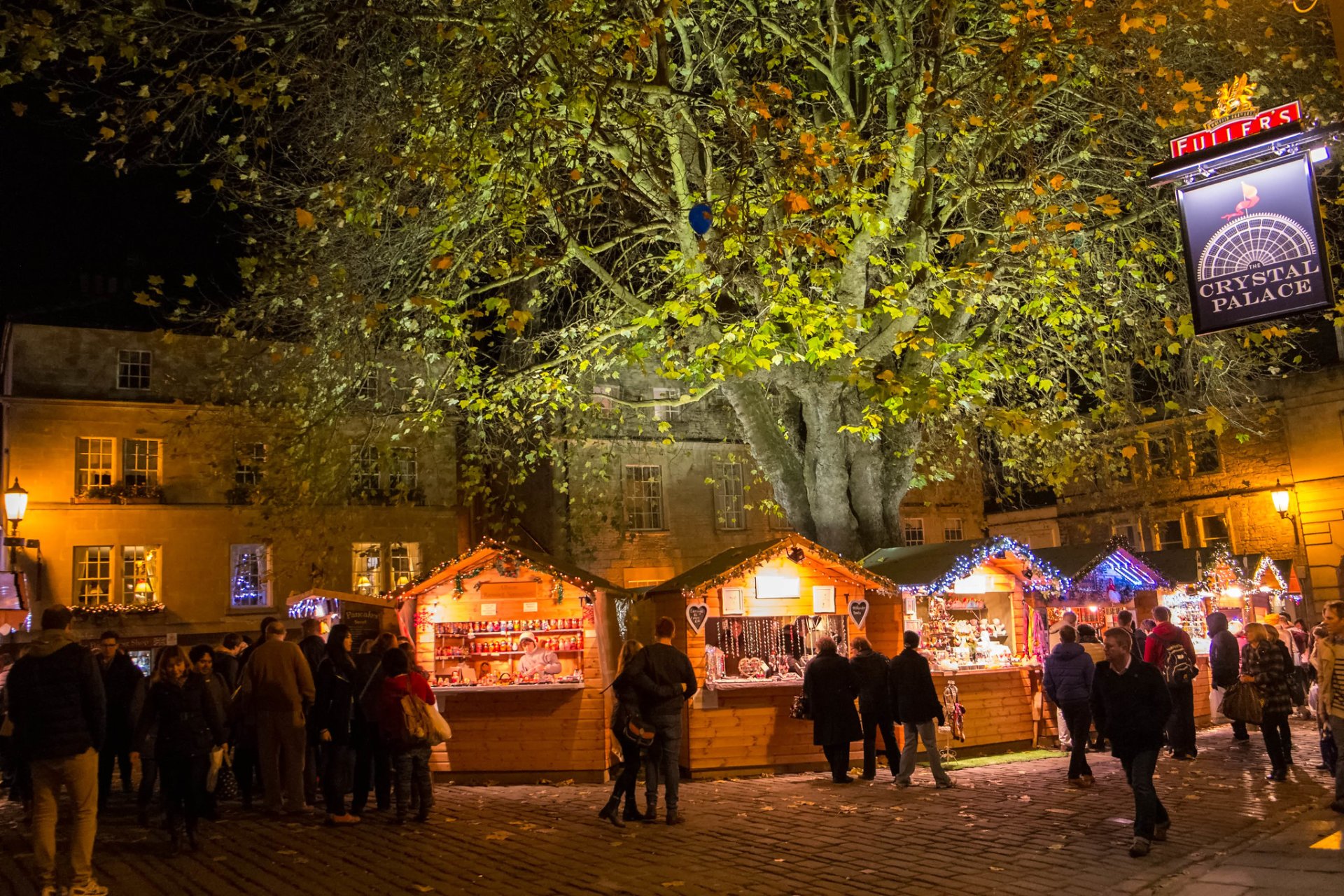 Nottingham Christmas Market
Christmas markets had appeared in England just in the late 1990s and have quickly become a beloved holiday tradition. Mulled wine, delicious foods, crafts, and holiday decor are among the most popular items for sale. Carousels, Ferris wheels, ice skating, and fun competitions draw kids and adults, who are looking for Christmas magic and holiday spirit. Manchester Christmas market was the first to appear in England, and it's still one of the best, competing with over a dozen Christmas markets across England.
Manchester Christmas Markets (mid-November–late December 2022)
Launched in 1998, Manchester Christmas Markets are among the top seasonal attractions in the country, drawing thousands of visitors every December. Beautifully decorated and adorned with shimmering lights, old-fashioned stalls and chalets offer delicious holiday treats, international foods, various crafts, and Christmas decorations. Thanks to a large variety of goods, from toys to jewelry and apparel, about eight Christmas markets in Manchester are an excellent destination for holiday shopping with friends and family. Albert Square hosts one of the largest and most impressive Christmas markets in Manchester. Its iconic Old Windmill House bar, food, and crafts stalls draw crowds every winter. Piccadilly Gardens is a relatively new winter market spot, but it has become the top holiday destination in the city. The main highlights of the market are the huge LED-lit Santa as well as a globe bar where you can get some warm drinks.
Winter Wonderland in London's Hyde Park (November 18, 2022–January 2, 2023)
Winter Wonderland in London's Hyde Park is a free event for the whole family, which features tons of fun and activities like ice skating, a Ferris wheel, a Christmas market, and a circus. UK's largest outdoor rink in Hyde Park offers holiday music, illumination, and special shows like Peter Pan on Ice. Magical Ice Kingdom's Secret Forest has ice and snow sculptures on display. Zippos Christmas Circus or Cirque Berserk will show amazing acrobatic stunts. Kids would love traditional carousels or nine rollercoasters at the fairground. Other attractions include Teletubbies, Ice Sculpting Workshops, and a Comedy Club. Overall, Winter Wonderland features more than 100 rides and games for never-ending festive fun.
Liverpool Christmas Market (November 17–December 23, 2022)
Liverpool Christmas Market by St. George's Hall is one of the best places for getting into the holiday spirit in England. Savor the aroma of roasted chestnuts and mulled wine while taking a stroll through a festively illuminated historic center. Liverpool Christmas Market features about 60 stalls with various foods and crafts and three outdoor German-style bars serving mulled wine and festive drinks. Teepee Bar, the Ski Lodge, and Windmill Bar offer cocktails and beverages for any taste. Food includes traditional Bavarian cuisine as well as Yorkshire pudding wraps, pancakes, and waffles. Local artists present their works as well as Christmas decorations and candles for sale. A Ferris wheel and amusement rides for kids are among the main highlights at the market.
Birmingham's Frankfurt Christmas Market (November 3–December 23, 2022)
Birmingham is home to the biggest Christmas Market in England. It's called a Frankfurt market for a reason. Birmingham is the best place to indulge in German bratwurst, pretzels, schnitzels, and beer without leaving England. Held at beautiful Victoria Square, the market features over 180 stalls with apparel, leather, woodwork, and glass. The skating rink at the market usually operates from early November through early January.
York Christmas Market and St. Nicholas Fair (November 17–December 23, 2022)
Medieval York is another great location for a holiday market. St Nicholas Fair in York features Alpine chalets. Yorkshire Yuletide Village also offers gifts and crafts produced locally. York Theatre Royal's Christmas pantomime is also highly praised as one of the best.
Nottingham Christmas Market (November 14–December 31, 2022)
Nottingham Christmas Market is held at Old Market Square in the center of Nottingham. It features about 70 market stalls with food, crafts, and Christmas gifts. Entertainment includes rides, a 105 ft (32 m) observation wheel, an outdoor ice skating rink, Santa's grotto, live music, and Alpine Ice Bar.
Leeds Christmas Market (November 5–December 18, 2022)
Leeds Christkindlmarkt, held in the city's Millennium Square, has a distinctly German character. Bratwurst and glühwein are some of the most popular items for sale at the market. Cozy Bavarian-style stalls also offer crafts, toys, jewelry, and decorations. The market is one of the best for families thanks to carousel rides, Breakfast with Santa in the Alpine Chalet, and various kid-friendly activities like face painting, treasure hunts, and balloon modeling.
Bath Christmas Market (November 24–December 11, 2022)
The city of Bath holds a stunning Christmas market, which is surrounding ancient Roman Baths. The market features more than 200 traditional stalls with local foods and gifts. It was named UK's favorite Christmas market by the National Outdoor Events Association in 2017.
Bristol Christmas Market (November 4–December 24, 2022)
Christmas Market in Bristol City Center features over 50 stalls with delicious holiday foods, crafts, and unique Christmas gifts. Bavarian bratwurst, French crepes, Spanish churros, and other international foods spread delicious aromas throughout the market. Santa and his reindeer photo op, as well as some live music in the Jäger Barn Bar, will surely put you in a Christmas spirit. Located in Broadmead, Bristol's Shopping Quarter, the Christmas market is a perfect meeting spot or a weekend shopping destination during the winter.
Find hotels and airbnbs near Christmas Markets in England (Map)