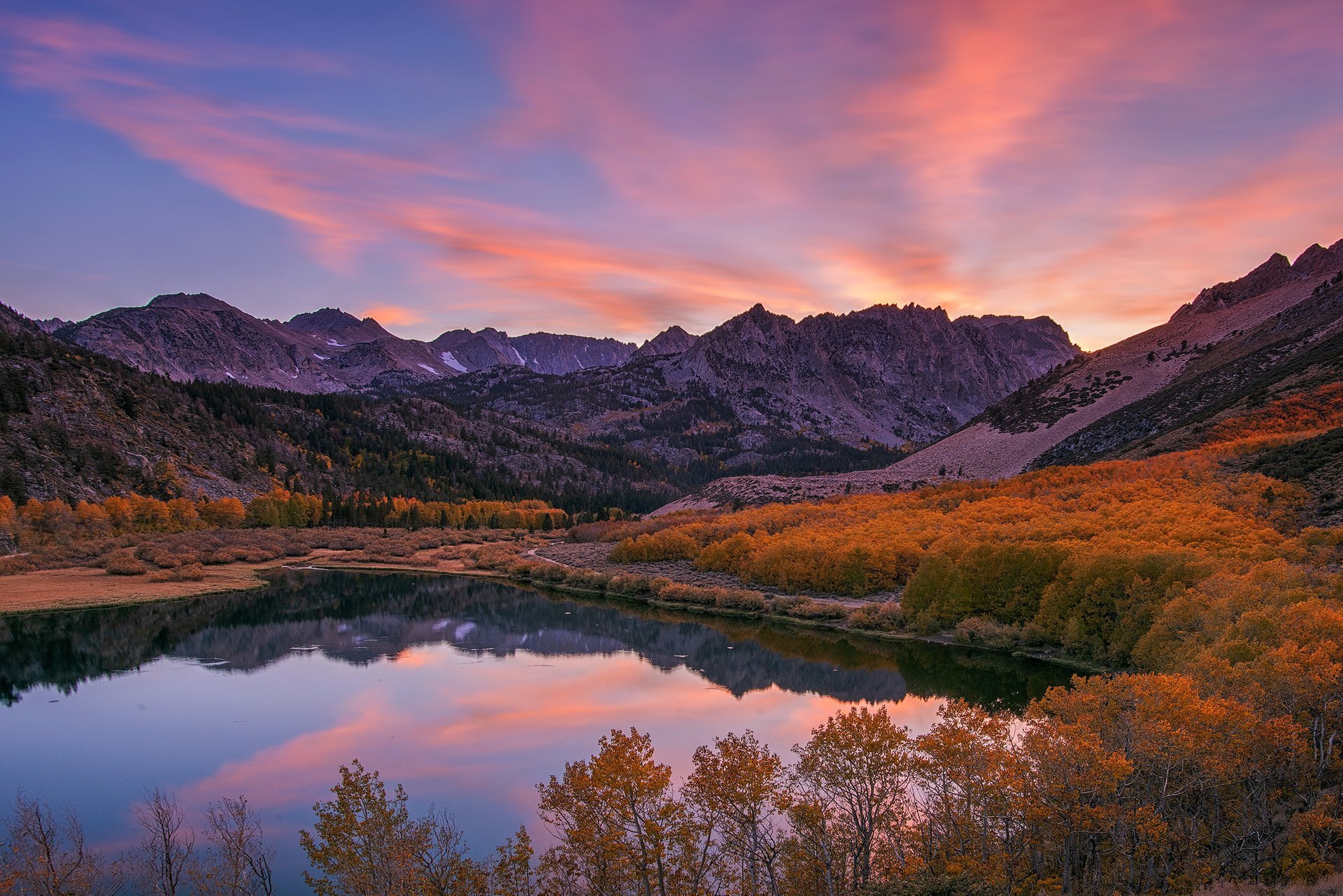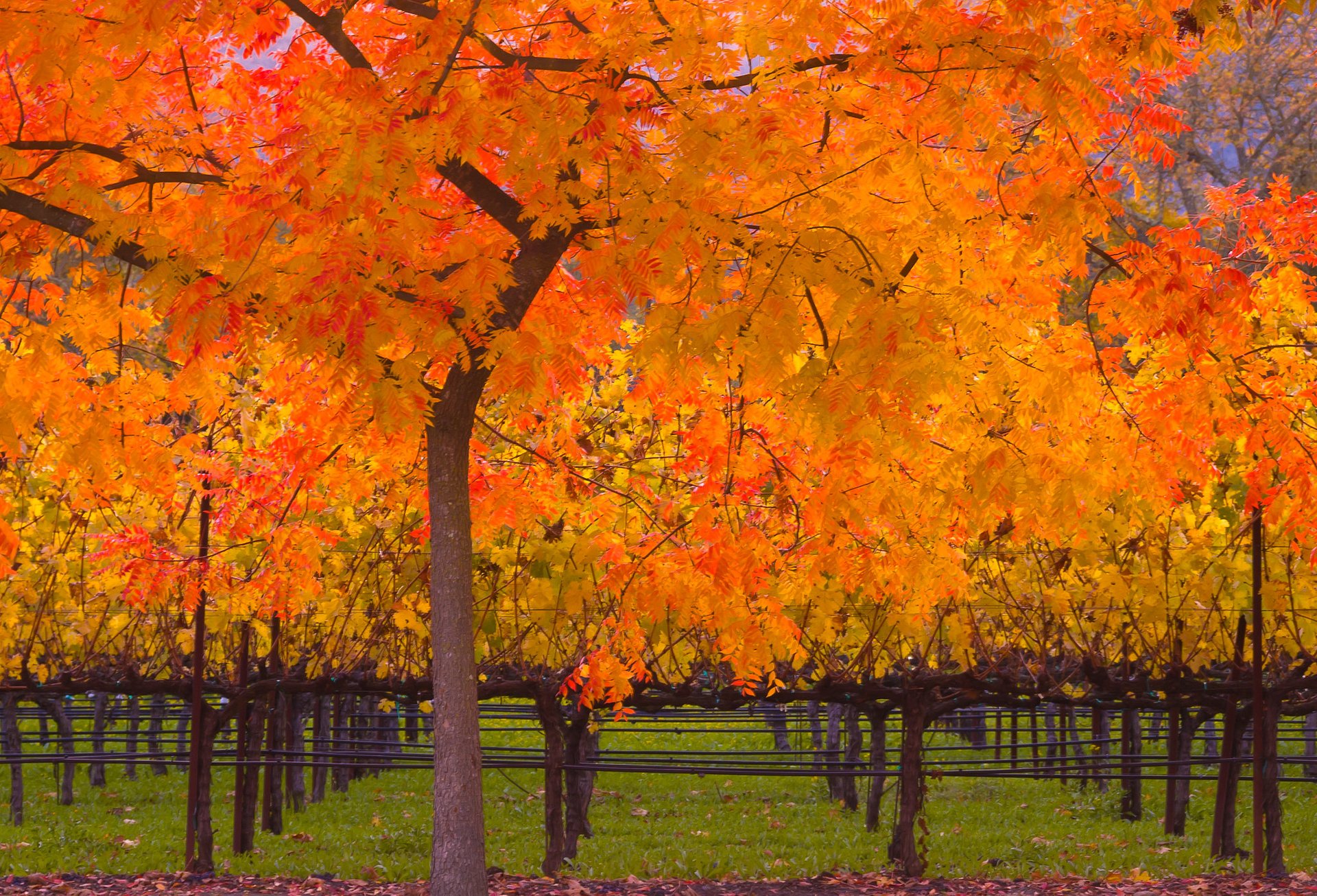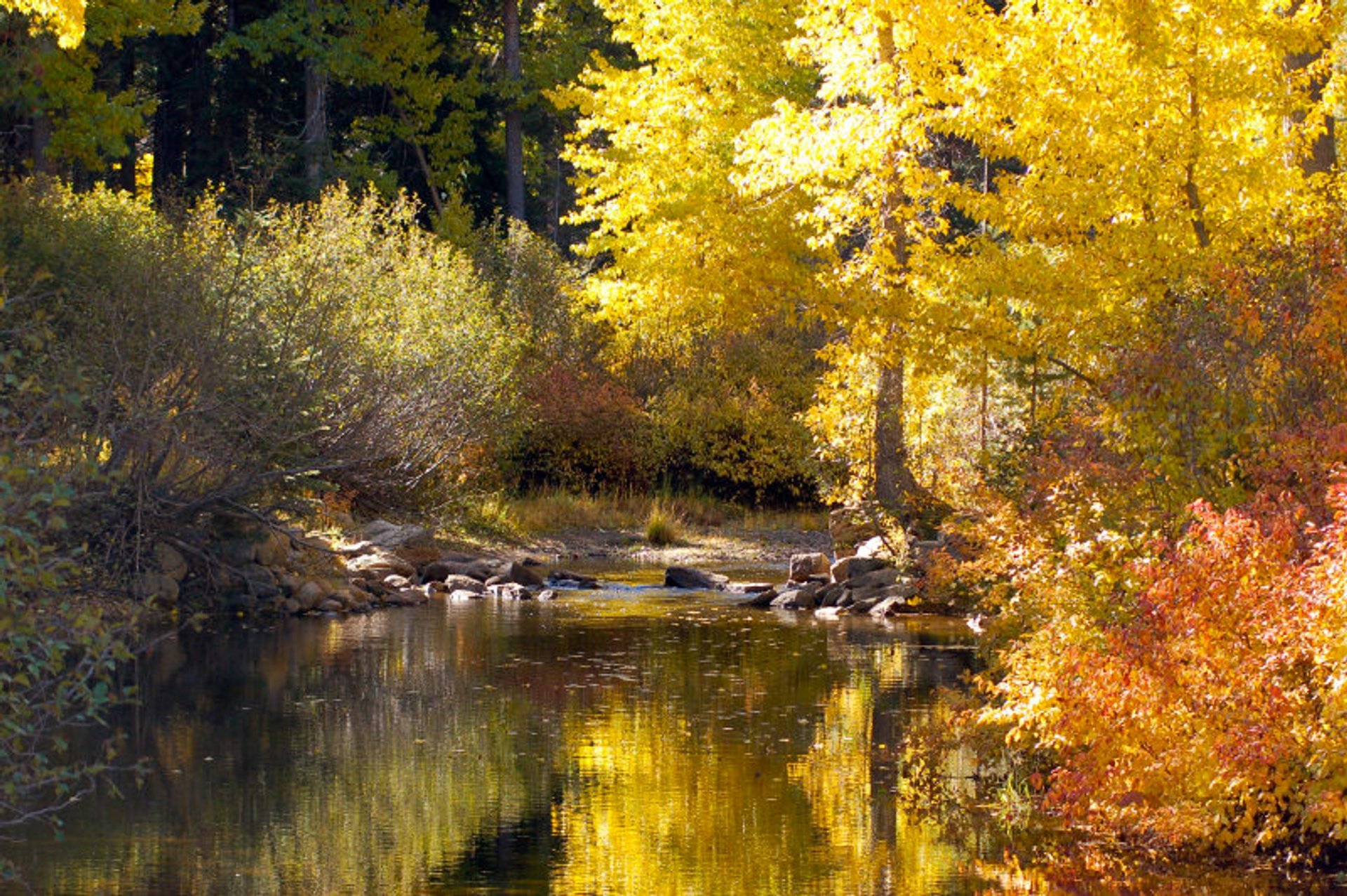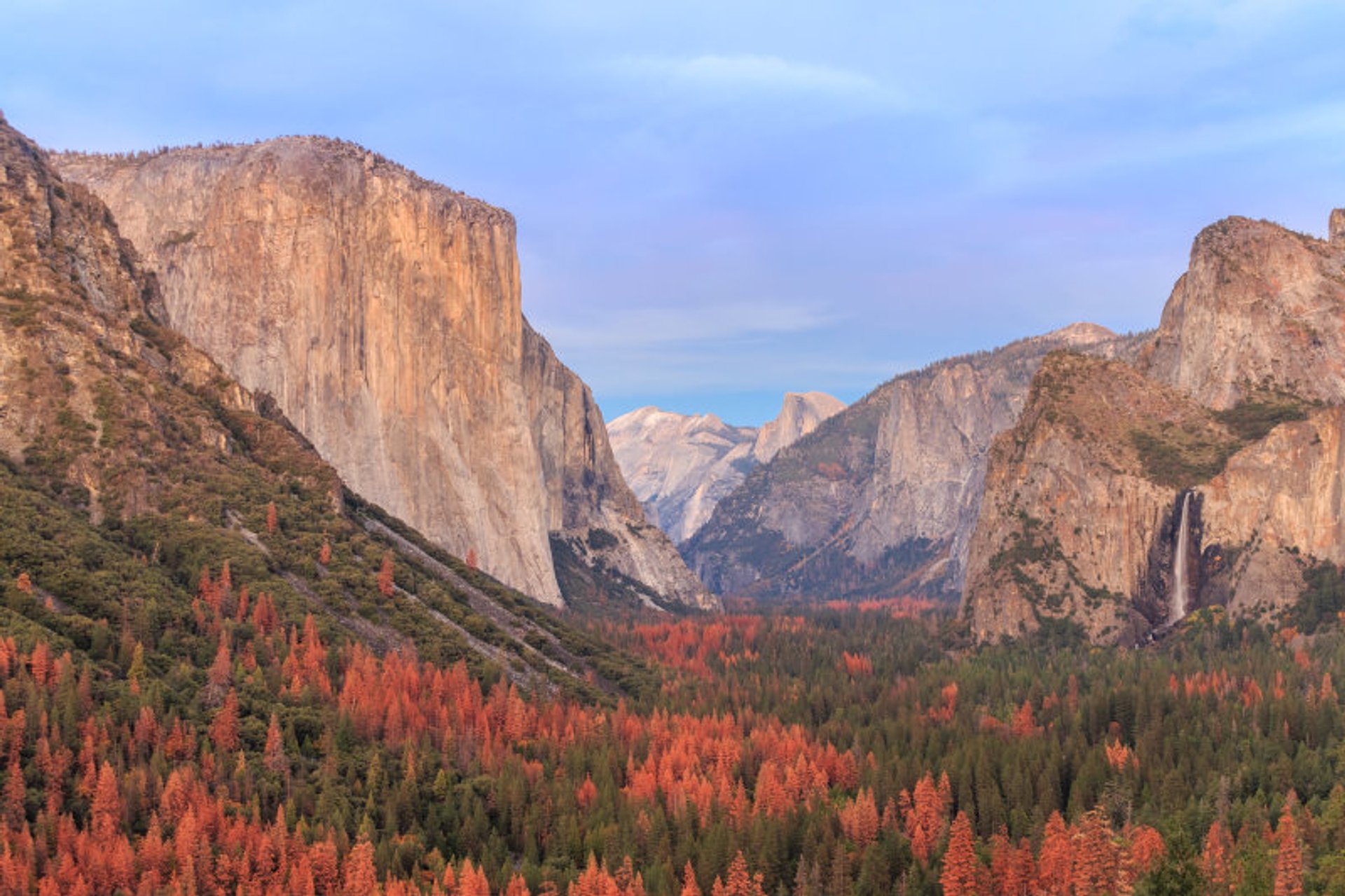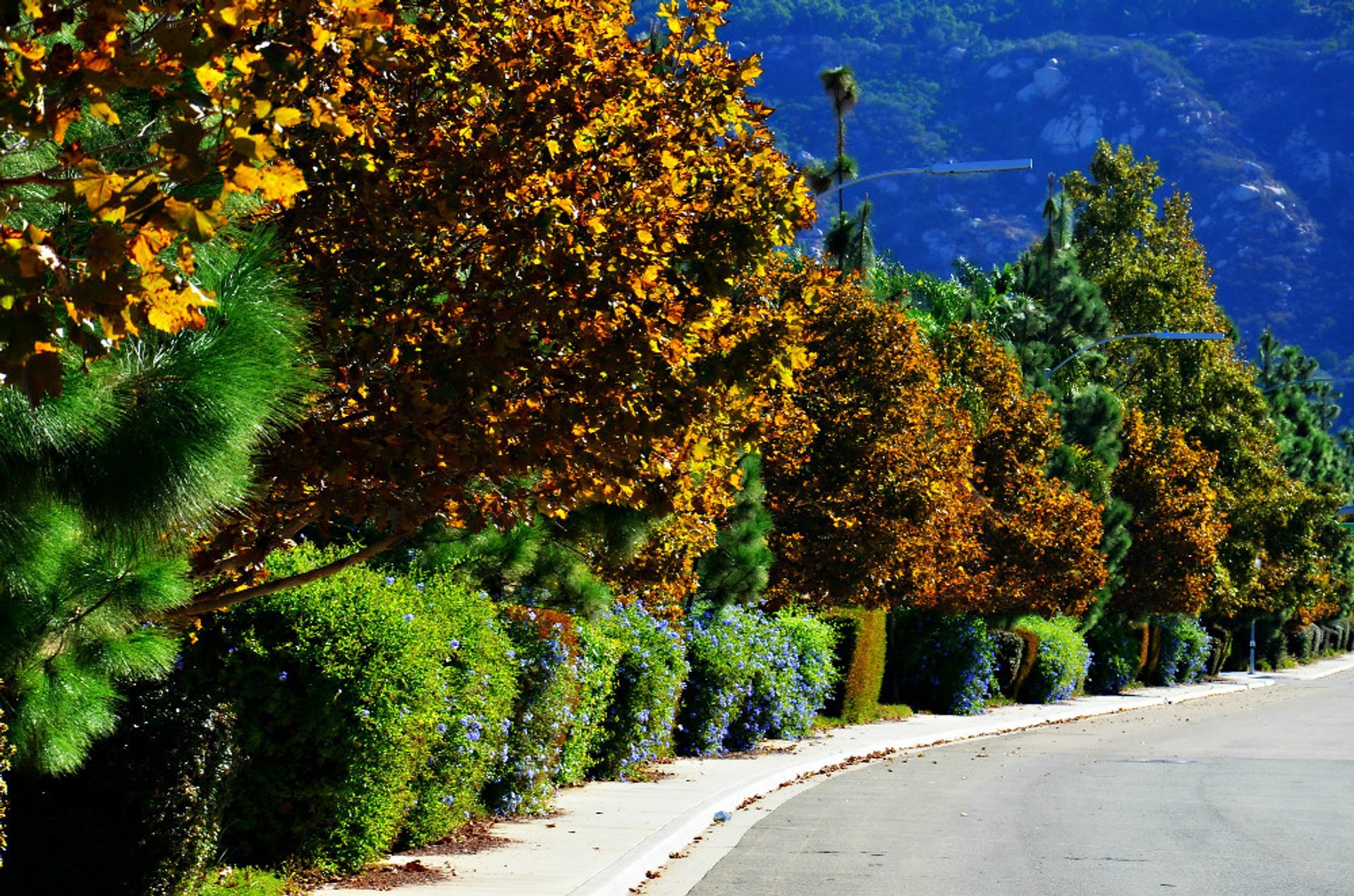 North Lake in fall, Bishop, California
See accommodations nearby
California Fall Colors
Featured in
California doesn't come to mind when you think of fall foliage, however, The Golden State can definitely surprise you with its beautiful palette of colors. Starting from late September and peaking in October in the northern areas or at higher elevations across the state, autumn hues make their way south by late October and make their last brushstrokes in early November. Lake Tahoe, Yosemite National Park, Napa Valley, and Shasta Cascade are some of the most picturesque fall locations in North America. Even San Diego County can offer some inspiration to a leaf peeper.
Northern California
Shasta Cascade Region, also called Upstate California, is among the most beautiful fall destinations dotted with numerous leaf peeping places. Some of the best places to view fall foliage in Shasta Cascade are Redding, Mount Shasta, and Ahjumawi Lava Springs State Park, northeast of Redding, promise stunning vistas adorned with golden aspens. Plumas-Eureka State Park in Plumas County is another scenic spot in the region. In Sonoma County, it's worth your time to see Annadel State Park with its numerous big leaf maples and black oaks displaying shades of yellow and orange. Nearby Napa Valley is dressed up in red and orange thanks to its vineyards. Finally, you can enjoy some mountain scenery in Castle Rock State Park located in the Santa Cruz Mountains.
Lake Tahoe Region is one of the best destinations for leaf-peeping. Hope Valley gets transformed with yellow aspens and cottonwood. Take a ride from South Lake Tahoe on Highway 50 to Echo Summit for about five miles, then take a turn on Highway 89 to Luther Pass that features especially beautiful aspen grove. Also, stop by Markleeville and the East Carson River to snap some photos. This area is full of aspen trees and picturesque creeks. More aspens await for you on Ebbetts Pass that can be reached by Alpine state highway or Highway 4 stretching on the south side of Hope Valley. Kinney Creek and Kinney Reservoir provide great fall views. Read more about fall colors in Lake Tahoe region over here.
Fall foliage scenic drives in Yosemite National Park include the Tioga Road and Glacier Point Road that is famous for its yellow aspens. Stop by the Tuolumne Grove trailhead or the Yosemite Creek area for some fall-time photography. Leaf-peepers will be also rewarded on a trail that goes from Badger Pass ski area to Bridalveil Creek Campground. The southern part of Yosemite Valley is colored in yellow, red, orange, and bronze thanks to a great variety of trees. A small village of Wawona, south of the valley, looks very picturesque covered in yellow, orange, and brown tones from oaks and cottonwood. In Northern California, the leaves start to change color in late September with peak fall foliage season in mid-October.
Southern California
It seems summer never leaves Southern California. However, it's possible to see some beautiful fall displays there as well. Visit Cuyamaca Rancho State Park in San Diego Сounty that gets transformed by gold and yellow hues due to the abundant black oaks. Another scenic location for fall colors in Southern Calfornia is Palomar Mountain State Park. The park is composed of evergreen trees with yellow accents created by black oaks. Nearby Silverwood Lake State Recreation Area offers a similar scenery of green and yellow patterns.
Where to stay
Napa Valley is one of the most romantic fall getaways in California. It offers a variety of lodging: cozy bed & breakfasts, Victorian Inns, and stylish boutique hotels located right in the vineyards. Lake Tahoe area boasts many hotels and resorts with spectacular views. Yosemite National Park has many campsites. Palomar Mountain State Park features Cedar Grove Group Campground with three separate areas for camping all year round. To find the best lodging options across California, please, check the fall colors map below, pick your destination, and make a reservation in the nearby hotels.
California Fall Colors
Featured in