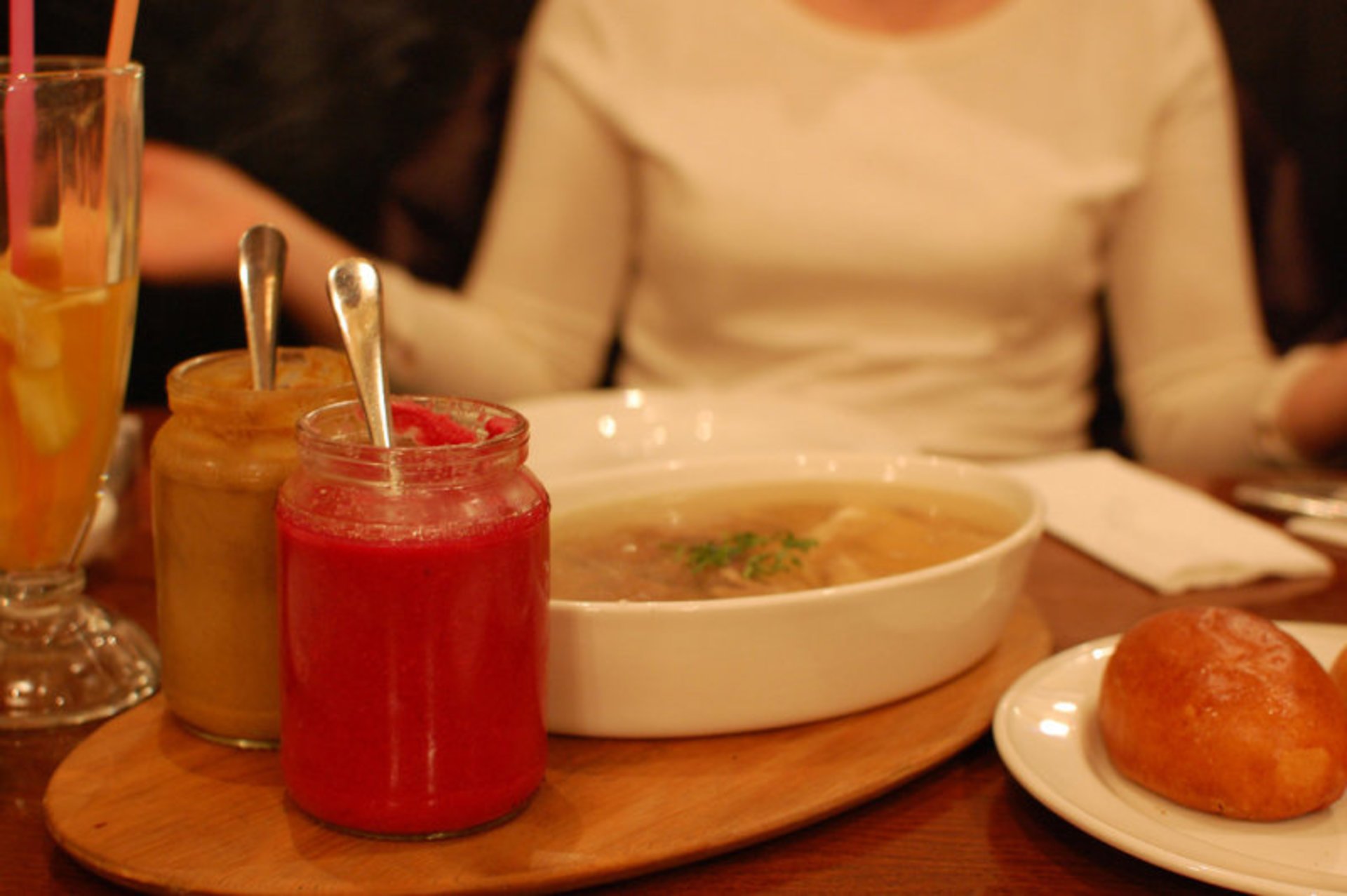 Holodets is a traditional Ukrainian aspic dish that is actually jellied meat. Its lasting cooking process extends over two days and is full of secret subtleties. No wonder this food appears on the table mostly once or twice a year—on Christmas (January 7–9) and Easter (usually, in April), and rarely on other festive occasions. Ukrainians love to feast on kholodets with another seasonal delicacy called khrin, tsvikli, or buriachky. Outside of the season, you might look for kholodets in some restaurants of national cuisine, but finding one might be rather challenging.
Kholodets recipe
Let's sneak a peek into the Ukrainian kitchen to grasp the general picture behind such an extraordinary course. To begin with, kholodets is made from different kinds of meat, with pork hocks being the main ingredient, as they make the liquid thicken. Other meats can include beef, deer, chicken, or other poultry. The flesh comes with fats, veins, and skins, favorable for freezing. Don't worry—all the waste is later removed.
Before the cooking starts, all meats are soaked in water overnight to eliminate the blood remaining in the flesh. Afterward, everything is boiled with an onion, carrot, and optionally some celery for about ten hours.
One of the secrets behind mouth-watering and clear jelly is distilled water. What's more, as soon as it boils for the first time, the brine is drained and replaced with another portion of water. Otherwise, kholodets might eventually get an unpleasantly lardy flavor. Also, the right amount of liquid is crucial to obtain solid jelly. Likewise, enough salt is essential to get delicious brine, as the meats absorb a good share of salt too.
At the final stage, the meat is taken out from the brine, which is seasoned with salt, pepper, and garlic for a more intense taste. In the meantime, the meat is deprived of waste, sliced, and put into plates. Lastly, filtered brine is poured over the meat, and the plates are left in the cold to freeze. Thus, kholodets undergoes a long journey before being served for the guests to enjoy.
Where to eat Ukrainian kholodets
Hardly anyone reading this long recipe would like to reproduce it. Honestly, in recent years, even lots of locals have given up on cooking this dish for the complex procedure, as well as the fear that it won't freeze or will turn out not appetizing. But when properly cooked, the jellied meat is yummy. So if you are a meat-eater, you have no excuses not to treat yourself to this once-in-a-lifetime meal in Ukraine. Some of the best places to enjoy ancient gastronomic traditions include Lviv, Kyiv, and the Ukrainian countryside, where people remain loyal to traditions.