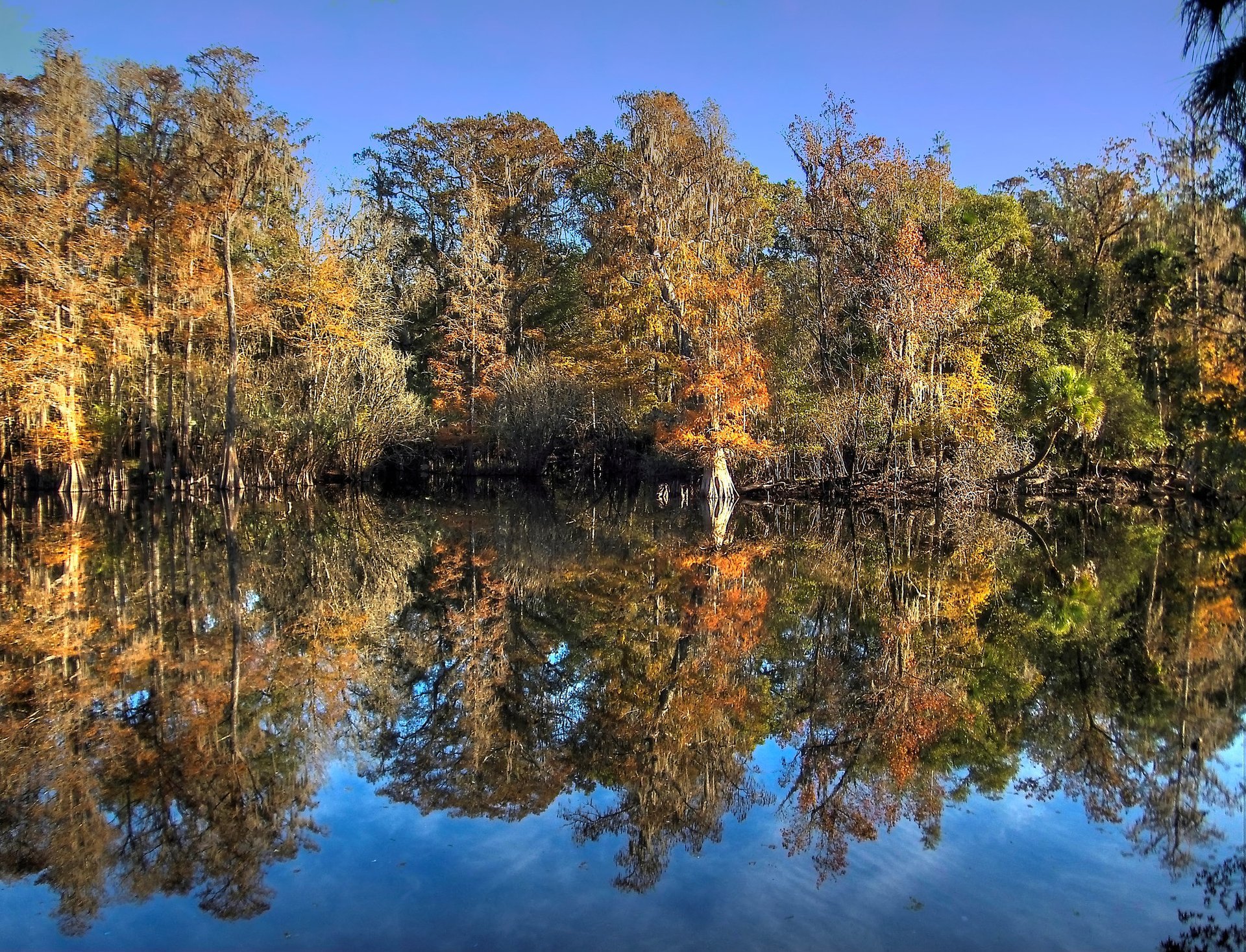 Seasons Changing at the Hillsborough River at Trout Creek
Many people would say that there's no fall in Florida. And it is true if you think of South Florida where a tropical climate prevails. However, if you go to North Florida, there are several places where you can witness some beautiful fall foliage. Besides, fall is usually a warm and pleasant time in Florida, ideal for hiking, camping, biking, and other outdoor activities. So the state can offer a decent leaf peeping experience as well as plenty of fun things to do. North-western Florida, known as the Panhandle, is especially famous for its fall foliage. That includes Washington County and the area of Tallahassee, the state capital. The leaves start to turn in Florida a bit later than in colder states, around late October or early November. Peak fall colors can be viewed in mid- to late November. Sometimes, this beautiful season stretches into December.
Best places to see fall foliage near Tallahassee
Torreya State Park is known as the premier fall foliage destination in Florida. Due to picturesque bluffs overlooking the Apalachicola River, the park looks very impressive, especially when all the trees on the slopes start to change colors. The park has maples, sourwood, and sweetgum trees. But it's most famous for a rare species of Torreya tree that grows only on the bluffs along the Apalachicola River. Fall foliage season in the park begins in late October. Three Rivers State Park is located on the border between Florida and Georgia. It has a lot of pines and deciduous trees that turn colors beautifully. The area where the Chattahoochee and Flint rivers converge and form Lake Seminole looks especially stunning in the fall. Edward Ball Wakulla Springs State Park is another good spot to see fall foliage in north-western Florida. The park boasts three nature trail systems, winding through pine forests, wetlands, and hardwood hammock. The park has plenty of maples as well as the state's deepest freshwater springs.
Best places to see fall foliage near Pensacola
Roughly halfway through between Tallahassee and Pensacola, Falling Waters State Park boasts Florida's highest waterfall and the iconic Falling Waters Sink, a 100 ft (30 m) deep and 20 ft (6 m) wide sinkhole. Giant trees and fern-covered sinkholes along the hiking trails lure visitors year-round, but visiting the park when trees expose fall colors is one of the best experiences in this hilly area. Just a 40-minute drive from Pensacola, Blackwater River State Forest puts on a fall color display: sweet gums, red maple, high bush cranberry, and hickory add some hues to the Northern Florida landscape. You can explore the hidden areas of Blackwater River State Park on a kayak or a canoe. The forested areas also offer lots of camping and hiking opportunities throughout the season.
Find hotels and airbnbs near Florida Fall Foliage (Map)