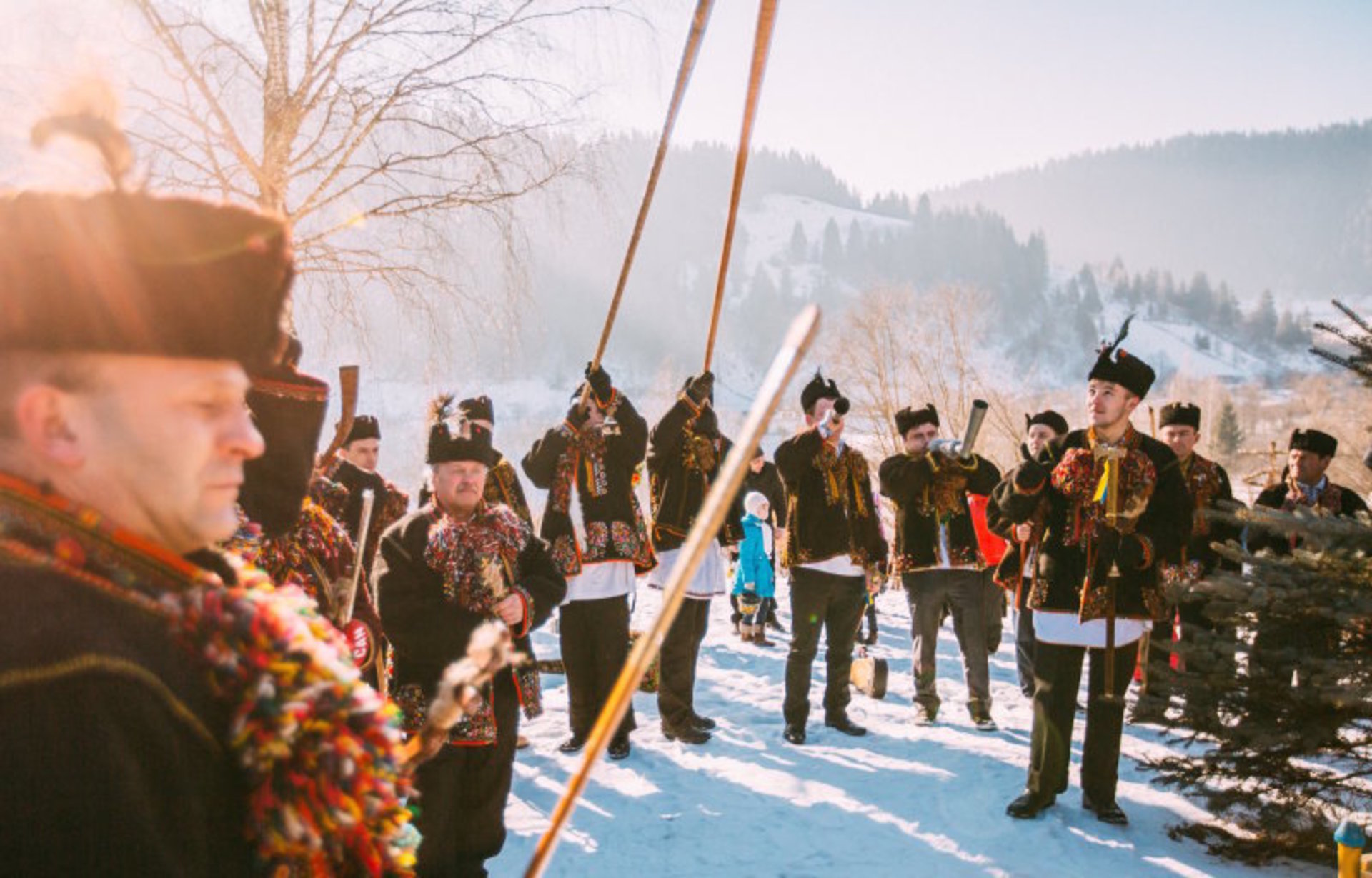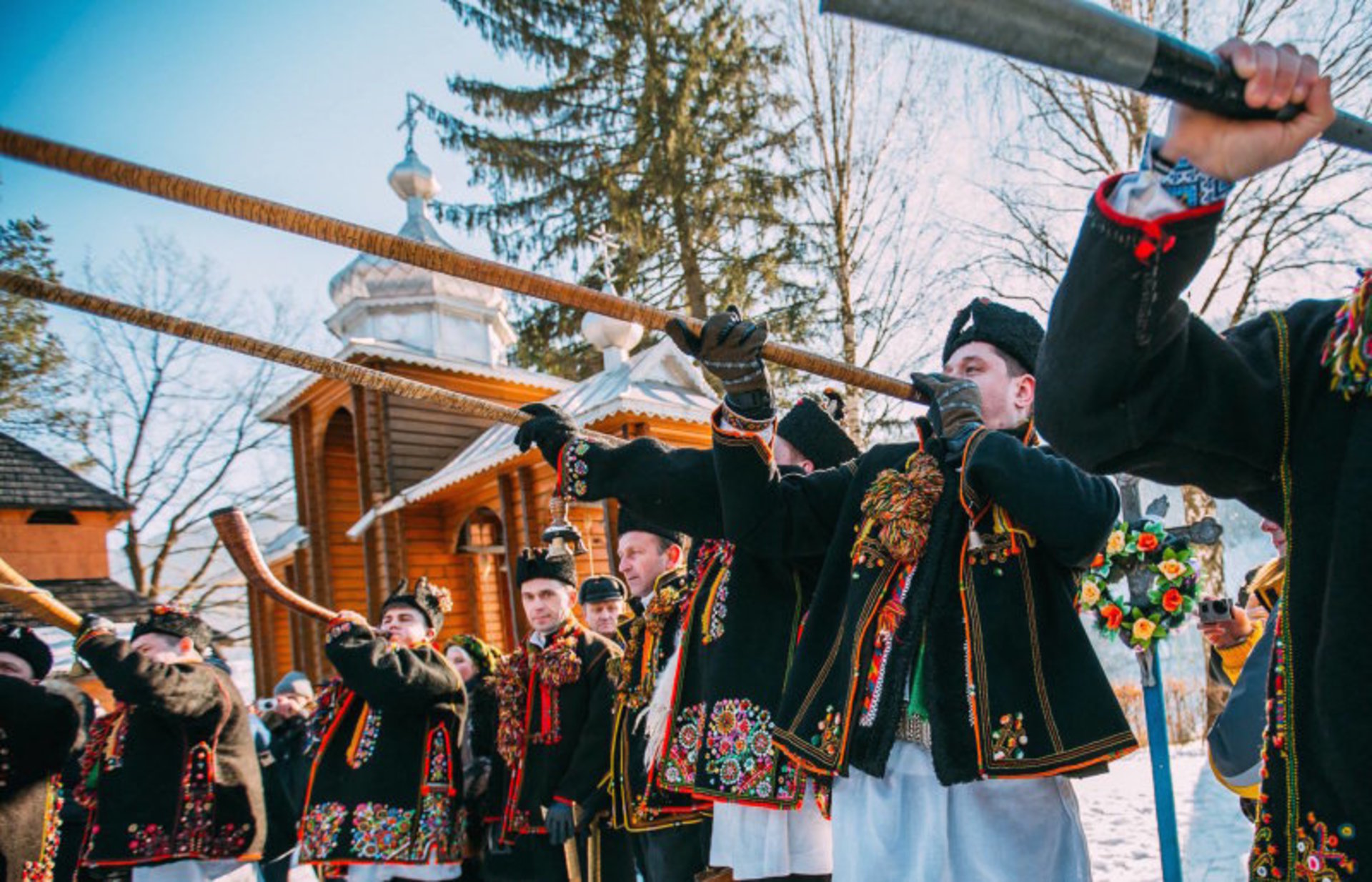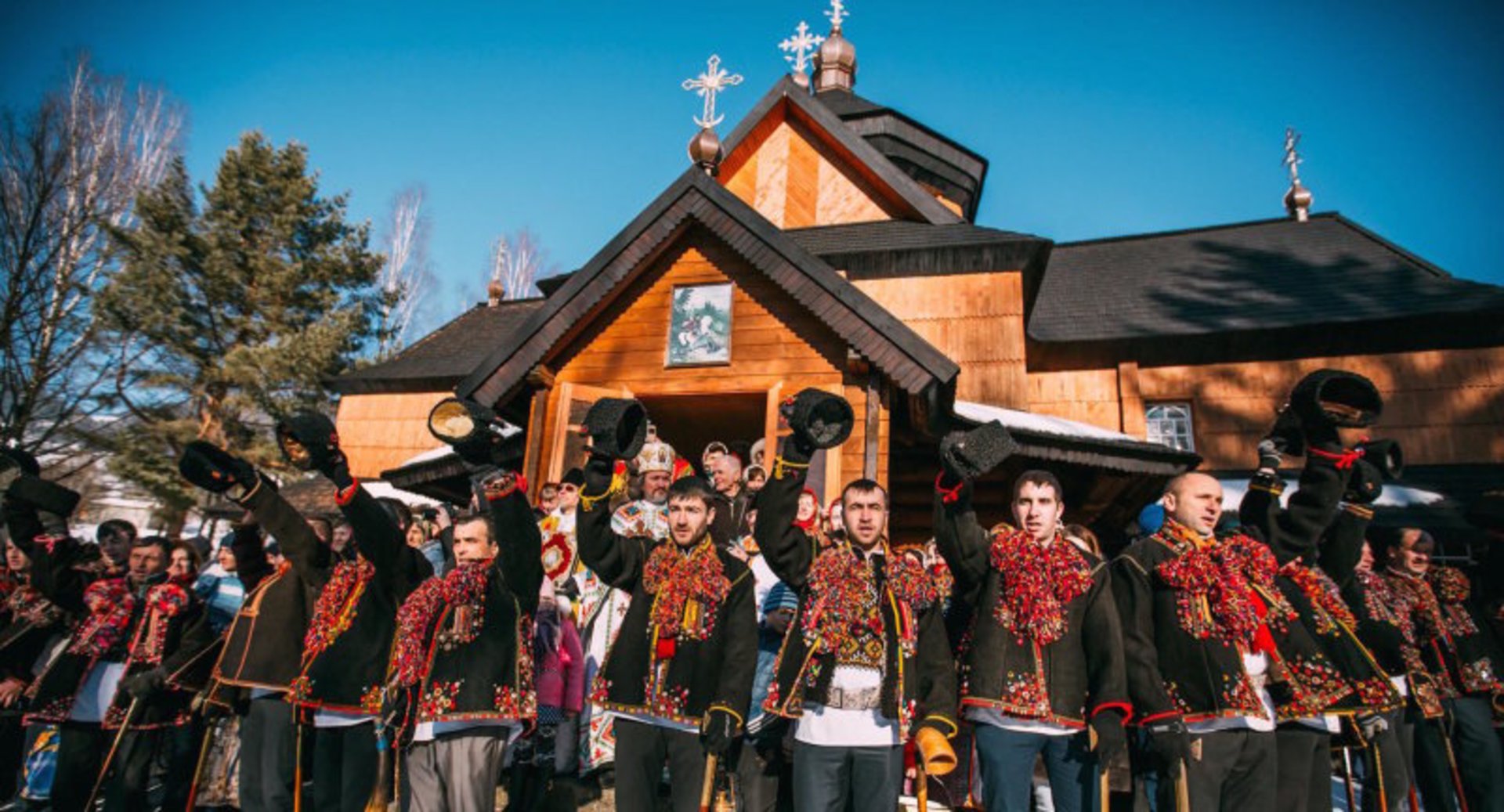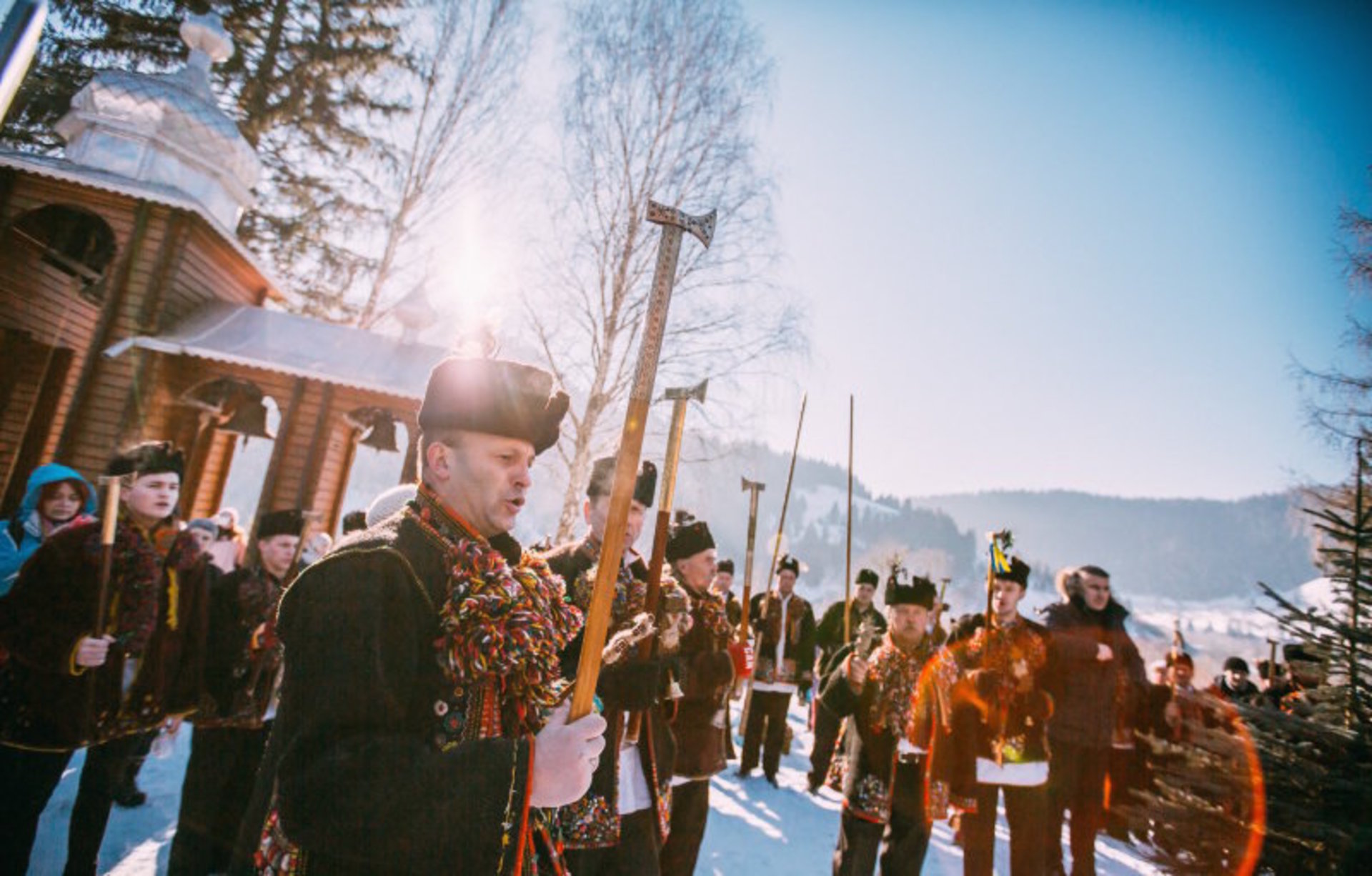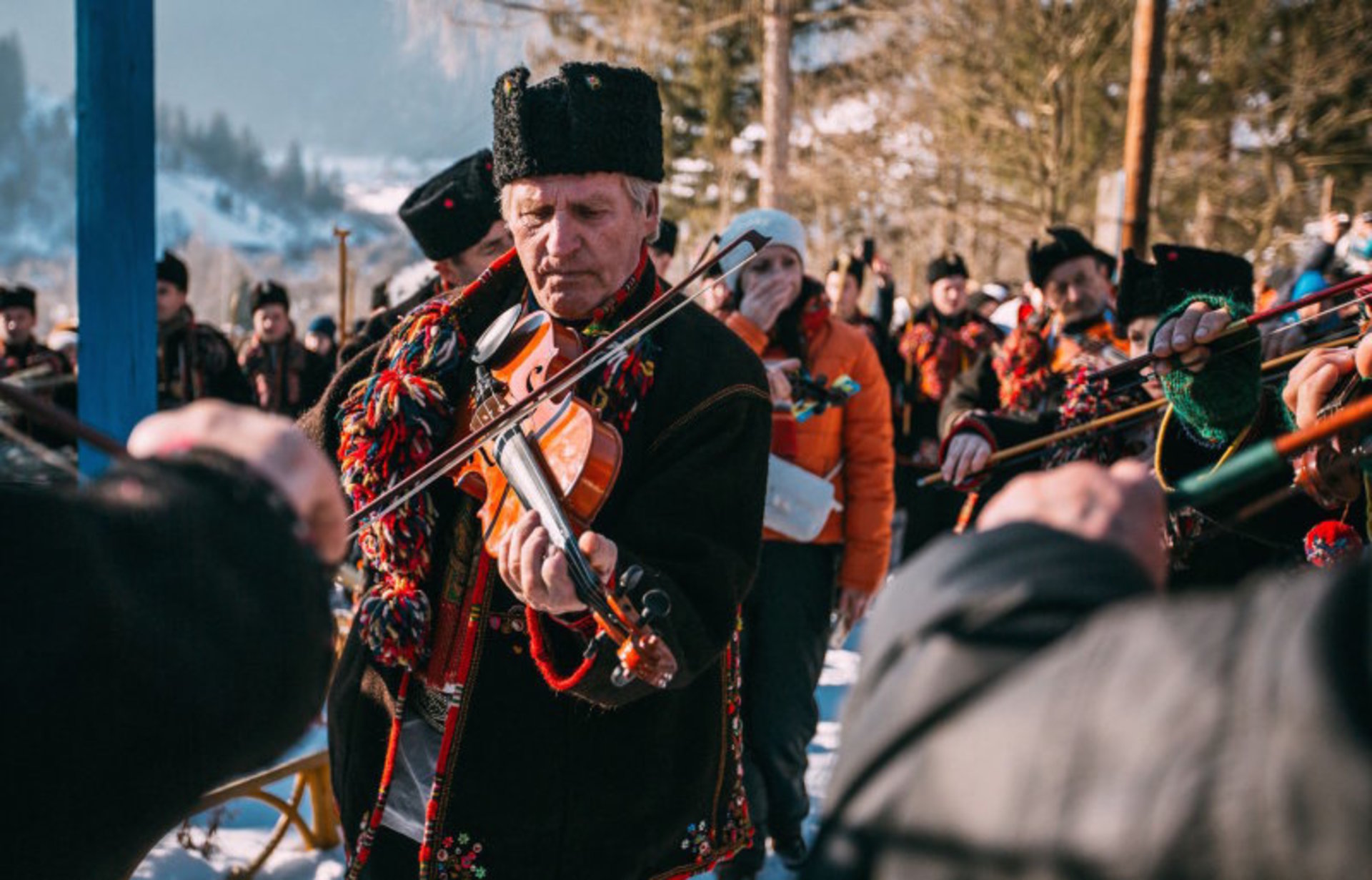 Hutsul carollers in Kryvorivnia
See accommodations nearby
Christmas carol singing is more or less present throughout Ukraine. The lasting season continues for 40 days, from Christmas to the day before Candlemas—January 7 to February 13, according to the Gregorian calendar. Still, for the most colorful, authentic experience, we recommend visiting the heart of the ethnocultural Hutsul region in Kryvorivnia village in the Carpathians, Ivano-Frankivsk Oblast. At noon on January 7 (Christmas Day) and January 19 (Epiphany), Hutsul carollers gather at the local church for a spectacular public performance and then proceed caroling to the households.
Kryvorivnia's carollers stand out from the rest, for they dress in traditional fancy costumes, carry axes, and play alpine wooden horns called trembitas—the longest musical instrument in the world. Along with Christian traditions, Hutsuls don't give up on pagan habits. In addition to the topic of Nativity, they dedicate their carols to praising their national heroes and Homeland.
In fact, being a carol singer in Kryvorivnia is a great privilege and a huge responsibility, traditionally born by men. Carollers must abstain from swearing, alcohol, and women until the Epiphany. If anybody is captured breaking the rule, he quits the band with shame. Another must is visiting every household in the village, so there's a lot of work to do.
The easiest way to get to the remote village is by car or on a guided tour. Anyway, Hutsul carol (hutsulska koliada or koliadka) is worth your efforts. Alternatively, you can experience Ukrainian koliada at the open-air Christmas festivals in Shevchenkivskyi Hai, Lviv, and Pyrohiv, Kyiv. Also, many churches hold carol performances during the holiday season. So you'll have plenty of opportunities to explore the local culture.
Find hotels and airbnbs near Hutsul Carols in Kryvorivnia (Map)