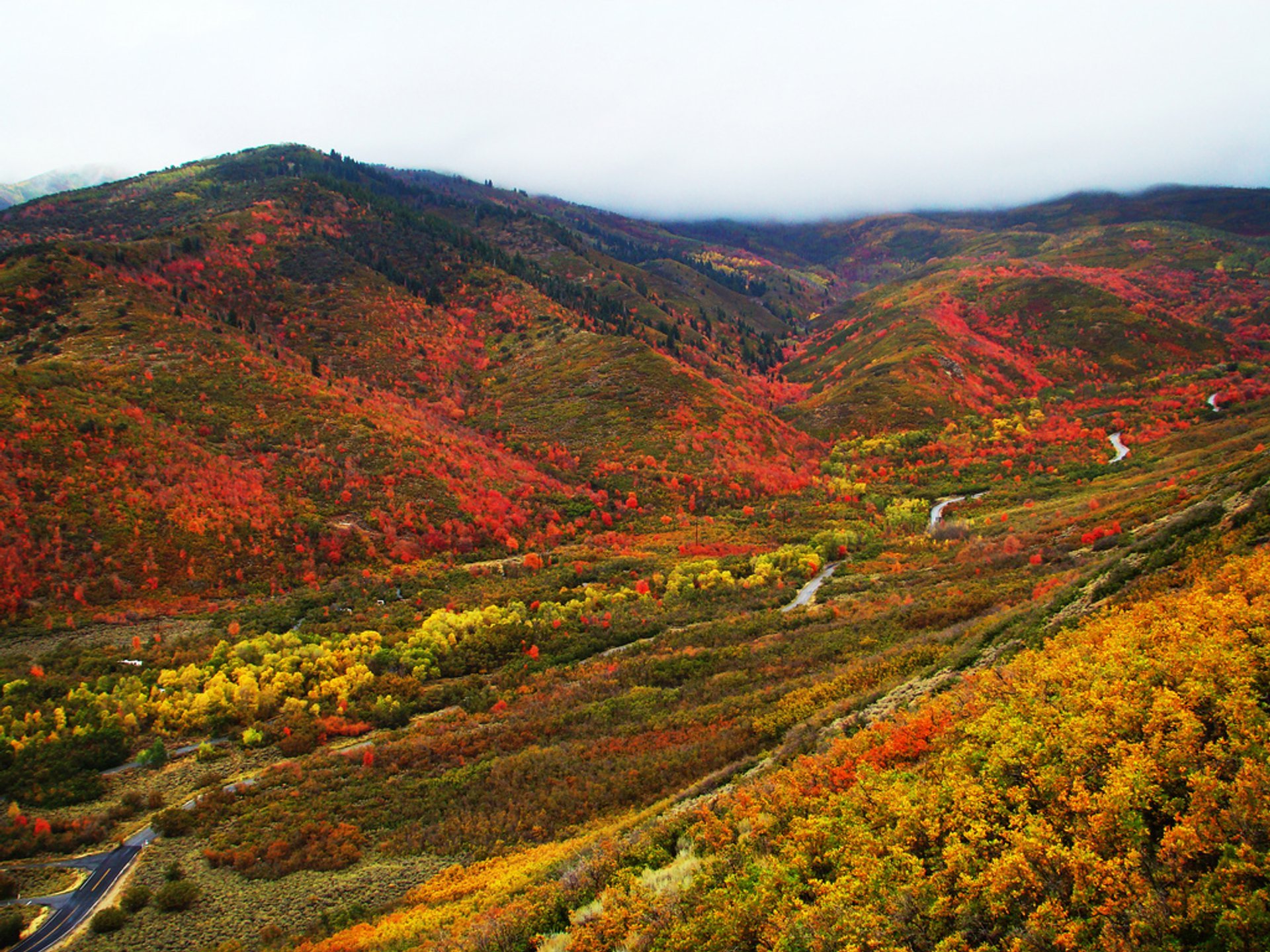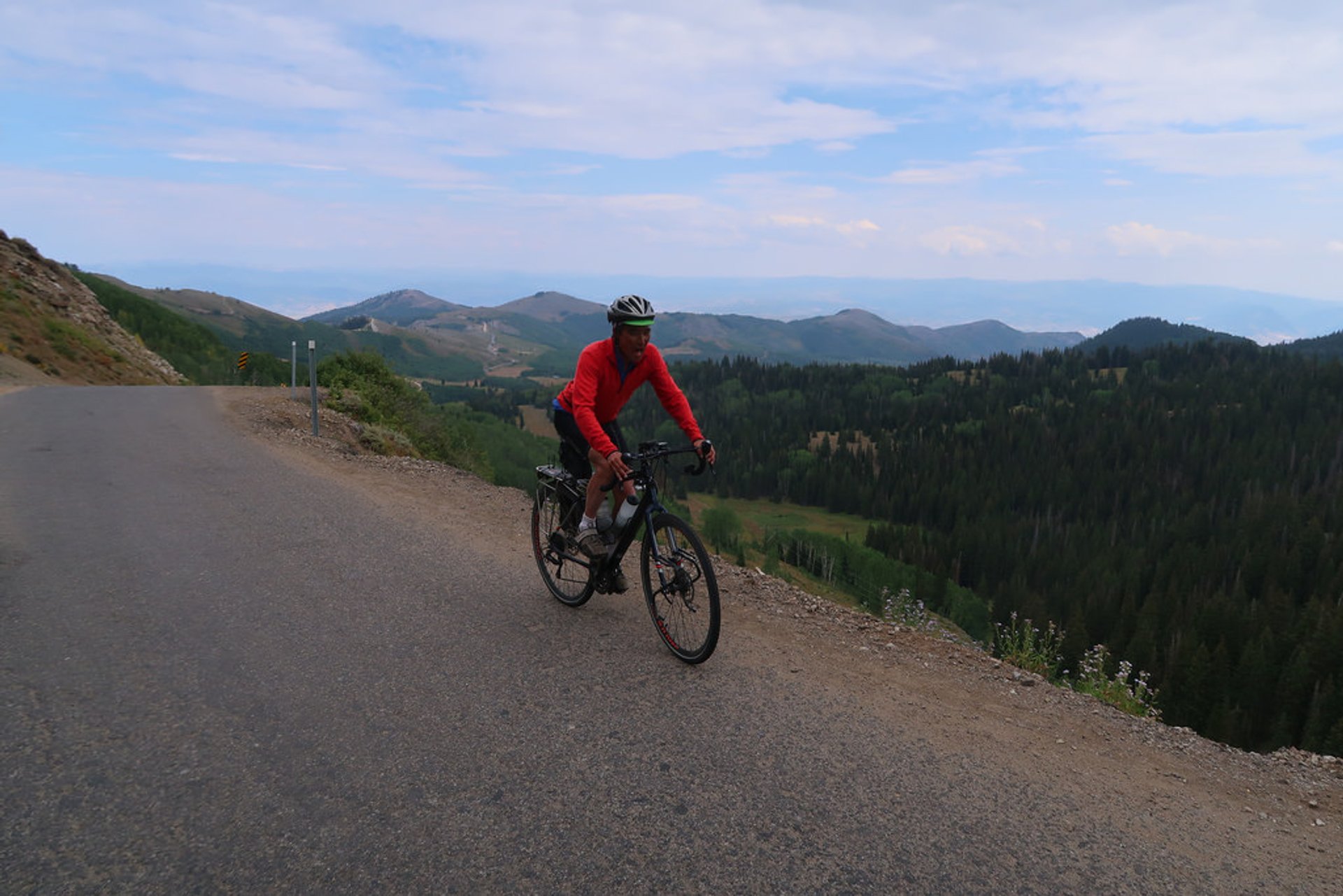 Guardsman Pass
Featured in
Guardsman Pass is one of the best backcountry destinations in Salt Lake County, Utah. With an elevation of 9,717 feet (2,962 m) above sea level, it's an excellent spot for rock climbing, hiking, and camping. The pass can be reached by two roads: an asphalted Big Cottonwood Canyon Road and a gravel Guardsman Pass Road.
When is Guardsman Pass Road open
Guardsman Pass road is usually closed all winter due to heavy snowfalls. The road is open from May to October, but sometimes it gets accessible as late as June. To make sure the road is open check the latest updates at the Utah Department of Transportation (UDOT) website. In the summer, Guardsman Pass road is quite safe and good enough even for a 2WD car. The best time to take a ride on this road is during the fall when trees are embellished in various hues of red and orange.
How to get to Guardsman Pass from Park City
Guardsman Pass lies on the 14-mile (22-km) Guardsman Pass Scenic Backway that connects Park City and Brighton Ski Resort. To get on that road drive through downtown Park City on Prospect Street and then continue south on Hwy 224—the Guardsman Pass Road. You'll soon see the mountaintops and ski lifts. The road climbs up to 6.8 miles (11 km). A 7% average gradient with 2,651 feet (808 m) of elevation gain makes this road rather moderate. At the summit, drivers can enjoy panoramic views in any direction. The road ends with a fork, where you have to choose whether to go to Brighton, the Salt Lake Valley, or Midway in Heber Valley. If you go to Brighton, you'll pass Brighton Ski Resort and Big Cottonwood Canyon. Midway road leads to Wasatch Mountain State Park before descending to town. The drive is about one hour long.
How to get to Guardsman Pass from Salt Lake City
You can get to Guardsman Pass from Salt Lake City by highway 190 or Big Cottonwood Canyon Drive that operates year-round. It's an important road to all of the area's best ski resorts during winter. However, the top section around Guardsman Pass is often closed due to snow during winter. The 33-mile (53-km) drive between Salt Lake City and Guardsman Pass Scenic Overlook takes about 45 minutes.
Scenic hikes near Guardsman Pass
In the summer, the area between Cottonwood Canyon and Park City Ski Area is famous for its hiking trails, lakes, wildflower watching, and campgrounds. In the autumn, it offers amazing fall foliage views.
Guardsman Pass trails
Bloods Lake is located just below Guardsman Pass. This small lake on top of Big Cottonwood Canyon has an island and picturesque cliffs. The 2.8-mile (4.5-km) trail features panoramic views of the Heber valley. Lackawaxen Lake is another beautiful lake in the Wasatch Mountains that can be easily reached from Guardsman Pass via a 2.3-mile (3.7-km) trail.
Cottonwood Canyon trails
The Brighton Lakes nestled in Big Cottonwood Canyon, is a beautiful hiking destination that can be reached from the Brighton Resort Lodge trailhead at the end of Big Cottonwood Canyon Road. You can also hike to Lake Blanche, Donut Falls, or Butler Fork. All trailheads are conveniently located along Highway 190.
Where to stay
Wasatch Mountain State Park is a perfect base to explore the area. Pine Creek Campground at the park offers classic campsites as well as tents, cabins, teepees, and yurts for the most adventurous campers. Spruces Campground located in Big Cottonwood Canyon is another good option along with Redman Campground located at an elevation of 8,300 feet (2,529 m). The area is excellent for fishing, mountain biking, wildflower and wildlife viewing as well as other outdoor activities.
Find hotels and airbnbs near Guardsman Pass (Map)
Guardsman Pass
Featured in