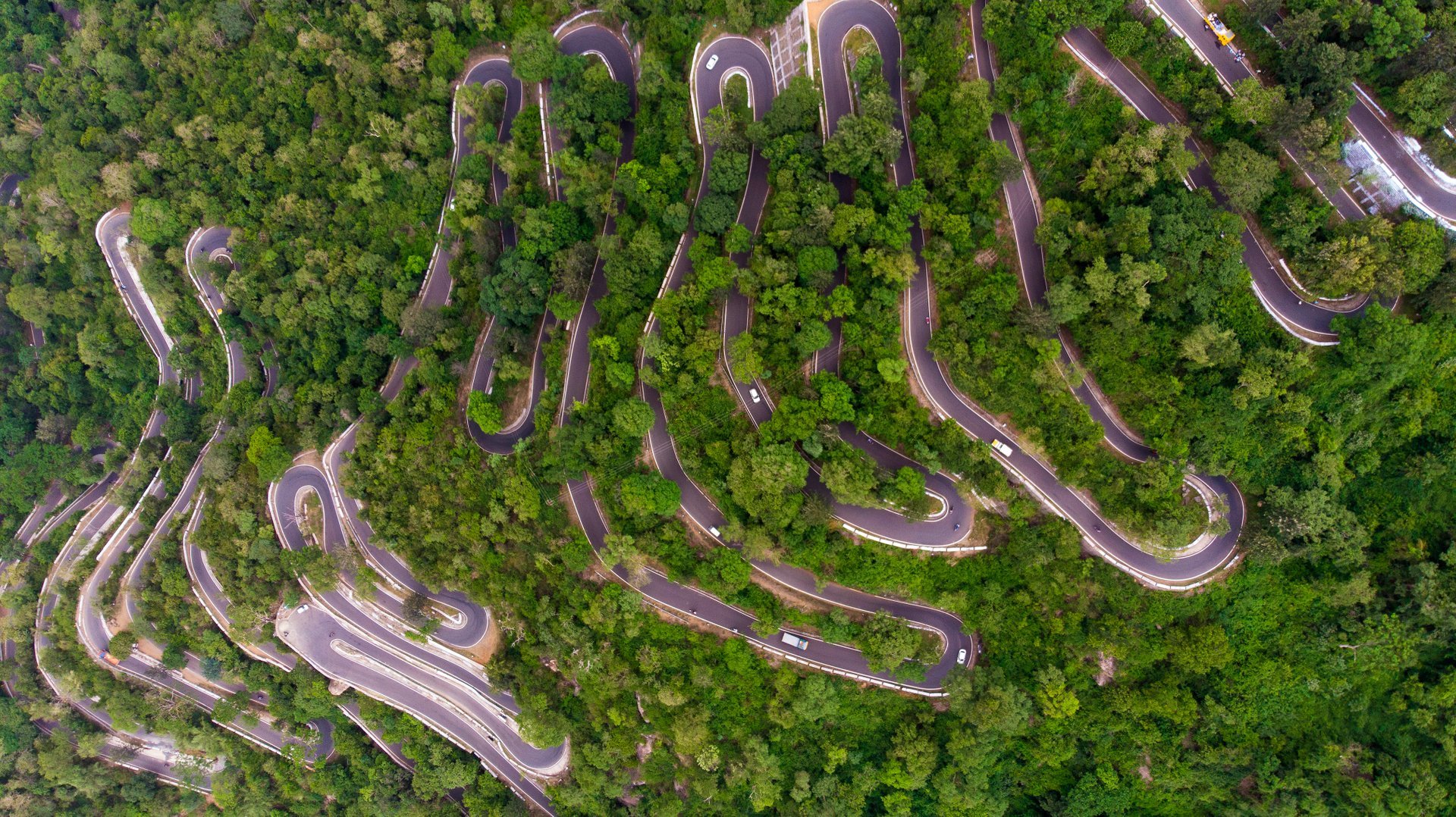 Also known as Kollimalai Ghat Road, Kolli Hills Road is like no other road in the world. This scenic mountain route features 70 hairpin bends and has a length of 29 mi (46.7 km) covering a small mountain range Kolli Hills, which are also known as Kollimalai. Located in central Tamil Nadu on the east coast of South India, the mountains are part of the broader Eastern Ghat range and have an elevation of 4,265 ft (1,300 m) covering about 70,000 acres (280 km²).
The road that starts in Kalappanaickenpatti is an exhilarating and beautiful experience. It goes through a dense tropical forest with panoramic views of the lush green plains below. The mountains feature the Arapaleeswarar temple that receives many pilgrims. The Kollimalai and its Goddess Ettukkai Amman are full of myths and legends. Ettukkai Amman was the local deity who, according to a legend, chased away the demons from the mountains with her enchanting smile. Due to scenic waterfalls, the area is extremely popular with hikers. It can be visited at any time of the year. The chilliest month in the Easten Ghats is January.
How to reach Kolli Hills road
Part of Namakkal district, Kolli Hills road is the closest to the city of Salem. The city has a railway and a bus station with a regular connection to the capital of Tamil Nadu, Chennai. The distance between Salem and Kolli Hills is about 52 mi (85 km). If you don't have a car, the best way to get to Kolli Hills from Chennai is to ride on a bus, and then hire a taxi in Salem to ride through the mountains.
Is Kolli Hills road safe
Kolli Hills road is hard to drive due to its numerous hairpin bends, but it's not too dangerous by ghat road standards. The most tricky section of the road is an ascent that starts from Karavalli and ends at Solakkau. This 12-mi (20-km) route features most of the bends and an elevation gain of 3,149 ft (960 m). It's quite steep with a gradient of about 5%.
Where to stay: Kolli Hills resorts
Kolli Hills area famous for its pristine nature features many hotels and lodges, also called resorts. These 2- or 3-star resorts are quite affordable. Semmedu offers the largest choice of accommodation. It's also an excellent spot to stop for lunch or dinner. If you stay overnight, you can visit beautiful pepper plantations, medicinal herb farms, and paddy fields. There is also a popular scenic outlook: Seekuparai viewpoint and the Agaya Gangai Falls in just a few miles from Semmedu.
Kollimalai tourist places
The biggest tourist attraction of the area is Agaya Gangai Falls fed by the river Aiyaru. Agaya Gangai is translated as Ganges of Sky. The waterfall can be reached from the Arapaleeswarar temple located on top of the Kolli Hills. One has to go down 1302 steps to get to the falls from the temple. Agaya Gangai is 300 feet (91 m) tall. Other attractions include the caves of Kalaanginatha Siddhar and Korakka Siddhar in the jungle nearby. There are also coffee and tea plantations in the area.
Find hotels and airbnbs near Kolli Hills Road (Map)