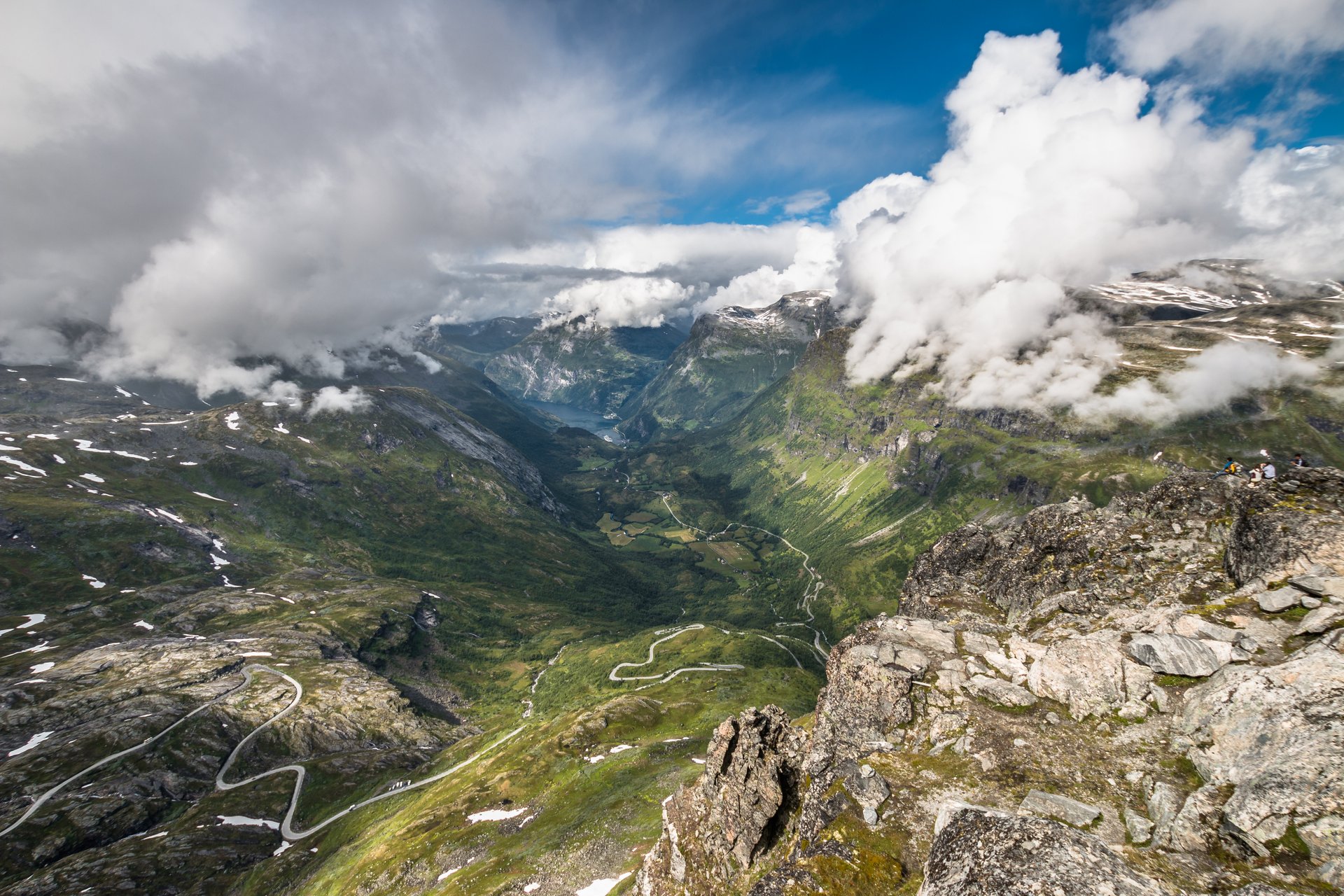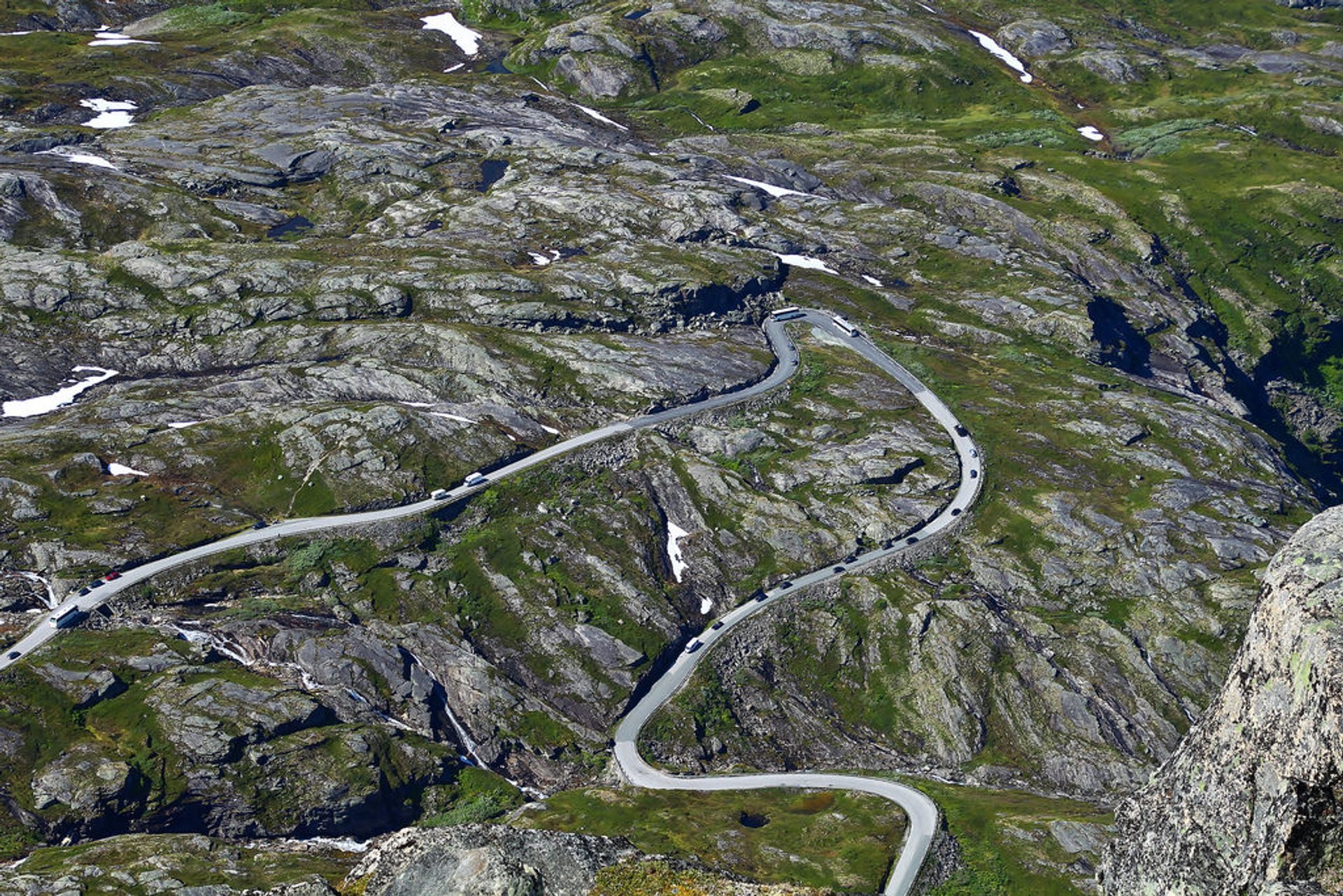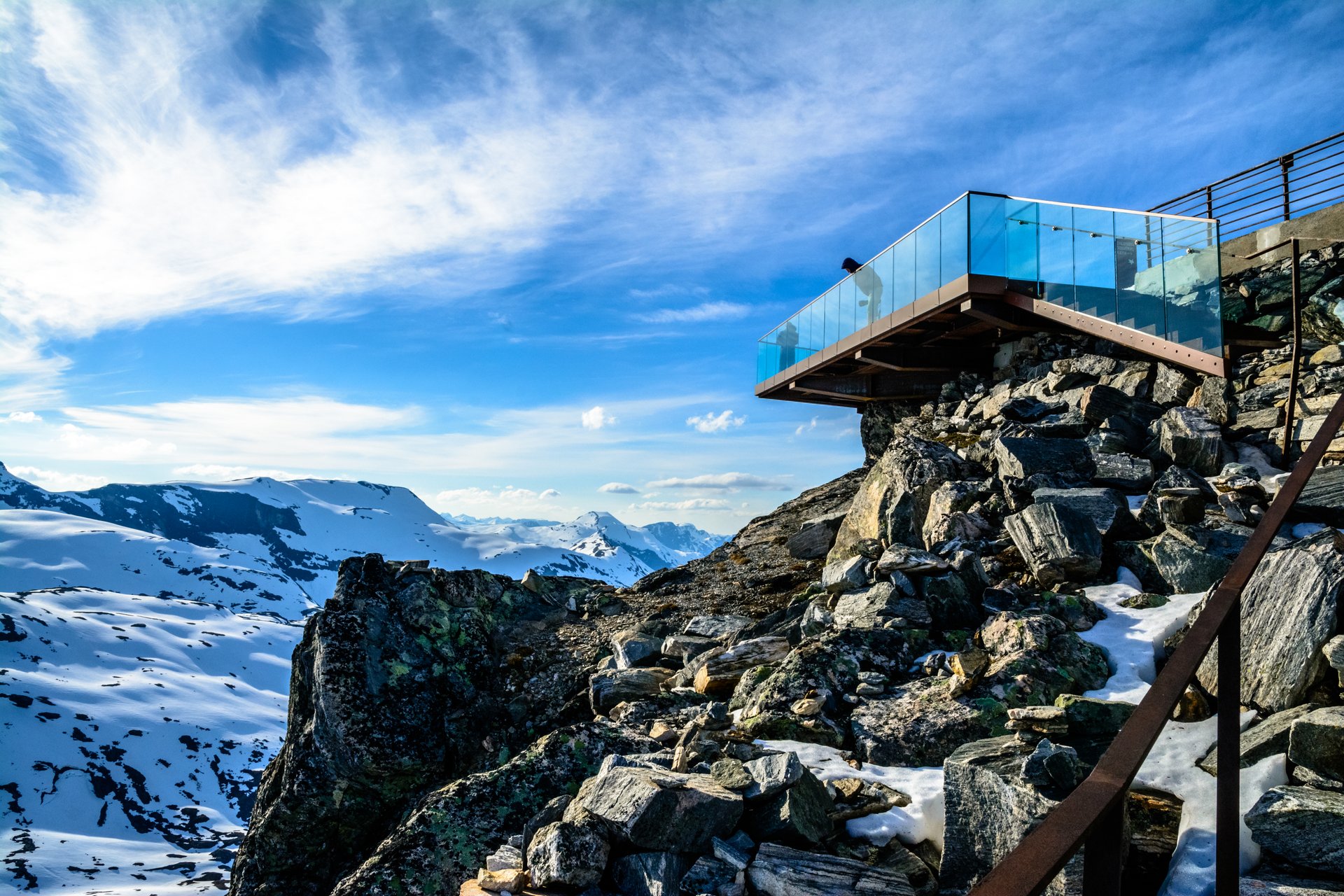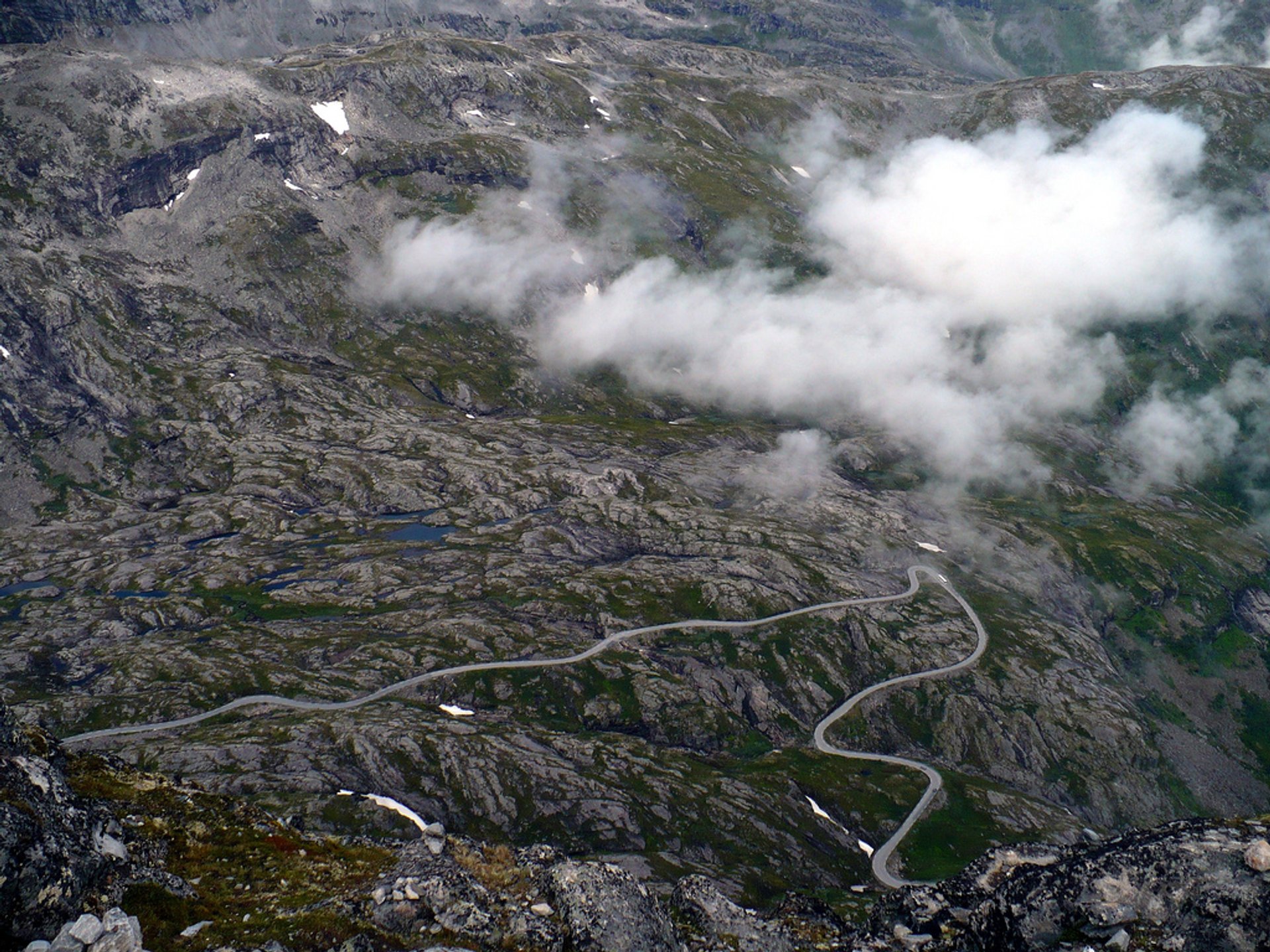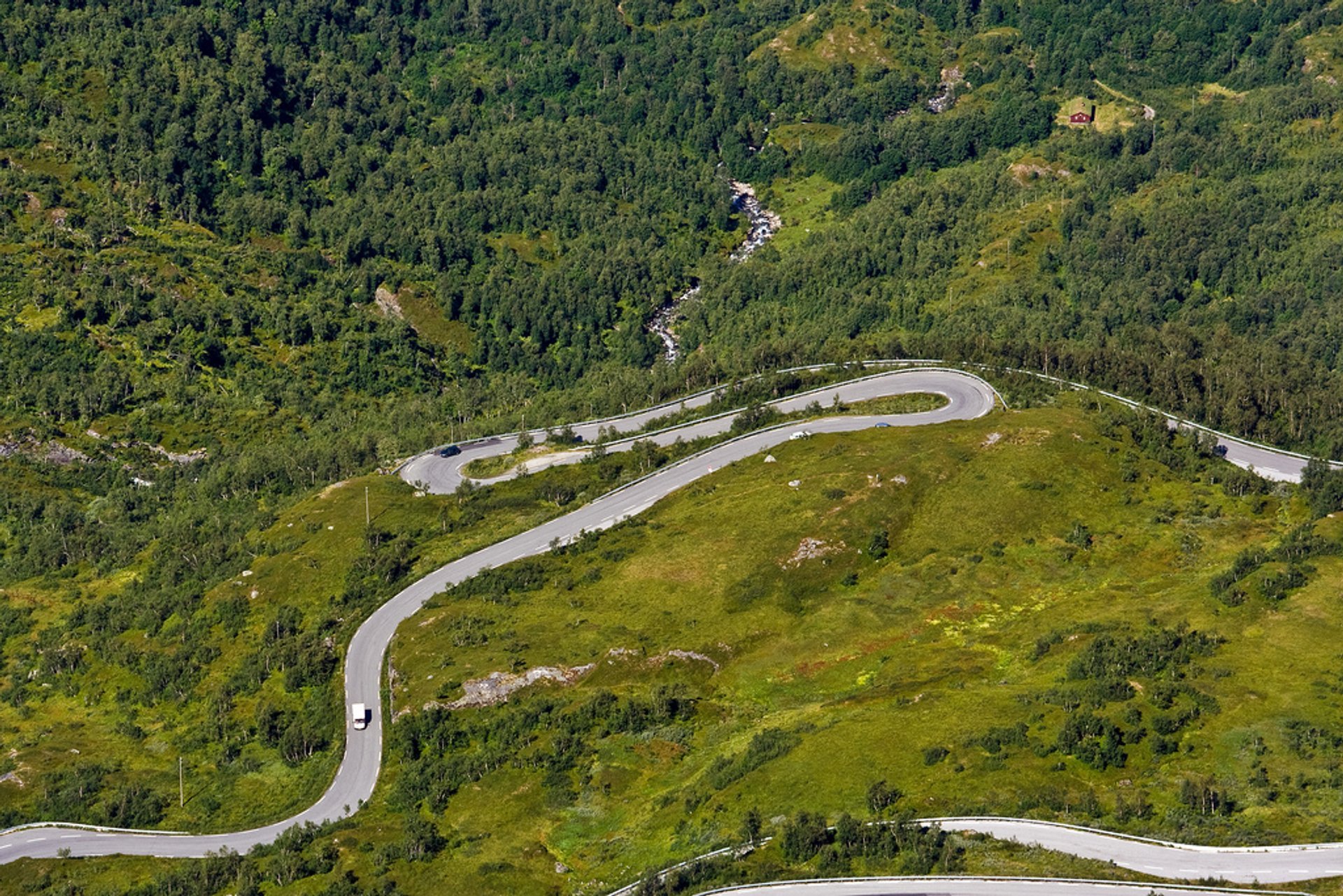 One of Norway's most beautiful drives is a road from the village of Geiranger to the summit of mountain Dalsnibba. Start driving from Geiranger along the Norwegian County Road 63 until you reach Djupvasshytta, a wooden hut on the shore of Djupvatnet Lake. From there, turn upwards onto the ascending road that will take you to the top of Dalsnibba Mountain Plateau. Nibbevegen toll road to the summit of Dalsnibba is only 4.7 km (2.9 mi) long, but a dozen breathtaking hairpin bends and a steep gradient of 12,3% at some points will keep you in awe. Its serpentine twists and turns are totally worth the view of Geirangerfjord, one of the most photographed in Norway.
The road leads to a scenic platform, Geiranger Skywalk (Geiranger Skysslag) with a spectacular 1500-meter view above sea level. A fjord surrounded with the snow-capped mountains is part of the UNESCO World Heritage Area. By the Skywalk, you'll find a modern building with toilet facilities and a small souvenir shop.
Dalsnibba summit at elevation 1,476 m (4,843 ft) above sea level offers excellent views in any direction. The mountain is often covered with snow at any time of the year. The Nibbevegen road usually opens in mid- or late May and closes in October after the first snowfall. The construction of this road in the 1930s was an engineering challenge, and visitors can find many boards along the way telling the unique history of the road.
If you don't own a vehicle, no worries. There are a few other options to get to the top. Nibbebus runs from the centre of Geiranger up to Dalsnibba from June 1 to August 31. The round trip takes about 2.5 hours with a 15-min stop at Dalsnibba. Local bus FRAM runs three times per day from late June to early September with a 20-minute stop at the summit.
Another option is to climb the ascent to Dalsnibba on a bike. Every year, there is a cycling race From Fjord to Summit running and cycling race starting in Geiranger and ending at Dalsnibba.
Find hotels and airbnbs near Dalsnibba (Map)