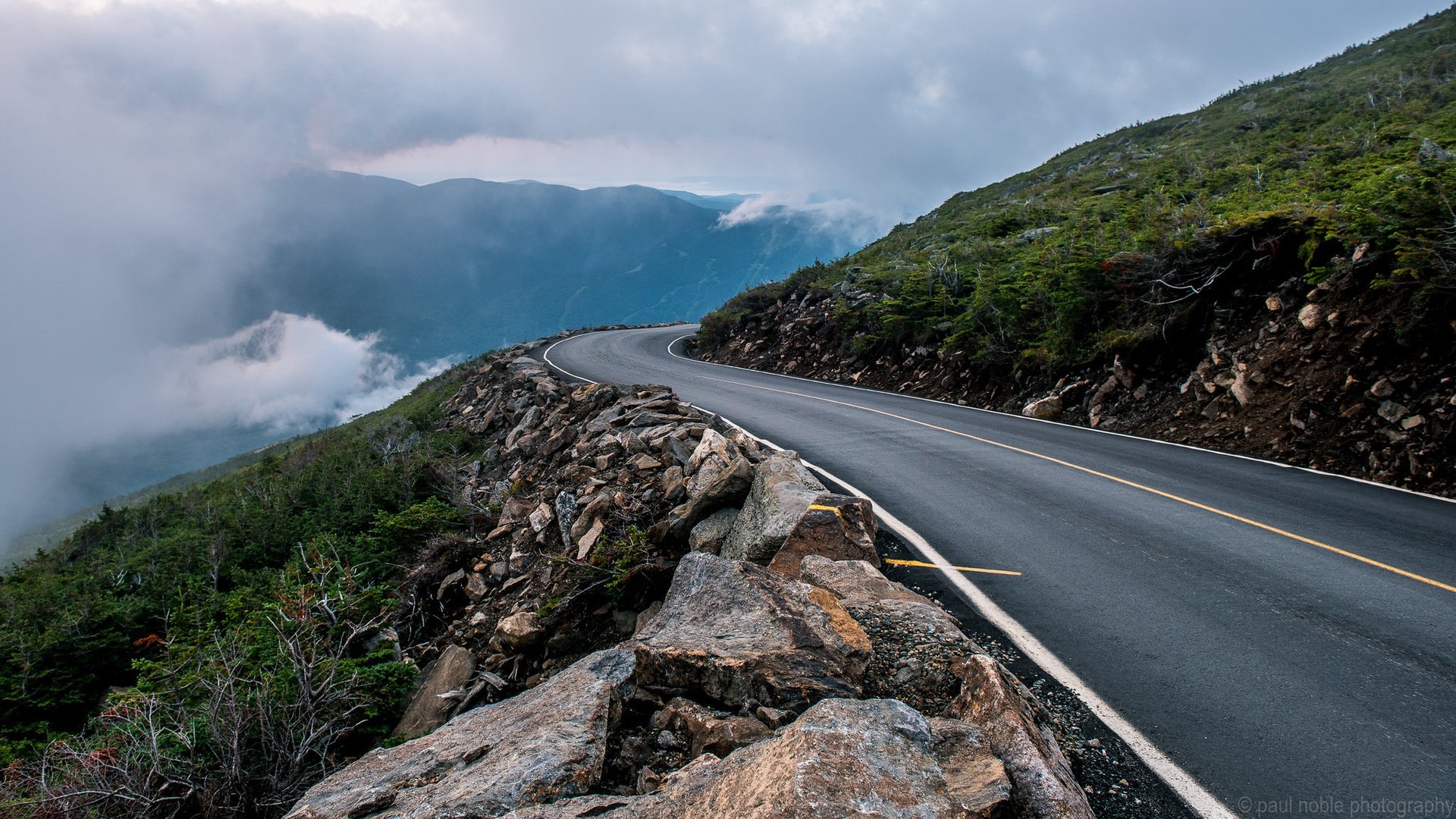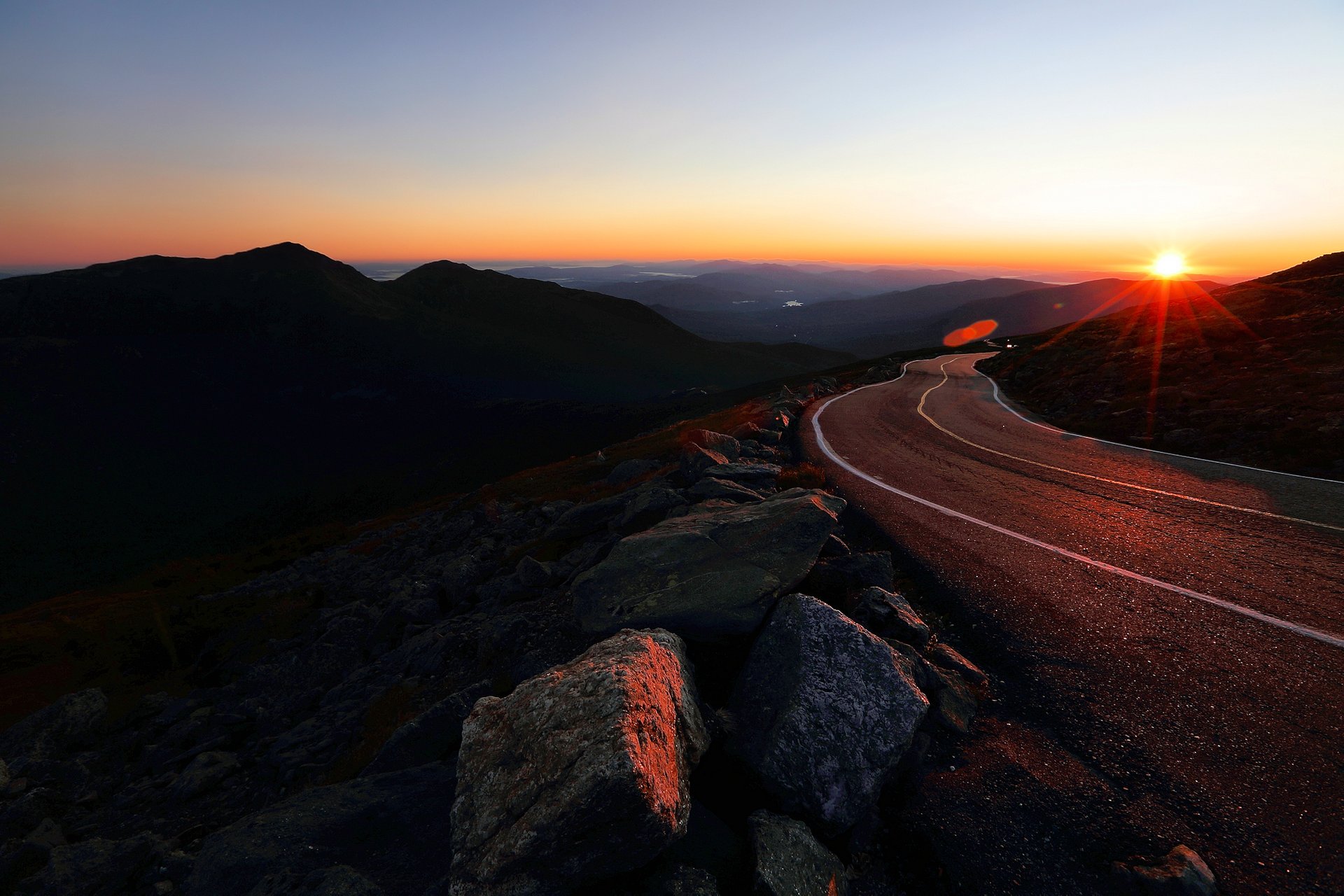 "Focus on the road", Mount Washington, New Hampshire
See accommodations nearby
Mount Washington Auto Road is one of the most scenic drives in the Northeast. It starts from New Hampshire Route 16 at Glen House in Pinkham Notch (between Gorham and Jackson) leading to the top of Mount Washington in the White Mountains, the highest peak of New England. Opened in 1861, the road attracts more than 45,000 vehicles each year.
Directions to Mount Washington Auto Road
If you are driving from Boston or Long Island, go on I-95 North to the Spaulding Turnpike in Dover and then on Route 16 North to Pinkham Notch. Mount Washington Auto Road is located in 12 miles (19 km) north of Jackson, and in 8 miles (13 km) south of Gorham. To find directions on a GPS device, enter 1 Mount Washington Auto Road, Gorham. The road starts from the mark of 1,527 ft (465 m) at the bottom and climbs up 4,618 ft (1,408 m) to reach 6,145 ft (1,873 m) at the top. A 7.6-mi (12.2-km) route takes about 30 minutes to complete. Even though the major part of the road is covered with tar and only one mile is gravel, the average gradient is 11.6% which makes it challenging to drive down. You can hire a guide who will do it for you.
Mount Washington Auto Road fee
The entrance to Mount Washington is paid. The rate for a car with a driver is $31, plus you have to pay an extra $9 for each adult passenger. For a motorcycle, the price is $17, and bicycles are not allowed except the day of the bike race. Besides, there is an option to take 2- or 3-hour guided tours. For adults, they cost $36 and $65 respectively.
When is Mount Washington Auto Road open
Mount Washington Auto Road opens beginning in early May and closes in late October. The exact dates depend on the amount of snow in the mountains. Check the status of the road here. While on the road, travelers should abide by the closing hours—the time when the last vehicle is allowed to start up. Besides, all visitors have to leave the peak within 45 minutes after closing time. It depends on the month and weather, but usually, the road is open from 8 am till 4-6 pm. Several times during a season the route opens earlier for sunrise drives. Also, there are days when the road is closed for cars: motorcycles run day, all-terrain vehicles day, and bike race.
Mount Washington Road Race (June 17–18, 2022)
Once a year, Mount Washington Auto Road is open for runners only. Thousands of runners are attracted by this challenging all-uphill run that requires lots of stamina and training. The 7.6-mi (12-km) race to the highest peak in New England features sections with a gradient of 22%. Just 200 runners can participate every year. The race fee is about $105.
Mount Washington Auto Road weather
The weather at Mount Washington is extremely unstable and hard to predict: cloudless sky turns into a heavy snowfall, temperature changes as you climb up, and a strong wind beats any imaginable records. On April 12, 1934, the second highest wind speed on the planet—231 Mph (372 km/h) was recorded on top of Mount Washington. So before going on a trip, check the weather and take some warm clothes with you.
Hotels near Mount Washington Auto Road
New England is famous for its historical inns and guesthouses with their unique atmosphere and beautiful architecture. Glen, Jackson, and North Conway Village offer a variety of accommodation in proximity to scenic Great Glen Trails offering spectacular views of the Presidential Mountain Range as well as hiking, biking, and kayaking opportunities. In the fall, you can count on amazing fall foliage displays coloring the area in orange, yellow, and red hues. You can also visit nearby Arethusa Falls and stay at Dry River Campground located in a beautiful woodland setting of Crawford Notch State Park. It operates from Memorial Day to Columbus Day (from June to late November).
Find hotels and airbnbs near Mount Washington Auto Road (Map)