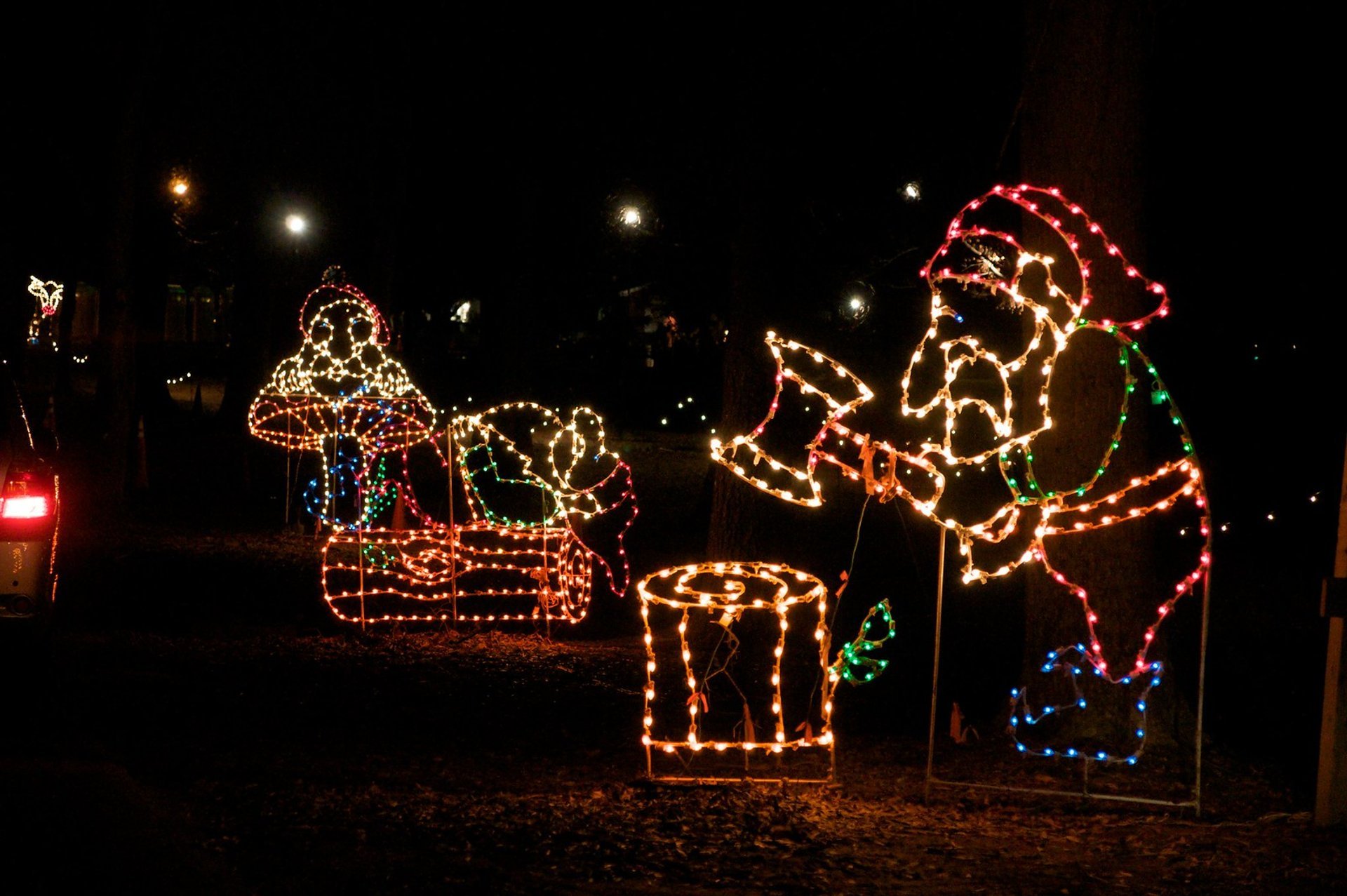 Show accomodations nearby
Christmas season in North Carolina gives you an opportunity to see some of the most beautiful light displays in the country. So make yourself a thermos of hot cocoa and drive through dazzling light tunnels in Charlotte, Asheville, Belmont, Wilmington, Raleigh, Fayetteville, and Carolina Beach. Also, don't forget that North Carolina is home to Christmas Town USA, a must-see for all travellers during the winter holidays.
Christmas Town USA, McAdenville (December 2–26, 2019)
McAdenville transforms into Christmas Town USA every holiday season. A small town in Gaston County, North Carolina, a suburb of Charlotte, has a fantastic Christmas tradition—being decorated with Christmas lights for the holidays. Christmas Town USA features about 400 lit trees and over 200 wreaths at city light poles. The highlights also include a large Nativity scene in the front yard of the McAdenville Baptist Church, a large lake circled with over 250 evergreens, covered with half-million red, white and green lights, historical McAden Mills Bell Tower that was constructed in 1883, and other sites across McAdenville. Tourists from all over the United States flock to see this amazing light show, one of the largest in the country. Christmas Town USA was initiated in 1956, and the tradition has continued ever since. The town receives over 600,000 vehicles annually that come to see this free lights display.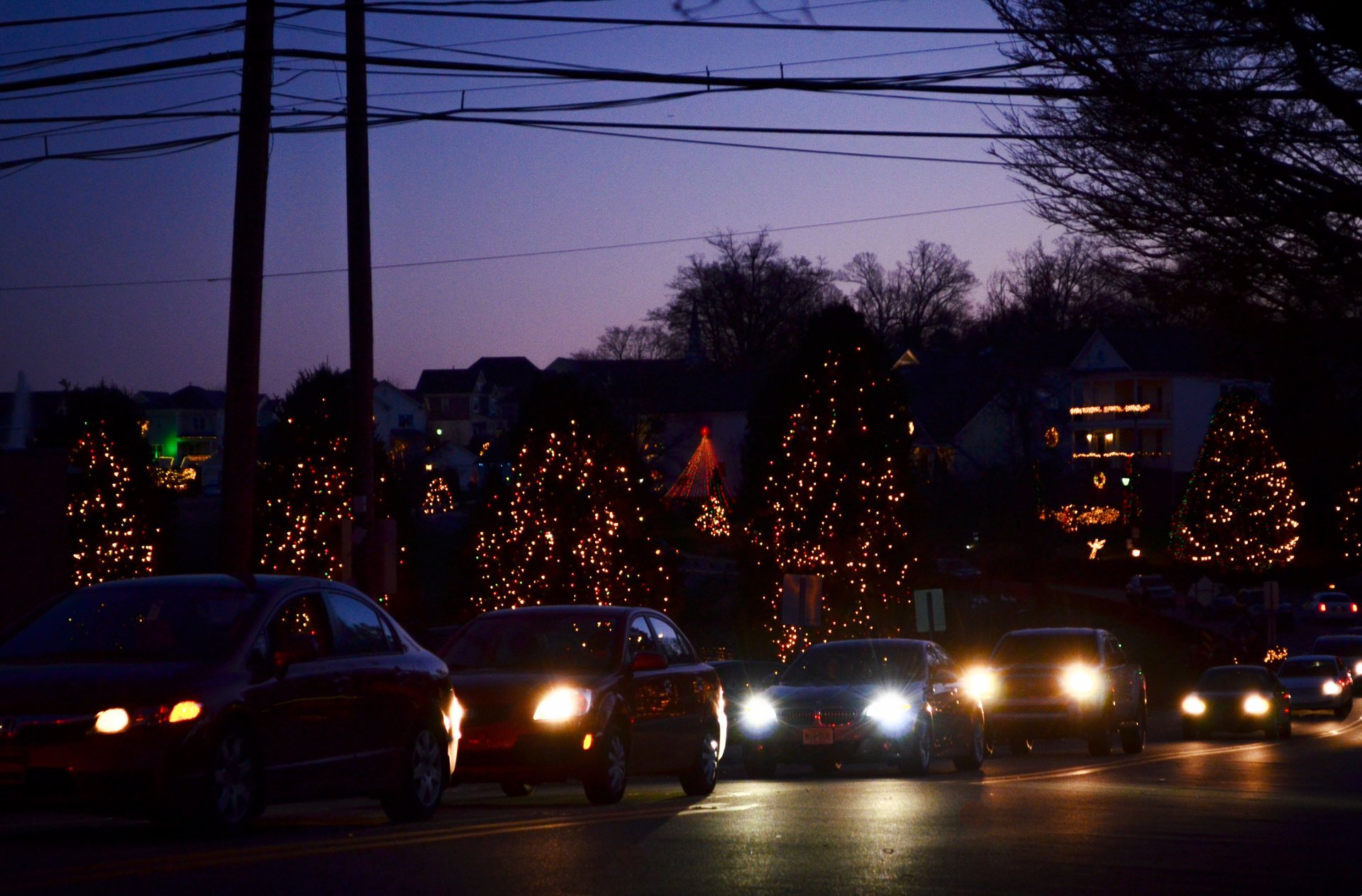 Holidays at the Daniel Stowe Botanical Garden, Belmont (November 29, 2019–January 5, 2020)
Holidays at the Garden is the annual light display that takes place from late November through early January at the beautiful Daniel Stowe Botanical Garden in Belmont, North Carolina. The huge botanical garden, which occupies 380 acres of meadows, woodlands and lakeshores, dresses up in thousands of lights for the holidays. The shimmering Mile of a Million Lights features the topiaries dancing to merry tunes, beautiful fairy villages, LED cherry trees glowing along Canal Garden, model trains in Orchid Conservatory, and glittering lights in the Piedmont Prairie. Visitors can roast a marshmallow and drink hot cocoa by an open fire, listen to live Christmas music, shop in The Garden Store, and enjoy the festive atmosphere. Kids are also offered a few activities as well as photo opportunities with Santa Claus and Mrs Claus.
Show accomodations nearby
Tanglewood Park Festival of Lights, Clemmons (November 15, 2019–January 1, 2020)
Picturesque Tanglewood Park located in Clemmons, North Carolina, not far from Winston-Salem, transforms every year with the arrival of Festival of Lights. From mid-November, the park becomes a dazzling Winter Wonderland decorated with over a million shimmering lights. Interactive musical and light displays play holiday tunes. The music is original compositions from the UNC School of the Arts Music Technology students. The park features altogether over 80 displays, the majority of which comprise of environment-friendly and low-energy LED lights. Visitors can shop at the Holiday Gift Village, located halfway through the display, and visit Santa Claus and Mrs Claus. The barn shops offer holiday crafts, wood workings, and other handmade items made by local vendors. Tractor-pulled hayrides and horse-drawn carriage rides are also available for reservation. Weekends get quite busy at the park, so you can expect to wait up to several hours to enter the park.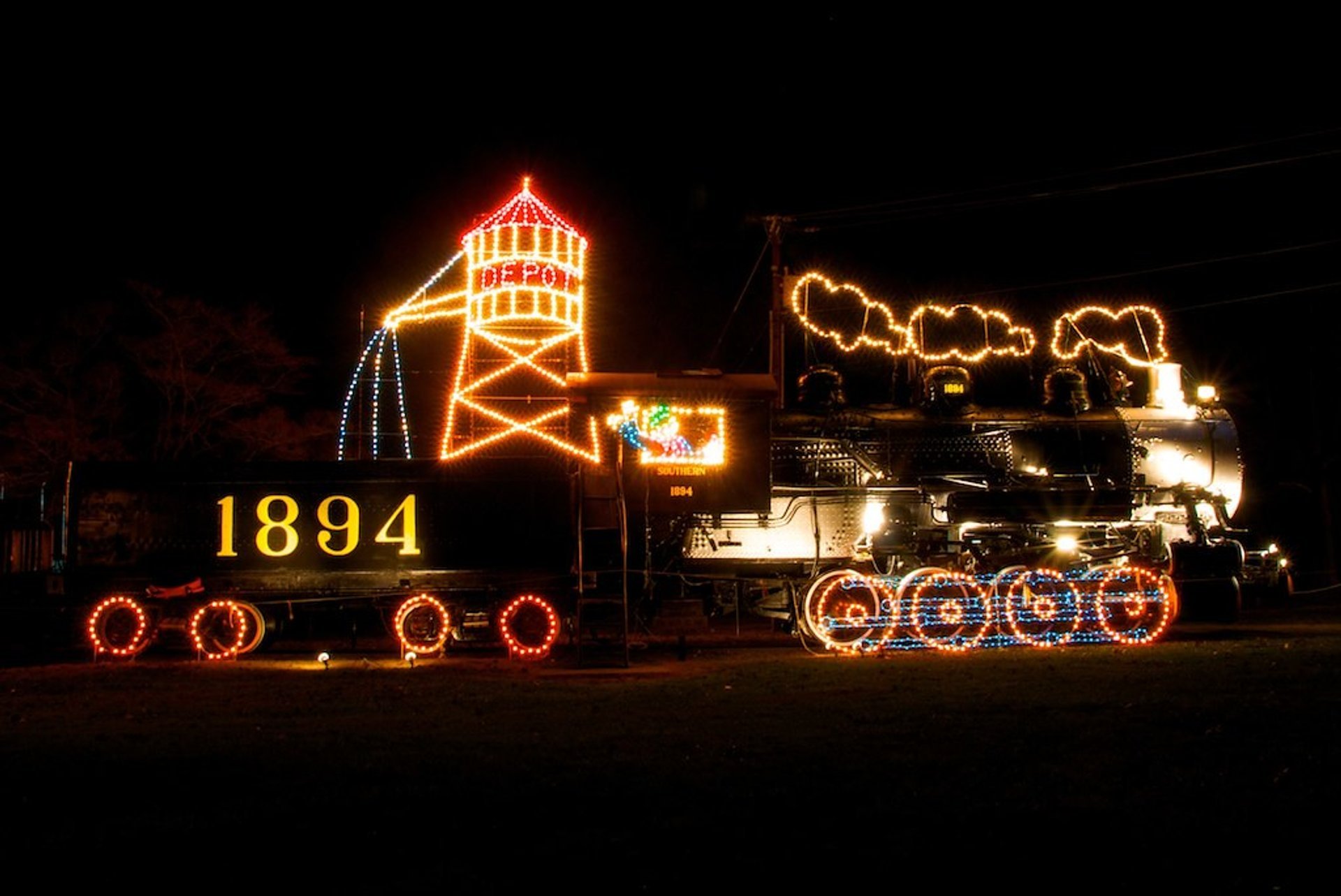 Dillsboro Lights and Luminaries (December 6–7 & 13–14, 2019)
Dillsboro is a small mountain town in Jackson County, North Carolina, located on the way into the Great Smoky Mountains. The town, which boasts lots of art shops, transforms into a winter wonderland every holiday season with the start of Dillsboro Festival of Lights & Luminaries. The atmospheric town looks extra cosy with plenty of lights, candles, and music. The festival features over 2,500 luminaries on the way to shops and studios. The town's businesses also trim their buildings dating back to the 1800s in sparkly white lights. In addition, there are horse and buggy rides, live music, holiday treats, hot cider and cocoa. Listen to Christmas carolers and visit Santa at the Town Hall as well as enjoy various entertainment around the town. Don't forget to stop by the church to see a live nativity scene.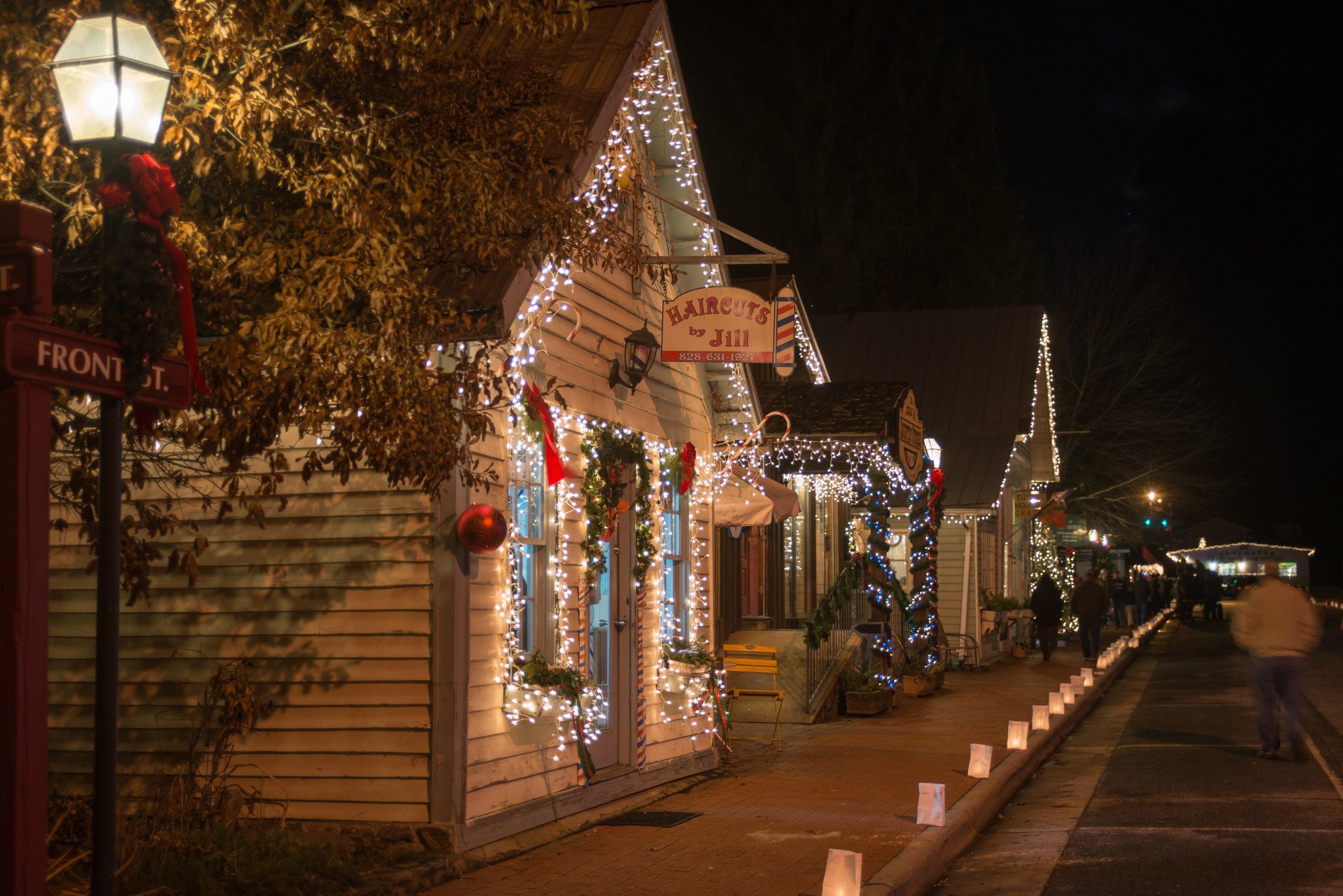 Charlotte Motor Speedway Christmas, Concord (November 22, 2019–January 5, 2020)
Speedway Christmas at Charlotte Motor Speedway is the favourite holiday tradition for many local families. Since 2009, it has been one of Charlotte's best drive-through light shows. With over 4 million lights along a 3.75-mile course synchronized to Christmas music, this is definitely an impressive experience. The speedway also features a family-friendly Christmas Village that includes a100-ft Slide, carousel, and the large Ferris wheel. Kids would also enjoy the Bethlehem village, photos with Santa, fire pits, games and rides. Christmas-themed Movie Nights on the giant Speedway TV are also available Thursday-Sunday.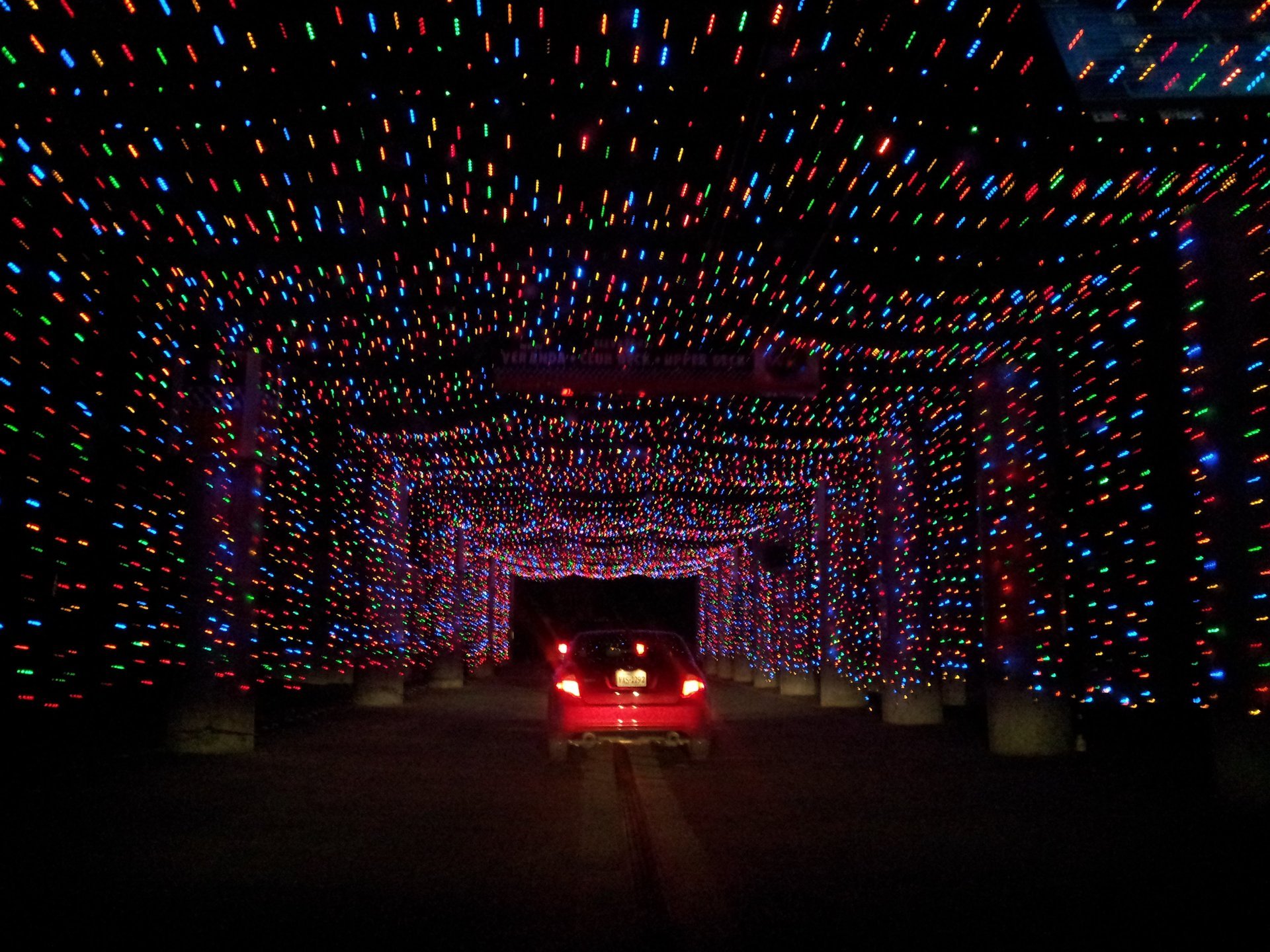 NC Chinese Lantern Festival at Booth Amphitheater, Cary (November 22, 2019–January 12, 2020)
Every holiday season, Koka Booth Amphitheatre in Cary, North Carolina, transforms into a magical space full of amazing characters thanks to the NC Chinese Lantern Festival. Dozens of light displays and lanterns illuminate dark winter nights and instantly get people into the holiday spirit. Each display is comprised of thousands of LED lights. The major highlight of the festival is the giant lantern on Symphony Lake. In addition, there are many surprises for visitors, including cultural performances, artisan craft fairs and special events like Chinese drumming, juggling, face-changing, acrobats, martial arts, and much more.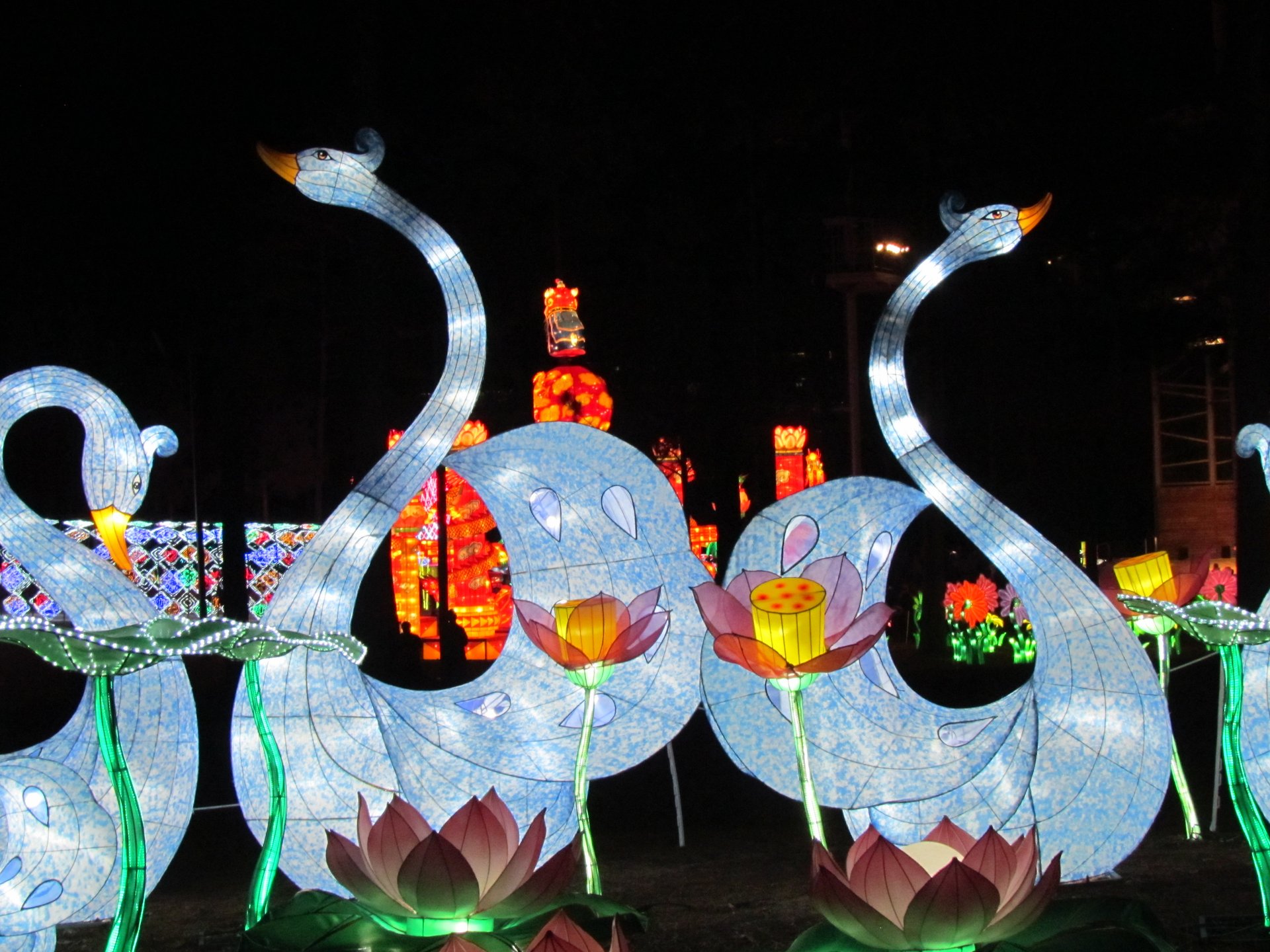 Biltmore Candlelight Christmas Evenings, Asheville (November 1, 2019–January 4, 2020)
One of the most magical holiday experiences in North Carolina, Biltmore Candlelight Christmas evenings, take place in Biltmore House, Asheville, North Carolina. Enjoy the soft glow of beautiful luminaries and colorful holiday lights on the main Christmas tree, a towering Norway spruce. Few more dozens of Christmas trees create an unforgettable atmosphere with candlelight and firelight, illuminating the darkness. Visitors can see live performances of Christmas music as well as admission to Antler Hill Village & Winery. The Village looks impressive in winter, when its buildings and pathways to restaurants and shops are illuminated with hundreds of ornamental displays.