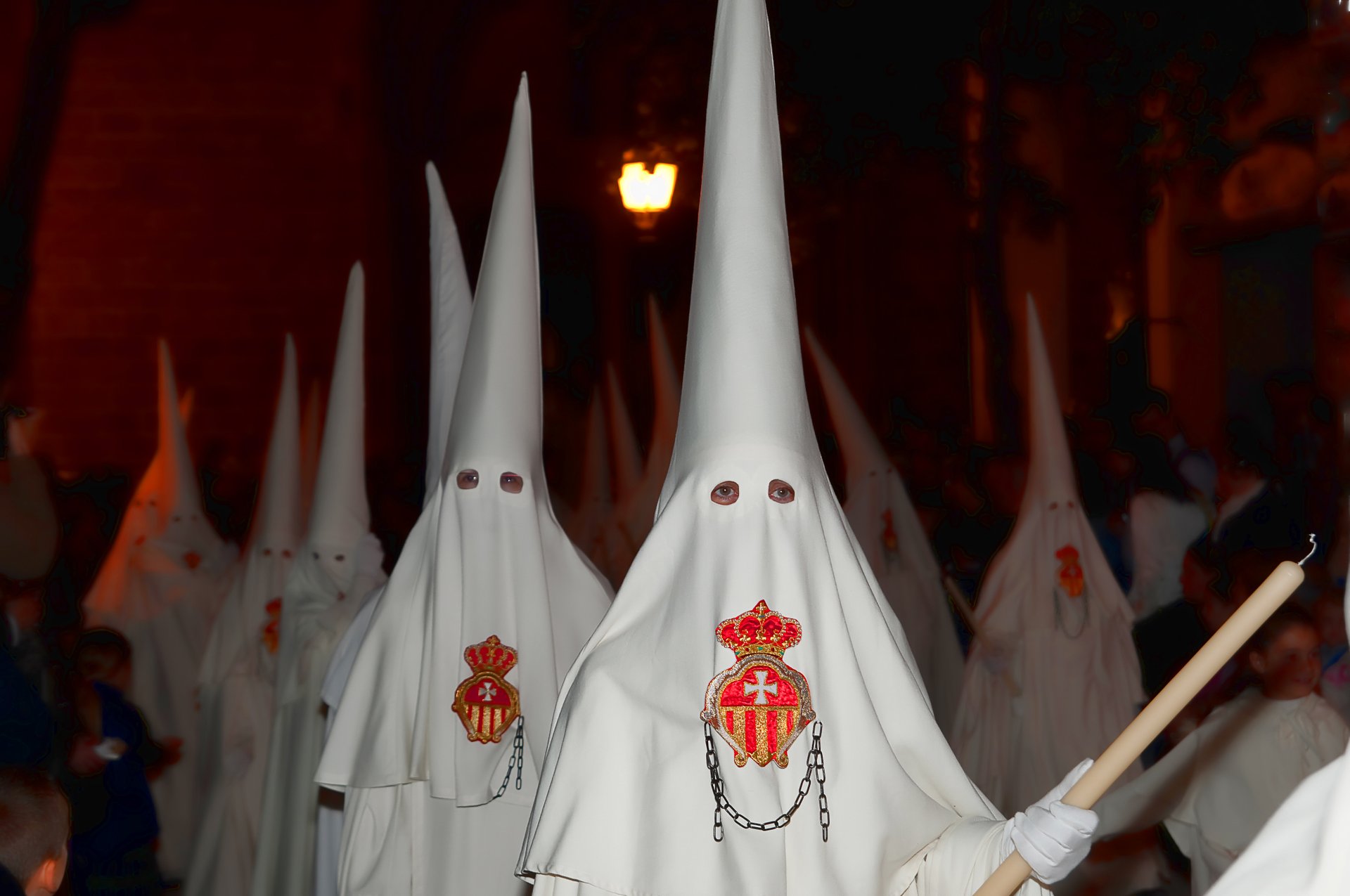 Semana Santa (Holy Week) is celebrated island-wide through numerous traditions which have a strong religious aspect. Celebrations start on Palm Sunday with palm-bearing church services. The rest of the Holy Week is dedicated to the Passion of Christ which is reenacted in ceremonies and processions. People take to the streets to witness the parades of carapunats—the hooded penitents, who typically march to sombre music carrying religious statues on the heavy floats.
Holy Week & Easter in Palma de Mallorca
Some of the most memorable processions take place in the capital city of Palma de Mallorca. The most significant events take place on Maundy Thursday, Good Friday and Easter Sunday.
Procession of Crist de la Sang on Maundy Thursday
The large procession of Crist de la Sang takes place in Palma on Maundy Thursday. Parish brotherhoods dressed in penitential robes with conical hoods make their way slowly through the streets of Palma carrying the representation of the crucifixion and other religious statues. The ceremony starts at 7 p.m. at the Anunciació Church to the Cathedral and continues well after midnight.
Good Friday processions
Good Friday is marked with two major events. The first one is Christ's Passion held at midday on the steps in front of Palma Cathedral. In the evening, the sorrowful procession of Holy Burial (Sant Enterrament) follows, it starts from Sant Francesc at around 7 or 7:30 pm.
Easter Sunday
Easter Sunday celebrates the Resurrection through festive services and parades. The grandest mass is held in Palma Cathedral. It often features the royal family. The reunion of Risen Christ and his Mother is reenacted in a joyful Meeting Procession. Men bear the statue of Jesus towards the Virgin carried by women correspondingly. At the sight of her son, she bursts into joy which is obvious as the statue starts bobbing up and down.
Easter celebrations across the island
Besides the capital city, traditional Easter festivities may be observed in other towns across the island. Easter in Pollença is primarily known for a moving Good Friday ceremony of "Devallament" which is the reenactment of the Descent from the Cross. Also, the towns of Sant Llorenç, Felantix, and Artà have equally spectacular celebrations.
Find hotels and airbnbs near Semana Santa & Easter (Map)