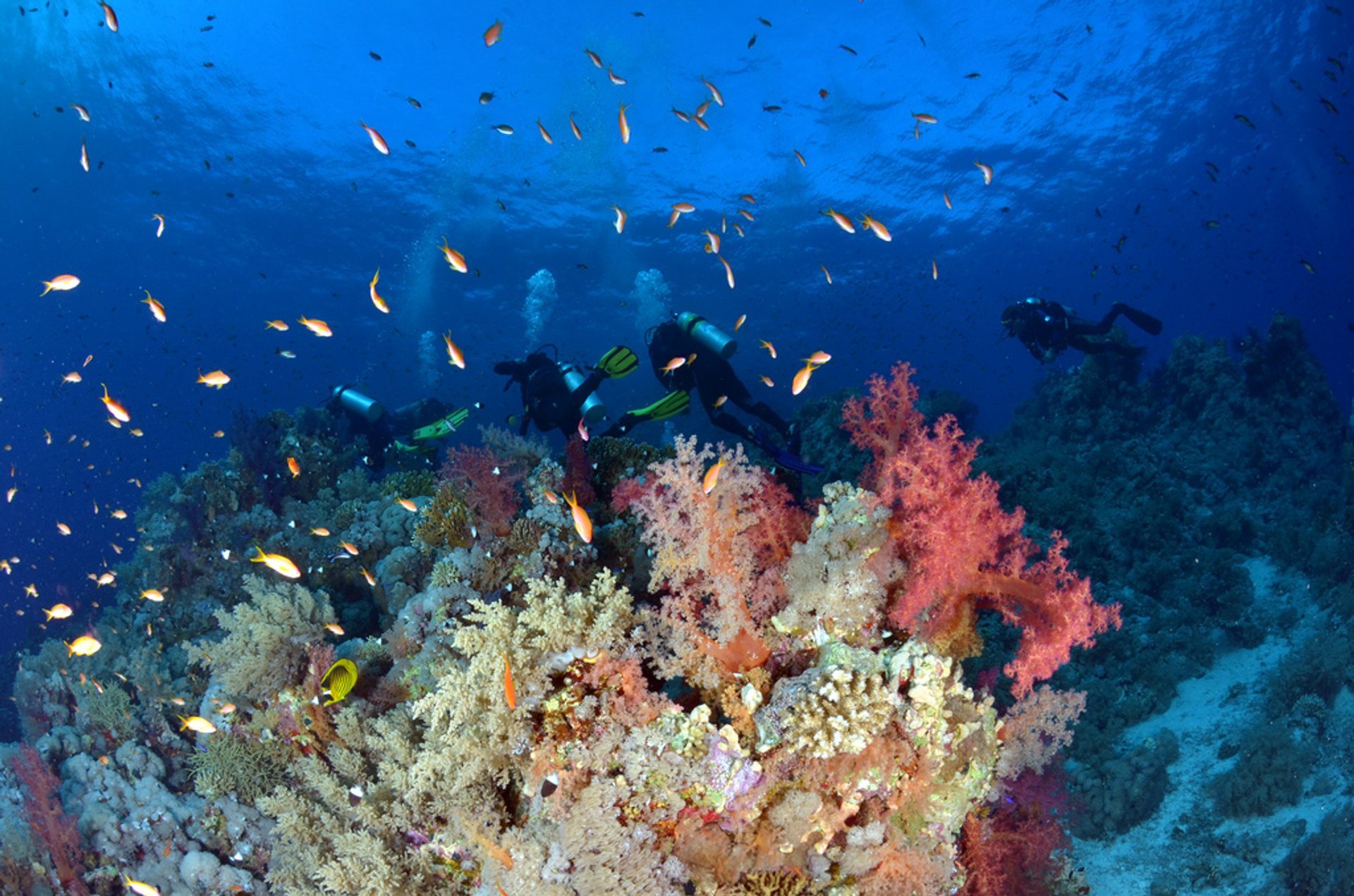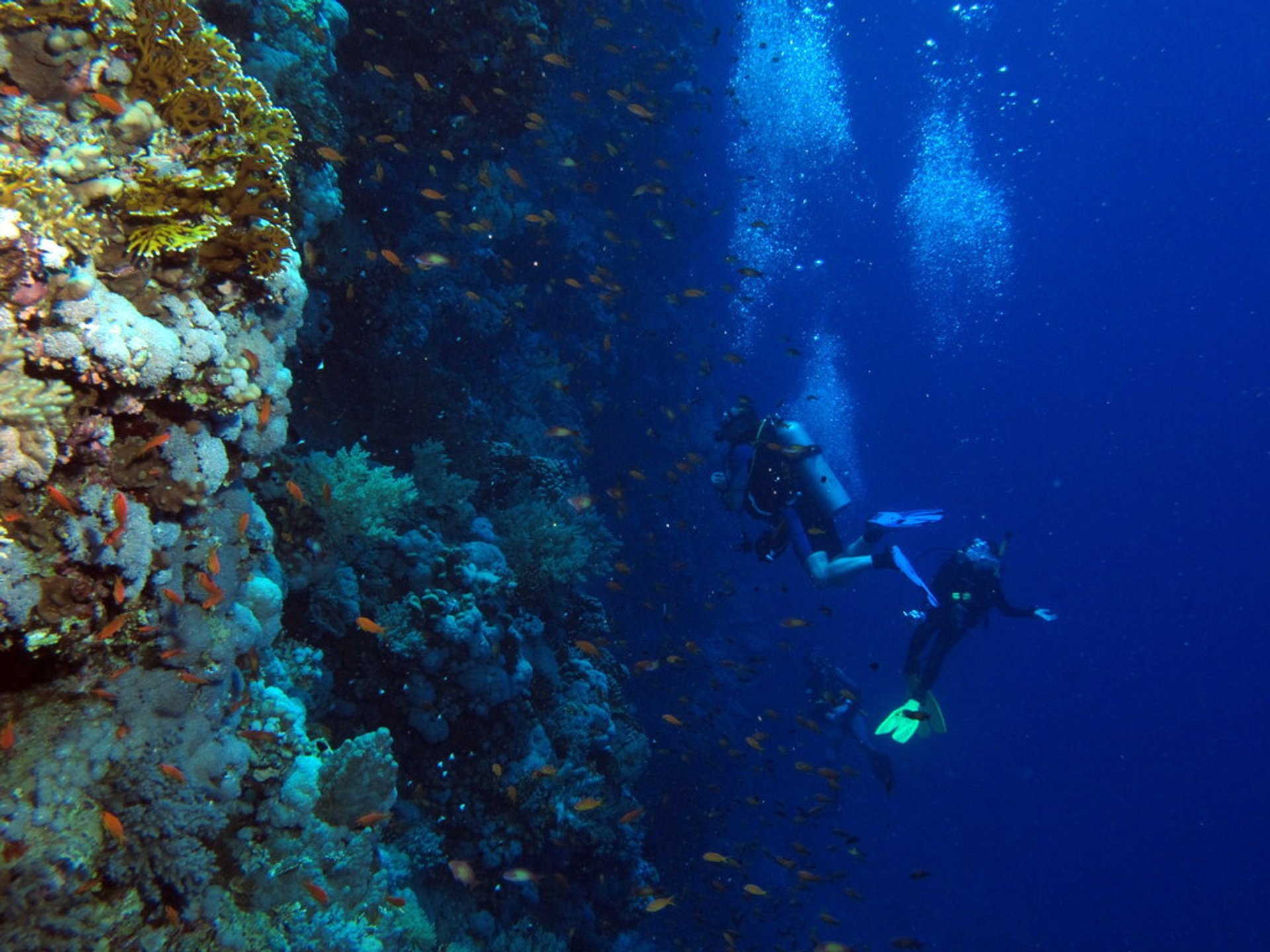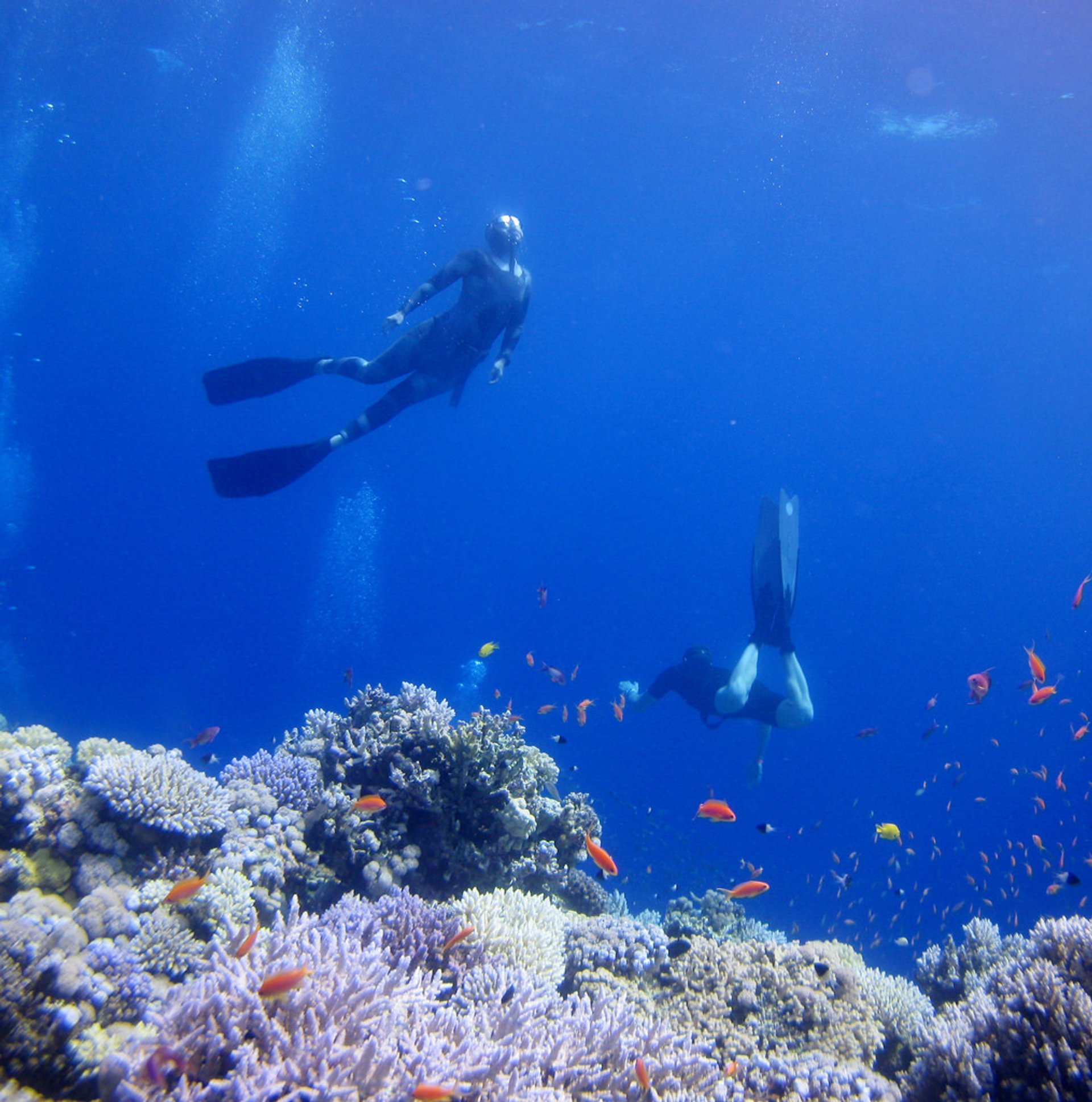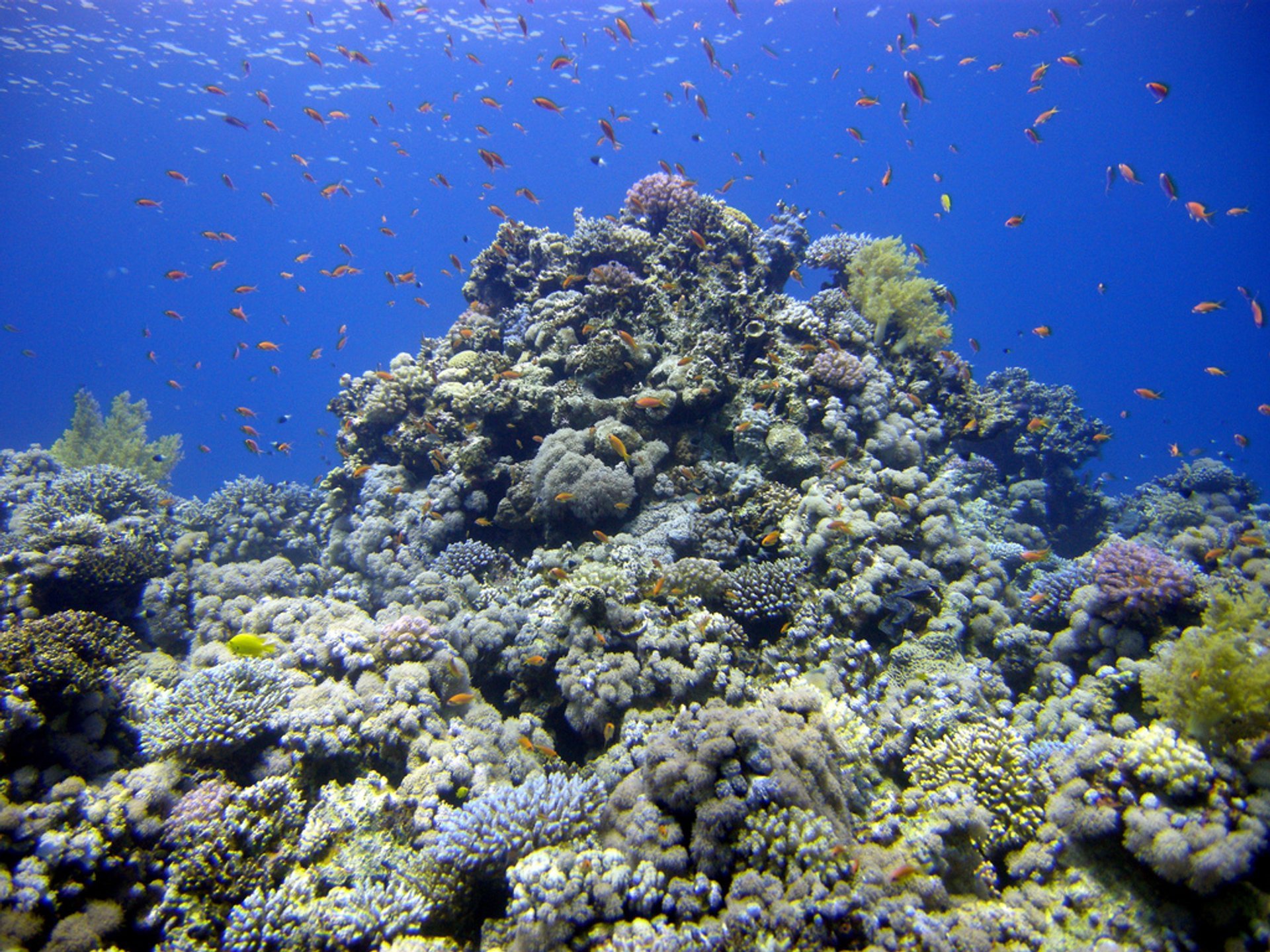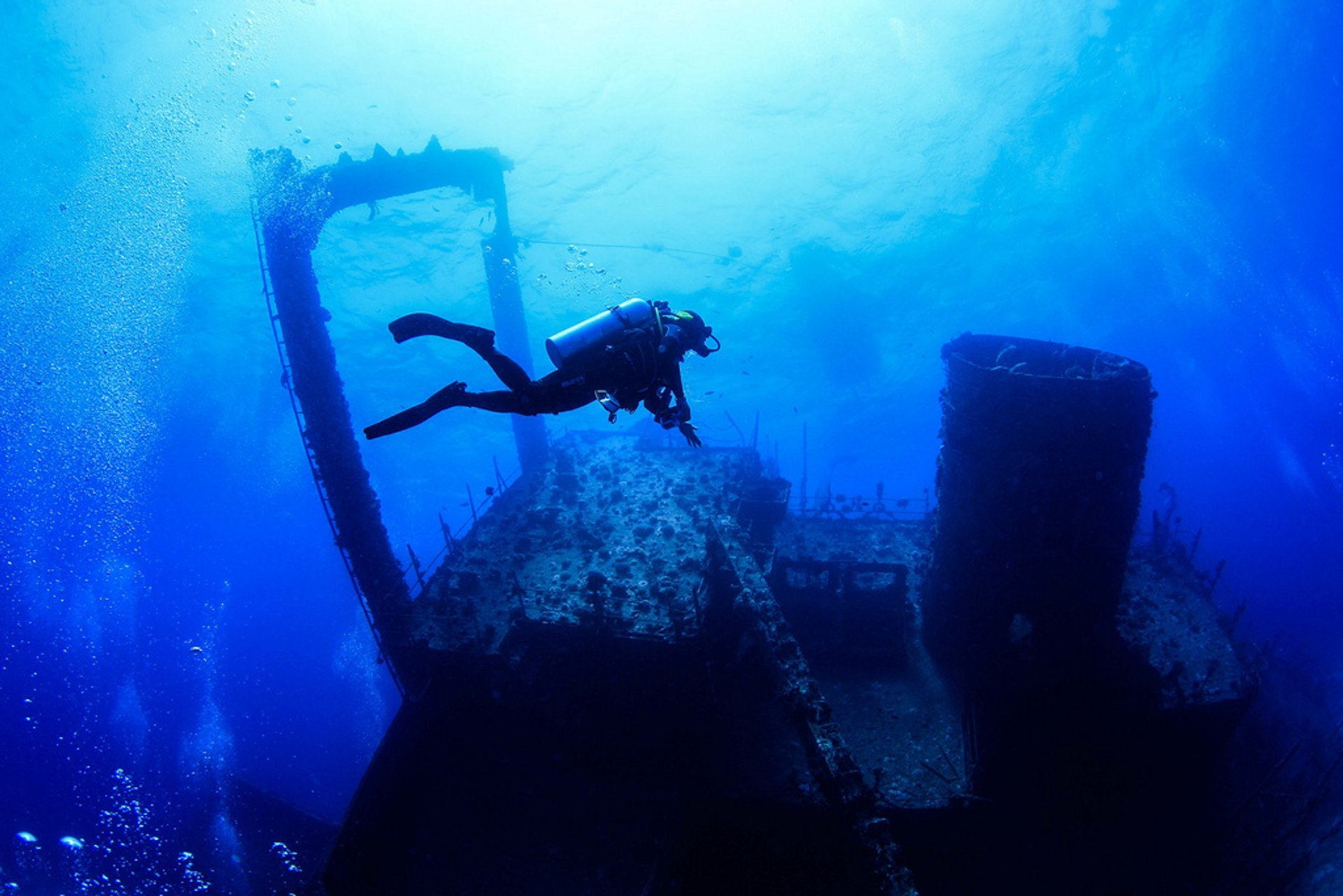 Very good visibility, nice water temperature, fabulous reefs, and a good variety and abundance of fish is just part of what Red Sea snorkelling and diving can offer. For both the water quality and the sheer amount of marine life the Red Sea is unrivalled. Even on Christmas Eve, you can find yourself diving with dolphins, turtles, giant groupers, or swimming amidst a breath-taking shoal of butterfly fish.
El Gouna, Hurghada, Marsa Alam, El Quseir, and the Sinai Peninsula resorts of Sharm El Sheikh are the best-known snorkelling sites. If there is a coral paradise in the Red Sea, it is in the Ras Mohammed National Marine Park. It can only be described as an extraordinary coral garden with small colourful reef fish, large pelagic creatures, and another biodiversity. Surrounded by a spectacular coral reef born 70,000 years ago, the park is characterised by vertical walls that can reach 700 meters deep and nutrient-laden currents that feed the huge variety of coral that has created a perfect habitat for marine fauna.
Dahab offers great scuba diving opportunities and is world famous for the Dahab Blue Hole dive site. It features a coral reef gently sloping down as well as shallow coral gardens.
Marine life in the Red Sea varies from region to region, with large mammals such as dugong and dolphins most likely to be spotted in quieter areas. Turtles, stingrays, eels, and octopi are more common sights in many of the resorts. The Red Sea is home to a number of endangered species, the dugong (seen most commonly in Marsa Alam) and both Green and Hawksbill sea turtles are protected species sighted more often here than anywhere else in the world.
If you don't like crowded dive sites, try to avoid the high season from July to December. Grey reef sharks, dolphins and dugongs can be spotted year round. Whale shark season occurs from the end of May until the end of July. At this time the plankton blooms bring manta rays in to feed and turtles nest. Hammerhead sharks can be seen all over the Red Sea. The Thresher Shark can be best spotted in winter. Pick the driest season in December-February or the calmest times in June-August and dive in! For snorkelling the best period is the summer season (from May to October). The coldest water is in December and January.
Alexandria offers an alternative dive to the clear and warm waters of the Red Sea. Though its marine fauna and flora may not be as abundant it is littered with historic shipwrecks and ancient ruins. Dipping around Alexandria's harbour is a perfect underwater archaeological adventure! You'll see the sunken ruins of the Ptolemaic palace occupied by Egypt's Macedonian rulers, including Cleopatra. Don't miss the remains of the famous Lighthouse of Alexandria, one of the ancient Seven Wonders of the World. One unforgettable impression is diving near the island of Aboukir. It's the site of the Battle of the Nile in 1798, where Napoleon's fleet was sunk. Find the wreck of the flagship L'Orient with cannons and anchors or make a dive trip to the ruins of wrecks during World War I and II. For professional divers, it will be exciting to dive to the British destroyer HMS Attack (140 feet of water), sunk by a U-boat in 1917. For less-skilled divers, several other war wrecks are approachable too. One can dive around Alexandria's harbour year-round, but the best time is from April to December when the water temperature is high
Find hotels and airbnbs near Scuba Diving and Snorkelling (Map)