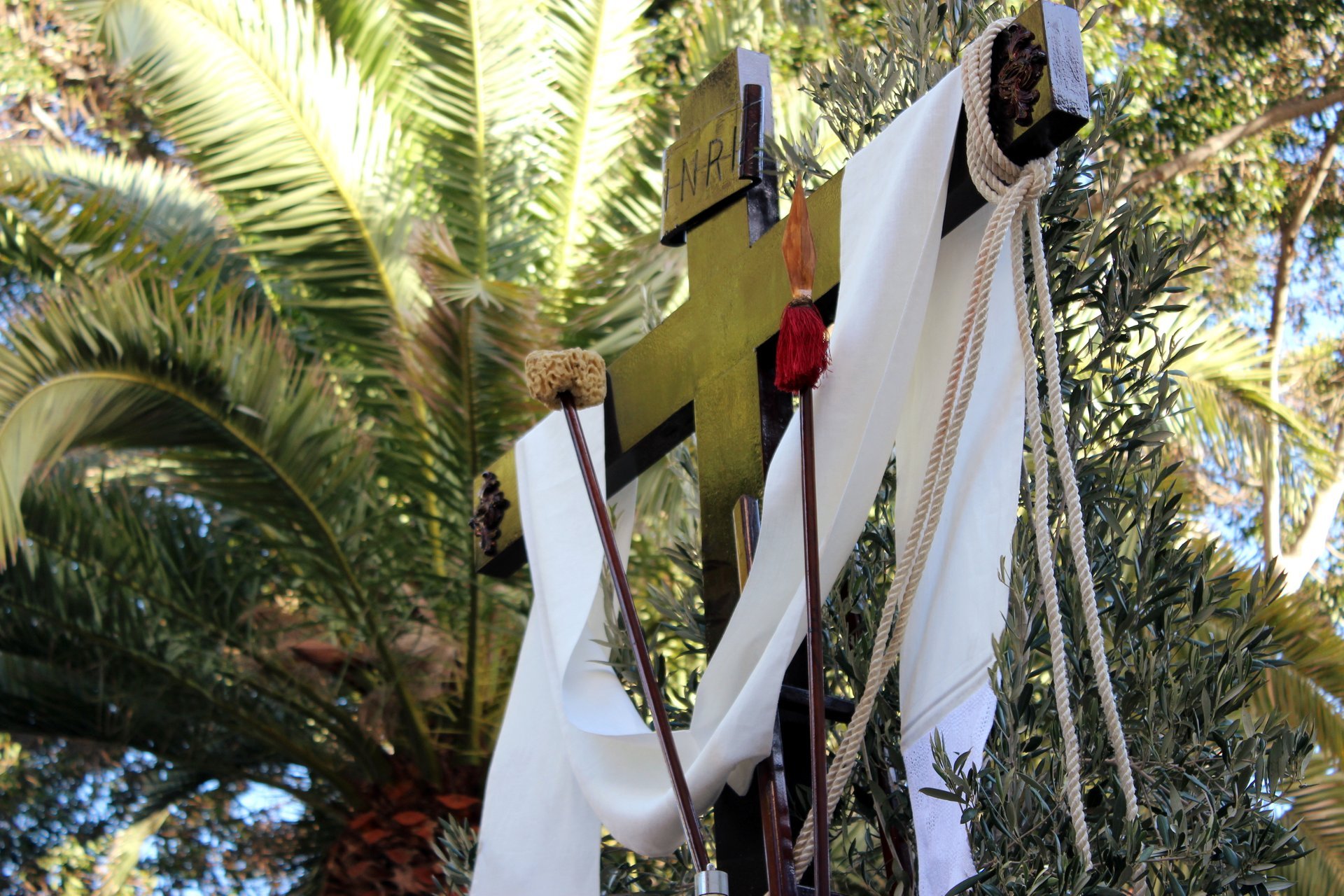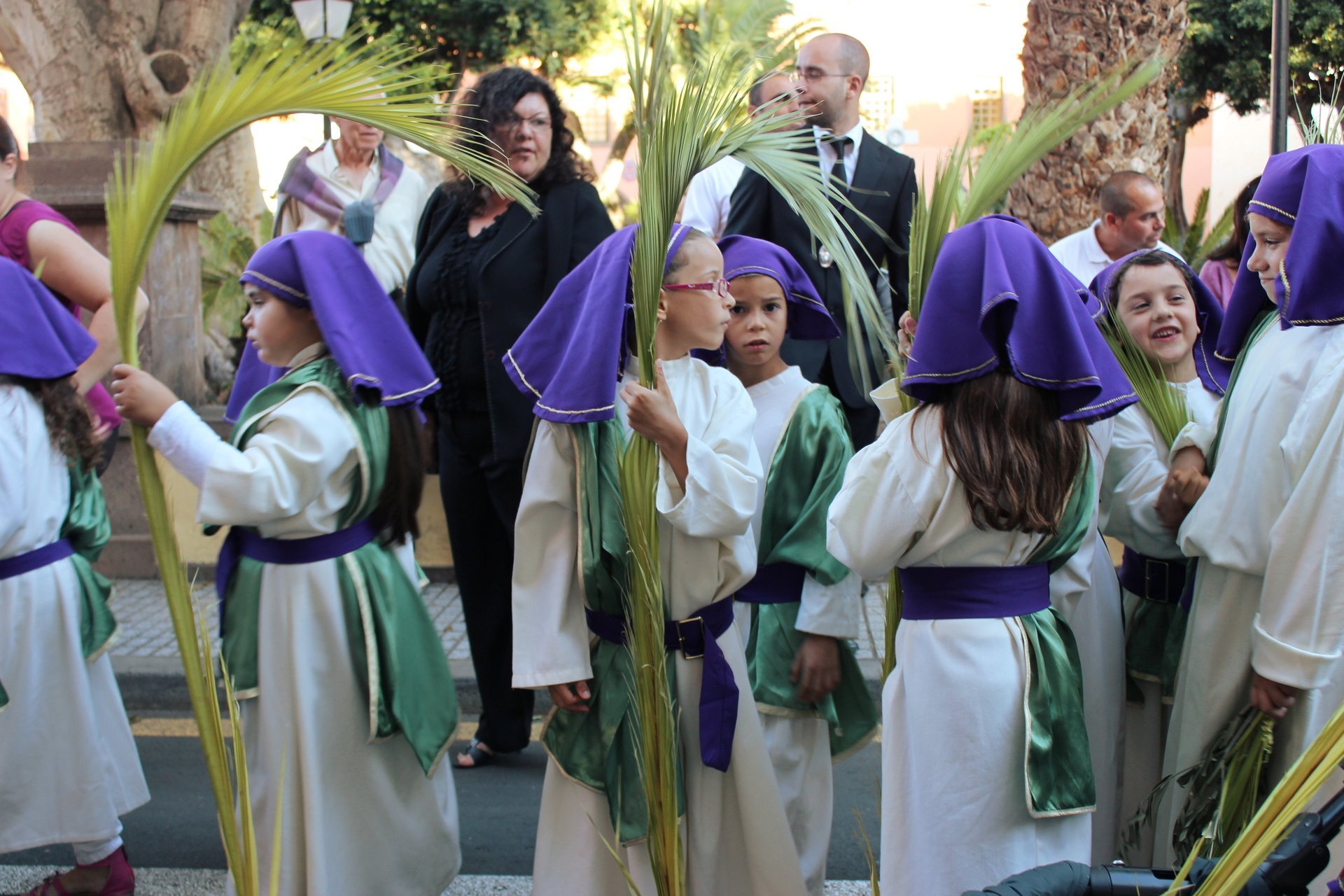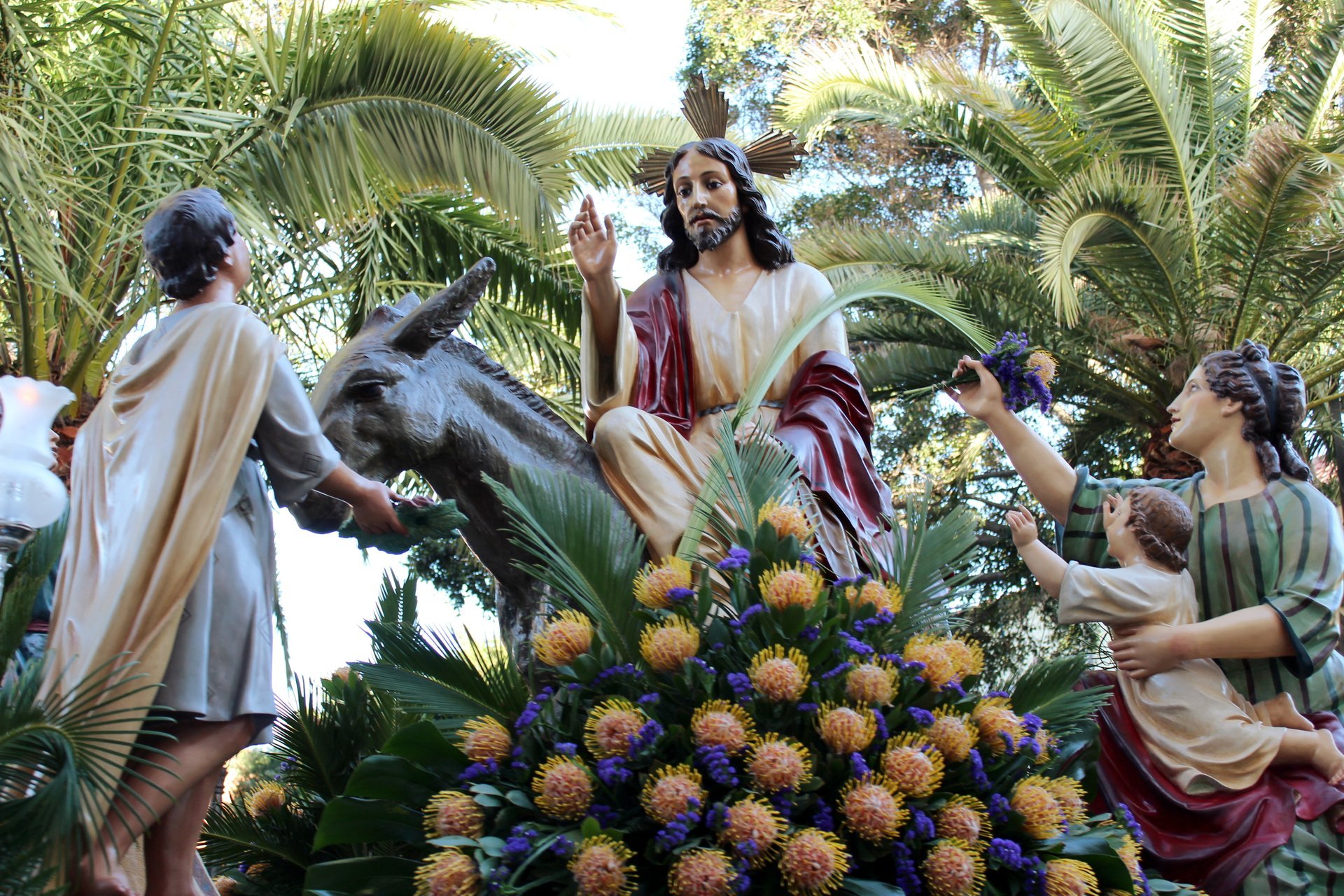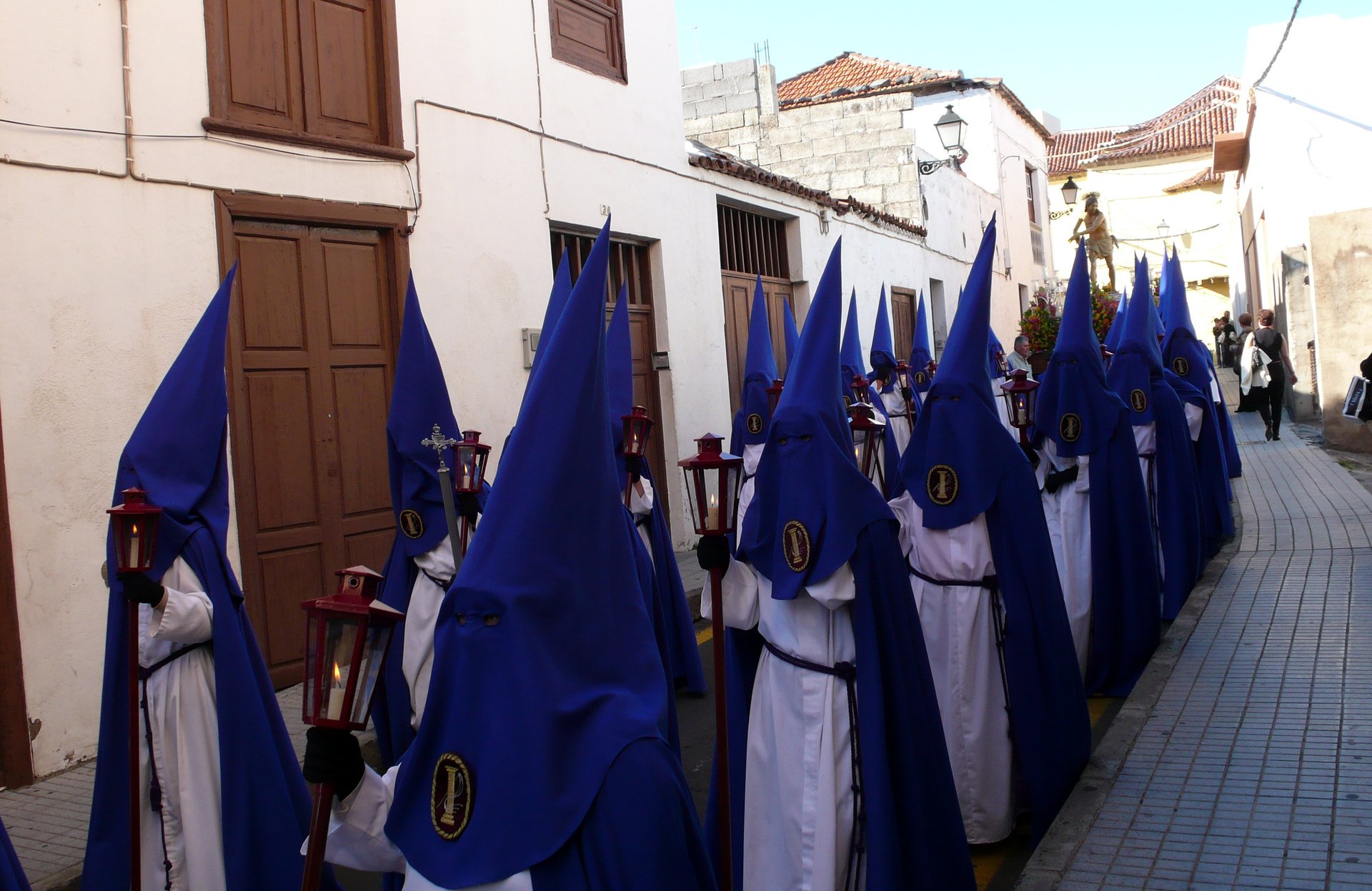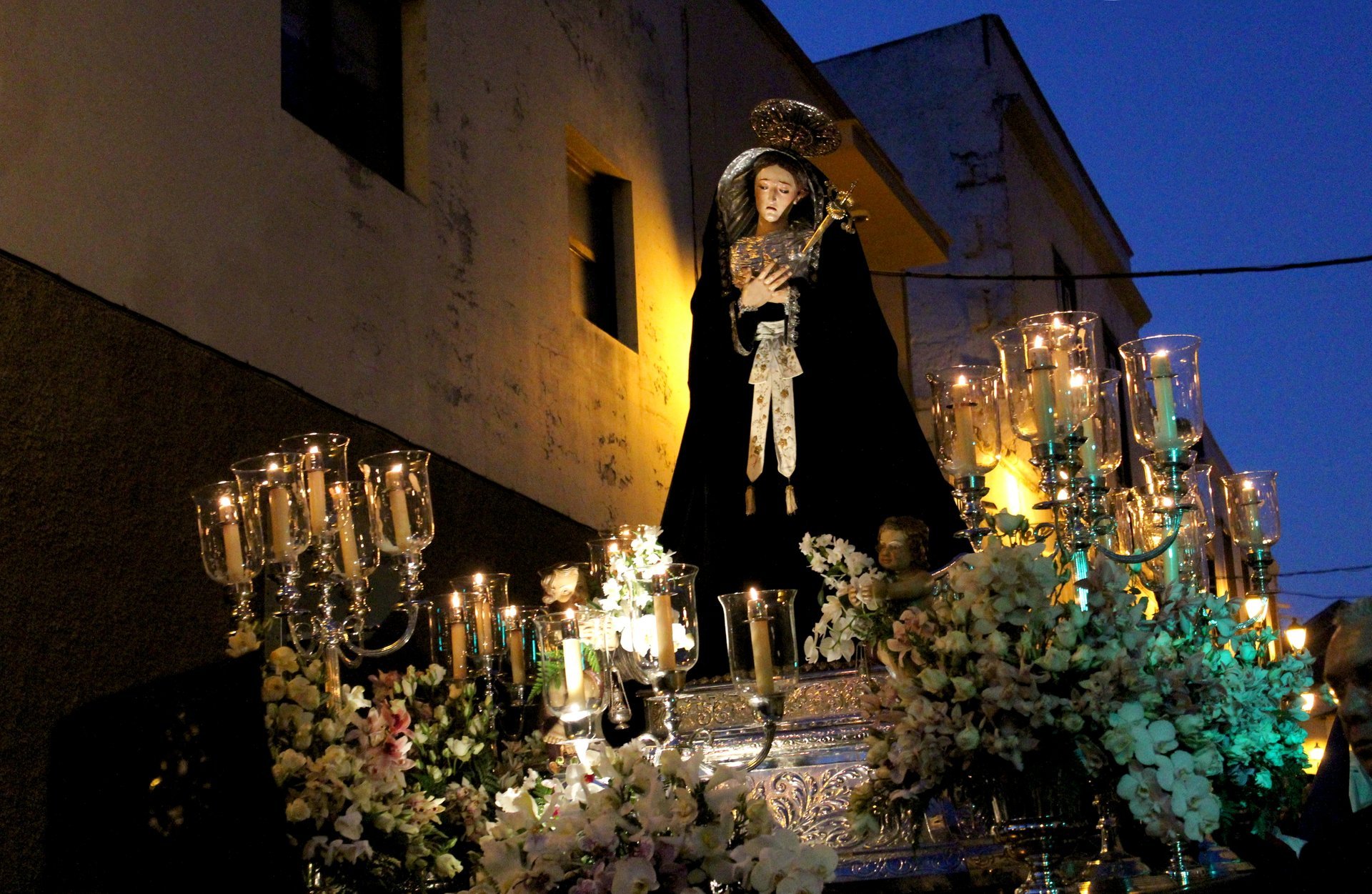 Semana Santa (Holy Week) has been widely celebrated on the Canary Islands since medieval times. The largest island of Tenerife is no exception, and its historical cities see countless religious ceremonies and street processions throughout the week leading to Easter. The celebration starts on Palm Sunday and continues to Easter Day. During the solemn season, most congregations have at least one daily procession with a church service. But, the most remarkable day is Good Friday commemorating the death and burial of Jesus Christ.
Holy Week processions
The most memorable processions involve members of different religious brotherhoods. The iconic "penitents" wearing long cloaks with pointed hoods that totally cover their faces and revealing only their eyes. Other participants of solemn parades are "Nazarenos" who typically walk barefoot and carry shackles or large wooden crosses. Also, it's common to parade huge floats with heavy religious statues through the streets by dozens of people. The parades make painfully slow progress, traditionally accompanied with sombre religious music by a brass band.
Where to see Holy Week celebrations in Tenerife
The most elaborate Semana Santa festivities take place in the authentic towns of the island, namely in Güímar, La Orotava, Garachico, Candelaria, Los Realejos, Puerto de la Cruz, and the capital city of Santa Cruz de Tenerife. The most famous celebration is observed in San Cristóbal de la Laguna, the religious centre of Tenerife and UNESCO World Heritage Site.
Silent Procession in La Laguna
The very special occasion not to miss in La Laguna is its Good Friday evening procession — Procesion del Silencio or the Silent Procession. The town goes completely quiet, street lights shut down, and the town is illuminated solely by candles. The pious brotherhood parade departs at around 9:30 pm from the Iglesia de la Concepción. A slow pace set by an ominous drumbeat creates a moving and a bit unnerving atmosphere you are never going to forget.
Easter Sunday
Easter Sunday brings the joy of Resurrection and, well, lots of food. Lent is over, so families celebrate with local delicacies like sancocho (salted fish served with potatoes), gofio (traditional grain) and mojo, signature Canarian sauce.
Find hotels and airbnbs near Semana Santa & Easter (Map)