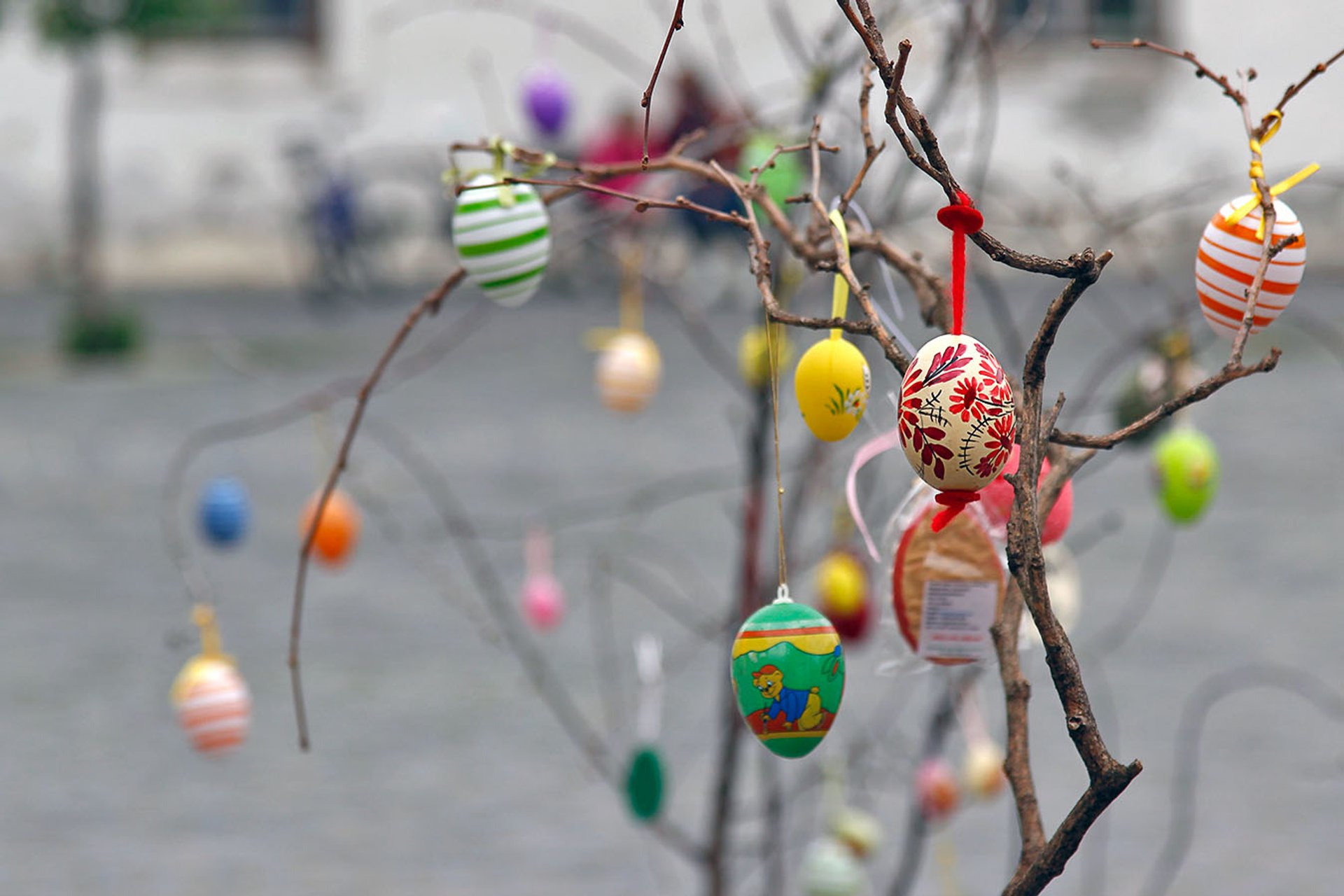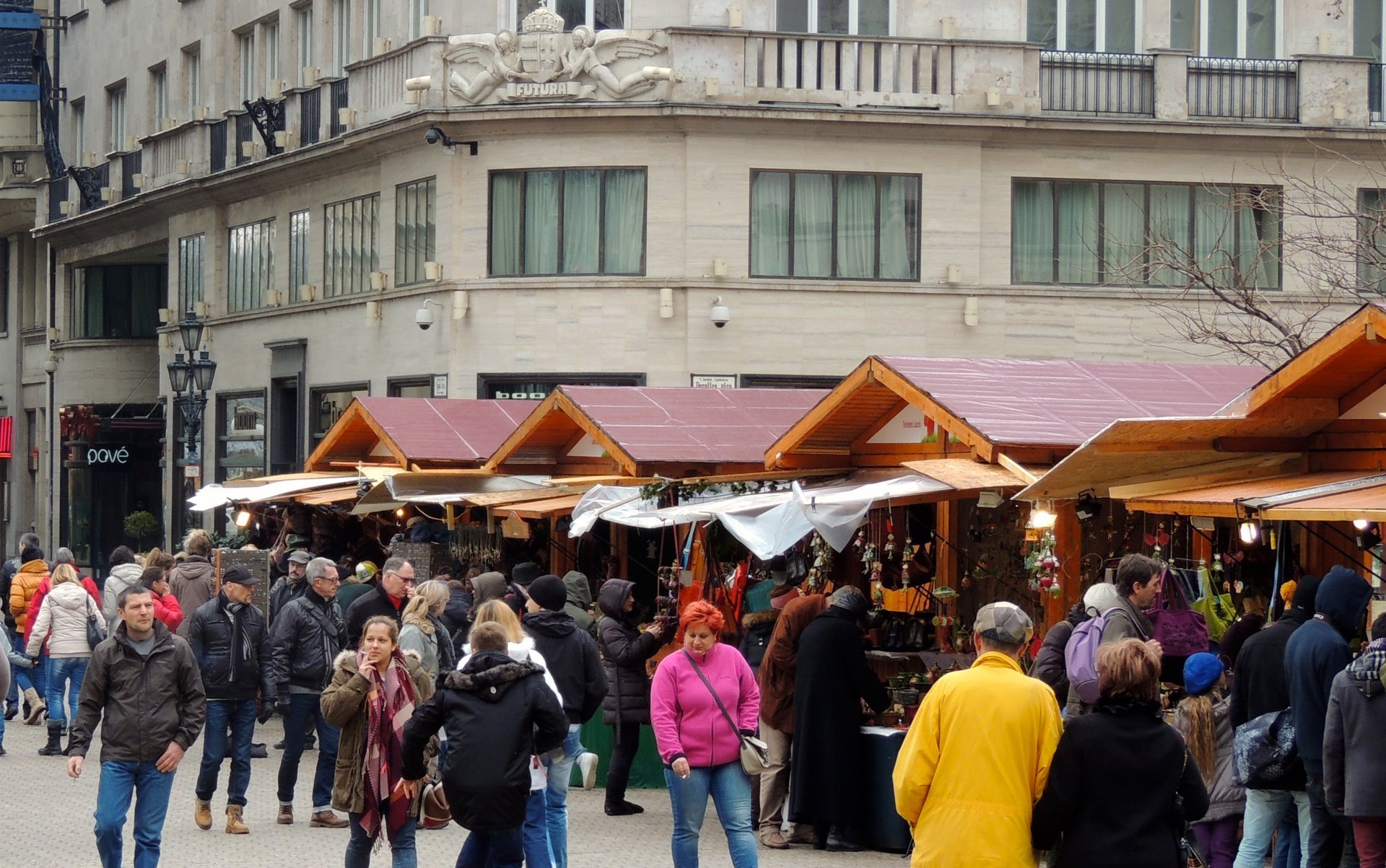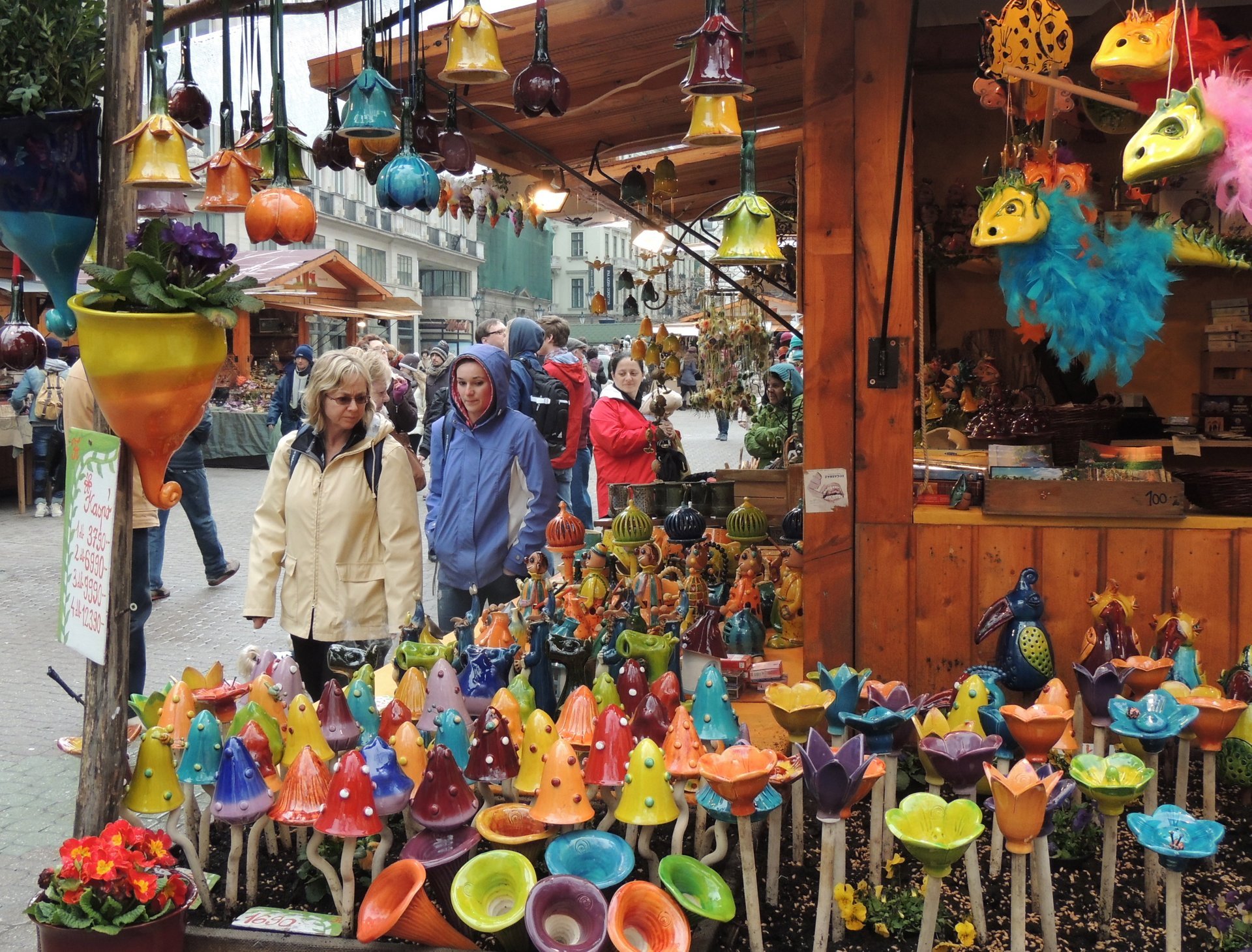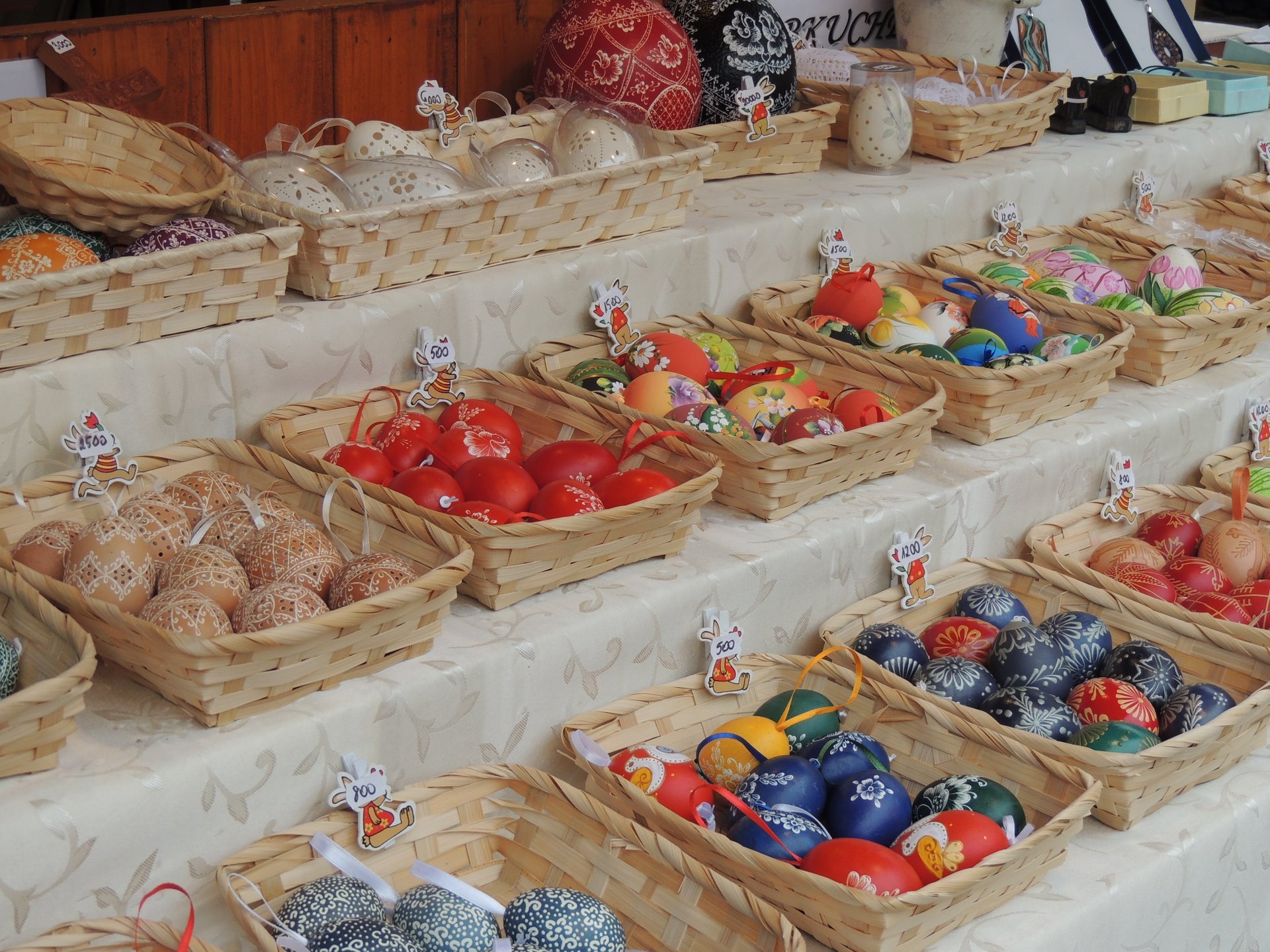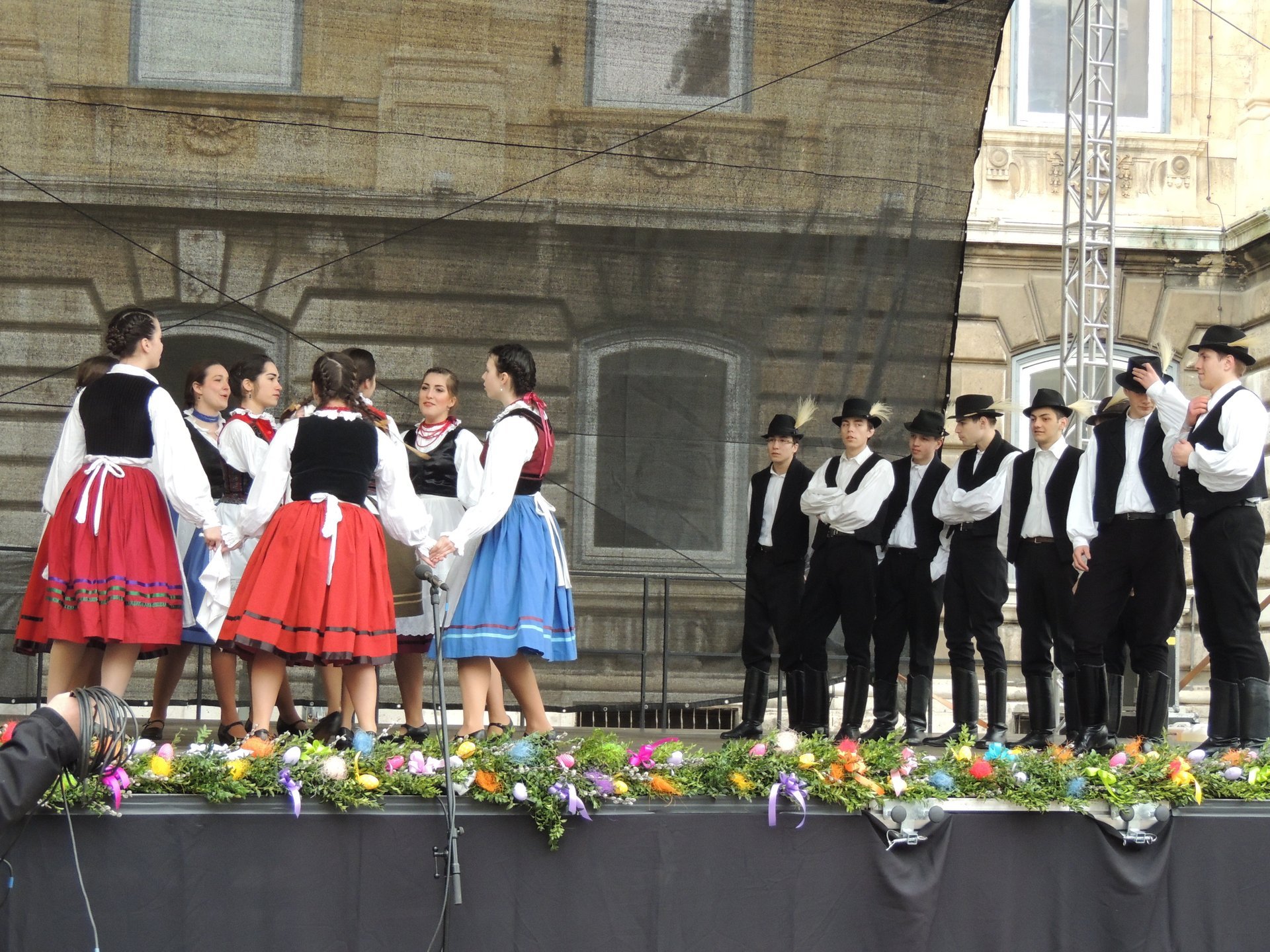 Easter (Húsvét) in Hungary is a family-and-friends holiday marked with rich folk traditions and seasonal cuisine. In and around the capital it's celebrated at a range of public events, including Budapest Easter/Spring Market in Vörösmarty Square, Easter Festival at Buda Castle, and traditional celebrations in Hollókő, not far from Budapest.
Budapest Easter Fair
One of the most popular places to go during Easter is Budapest Easter (or Spring) Fair. It occurs at Vörösmarty Square that is also known as the Christmas market location. The market's wooden huts offer a great choice of little arts and craft souvenirs, handmade pottery, and baskets. Moreover, the craftsmen will personally demonstrate their skills of basket weaving or blacksmithing. Family crafts sessions are also on offer—you and your kids can try out beading, felting, and other hands-on activities.
Painted Easter eggs
Egg souvenirs are also aplenty at the market stalls. Egg painting is an integral tradition of Easter. It was practiced in Hungary even before the arrival of the Magyars. Eggs generally symbolize everlasting life. With the onset of Christianity, the eggs were coloured red to pay reference to the shed blood of Christ. However, over the last centuries, other paints have become equally popular, along with geometric and plant patterns, and some ancient designs with sun-wheels, chicks, and other ornaments.
Easter Food
At the Easter Market, one can also try delicious traditional foods. For the main course, you'll find goulash and stews galore. One of the very traditional dishes is lángos or "flame cake" which is made of potato-based dough served with sour cream, cheese, and garlic. Among desserts, look for some artisan marzipans, gingerbread houses, and Kürtőskalács which is a chimney cake baked on the spot—you'll love its crisp outside and a soft sugary lining. Kürtőskalács comes in varieties that range from traditional cinnamon to a more progressive variety with Nutella. Don't hesitate to savour local spirits. There will be craft beers, pálinka, wines, and also mulled wine.
Festive performances
Folk art concerts are also a significant element of the festivities. These performances supplement the festive atmosphere of the country fair and make it a more vibrant celebration.
Buda Castle Easter Festival
Some years witness another iconic celebration—the Buda Castle Easter Festival (Budavari Husveti Sokadalom). The festivities incorporate concerts, dance shows, local Easter foods such as milk bread or kalács, kids' games, and other family-friendly activities, and all that with a scenic background of the Buda Castle.
Easter Monday in Hollókő
One of the most colourful Easter celebrations takes place in a small village of Hollókő, around 100 km north-east of Budapest. Tradition has it that boys and men take buckets of cold water and generously sprinkle the ladies. Tourists flock to witness the mess, regardless of the huge risks of getting wet. The festivities last for the three days. In 1987, this unique celebration became a part of UNESCO World Heritage.
This tradition is observed beyond the village too, even in some urban centres. Sometimes the water is replaced with perfume. Unlike Hollókő where the festivities stretch over several days, in the rest of the country the "sprinkling" or "locsolkodás" is solely Easter Monday tradition. The pagan rite of sprinkling was originally related to fertility, so the "victims" were mostly young women about to get married. The "sprinklers" were taken as suitors. Today, all women are watered, and it's no longer a form of courtship. That seems a bit unfair, but for each sprinkling, the lady has to present a treat which is usually a chocolate Easter egg, some home-made cake, or a shot of Hungarian pálinka.
Find hotels and airbnbs near Easter (Húsvét) (Map)