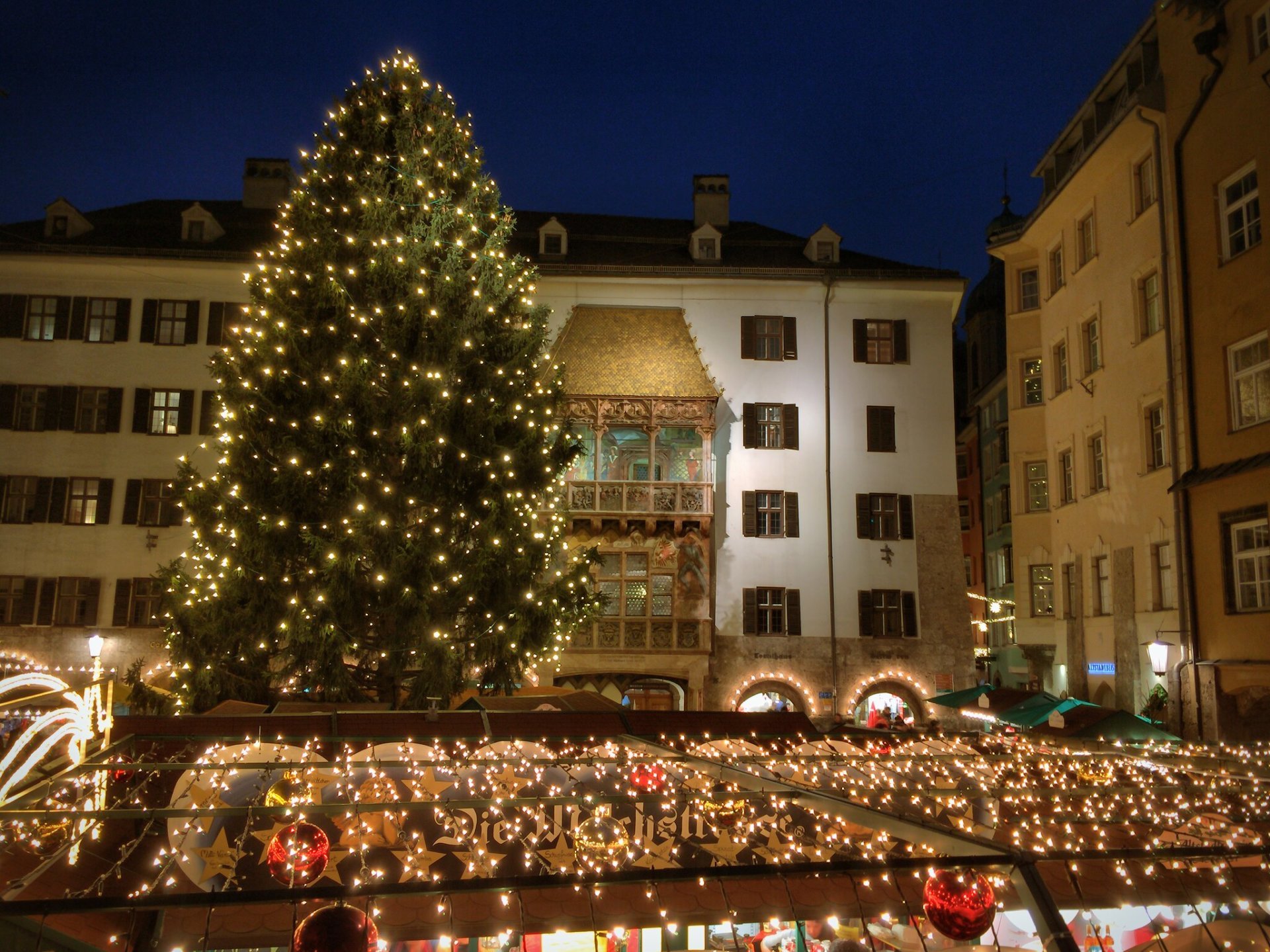 The popular Alpine ski resort of Innsbruck looks like something straight out of a fairytale during the holiday season. Its beautiful Christmas markets become the biggest crowd pleasers from late November to late December. A Christkindlmarkt is an excellent place for holiday shopping as well as for a winter-time stroll through a lavishly decorated town. So warm yourself up with tea or spicy Glühwein and get ready to immerse into the world of shimmering lights and Christmas carols!
Old Town Christmas Market (Altstadt Christkindlmarkt) (November 15–December 23, 2023)
Located by Golden Roof, Innsbruck's most famous symbol, this Christmas Market is perhaps the most popular in the city. Medieval buildings, beautiful decorations, a festive atmosphere, and traditional Austrian music from Turmbläser (brass brands) make this market truly unique. Shop for gifts or Christmas decorations in the cozy wooden chalets, or simply enjoy a warm drink while watching holiday entertainment! The market is open from 11 am to 9 pm.
Maria Theresien Street Market (November 25, 2023–January 6, 2024)
Maria Theresien is a pedestrian promenade and one of the most popular shopping and dining destinations in Innsbruck. In December, it's lined with market stalls and adorned with Christmas light, turning this baroque street into a real wonderland. In addition to gifts, the market offers snacks and mulled wine. The holiday attraction operates from 11 am to 9 pm.
Marktplatz (November 15–December 23, 2023)
The Market Square hosts the most authentic Tyrolean Christmas market in Innsbruck. It's also the best Christmas market for families thanks to various children's attractions: a vintage carousel, puppet shows, and Christmas stories readings. The market also features a large Christmas tree and 60 wooden chalets offering gifts, crafts, and holiday foods. Christkindlmarkt operates from 11 am to 9 pm.
Christkindlmarkt in St. Nikolaus (November24-December 23, 2023)
St. Nikolaus is a cozy neighborhood between the Inn River and the Alpine peaks, dominated by the neo-Gothic St. Nikolaus Church. During the Advent season, the area hosts a small Christmas Market on Hans-Brenner-Platz, with wooden stalls, Austrian Christmas music, and traditional food. The market is open from 4 pm to 9 pm.
Hungerburg (November 24, 2023–January 6, 2024)
Hungerburg is connected to the center of Innsbruck via a funicular railway. A spectacular Christmas Market is located near the Hungerburg train station during the whole Advent season. The location provides amazing panoramic views of the city thanks to the elevation of 984 feet (300 meters). The market is open on weekdays from 1 pm to 7 pm and also on weekends from noon to 7 pm.
Find hotels and airbnbs near Innsbruck Christmas Markets (Map)